European football club 'run by criminals', says ex-leagues chief
Last updated on .From the section Football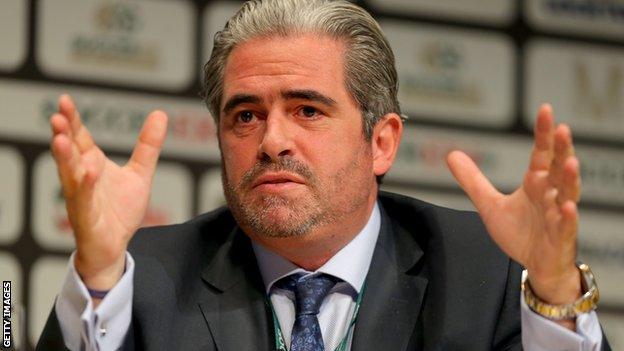 A professional European football club is being run by criminals, the former chief of the European Professional Football Leagues has alleged.
Emanuel Medeiros believes the club, which he would not name, is being run by an organised crime syndicate through a front company.
"I have evidence, but I cannot say which club or which country," he said.
Medeiros, now head of the International Centre for Sport Security (ICSS), was speaking at Soccerex in Manchester.
He added: "This is not new, we have been aware of these kinds of developments since 2003, but there is an ongoing police investigation.
"It's a very serious matter."
Speaking to BBC Sport after the debate in Manchester, Medeiros called match fixing "a cancer which is widespread and deadly", but stressed football's understanding of the issue is greater than ever.
"Criminals are creative individuals, they have a fertile imagination," he added.
"We are here to deter them and also prevent them.
"We're also here to give hopes and dreams for future generations that sport can be safe, secure and clean."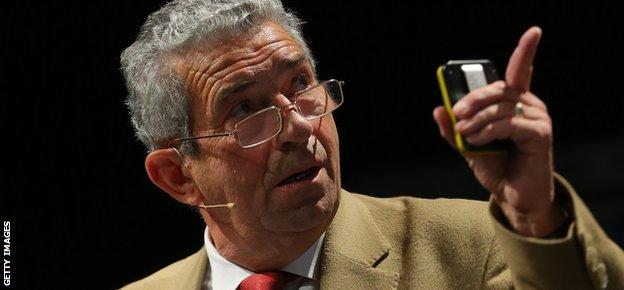 John Abbott, who is leading Interpol and world governing body Fifa's initiative to reduce corruption in football, also took part in the debate.
He also refused to comment on possible ongoing investigations.
Asked if he was aware of Mr Medeiros's claim involving organised criminals, he said: "If we are talking in the past tense, yes.
"But it would be very unwise of me, as a person representing a law-enforcement organisation, to talk about things that might be currently investigated."
Mr Abbott also told BBC Sport he had seen "a rapid increase in reports of alleged match-fixing" around the globe.
He alleged the practice is "being driven by professional criminals, exploiting betting markets, whether they are legal or illegal".
In a separate incident last November, the National Crime Agency arrested six men in connection with an investigation into alleged match fixing in English football.
Among those charged were former Premier League player Delroy Facey, 34, and former non-league player Moses Swaibu, 25.
Both men will appear before Birmingham Crown Court on 19 September.
Last December, police arrested six people in connection with an investigation into spot fixing in English football.
A former Premier League defender allegedly told an undercover reporter he had been involved in rigging matches in return for money.