Iwan Roberts column: Wales' first win vital for France 2016 bid

By Iwan Roberts
Former Wales striker
Last updated on .From the section Football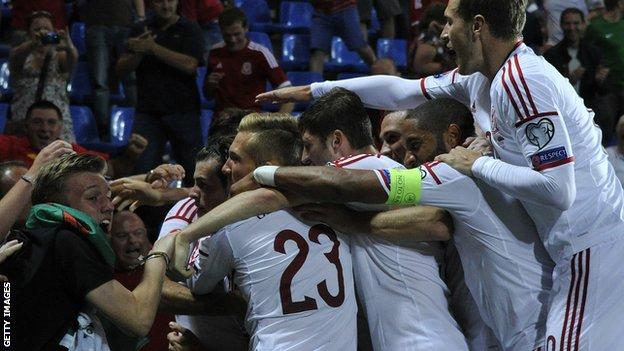 A win is a win no matter who it is against.
Having lost both opening games in the last two qualifying campaigns, it was so important that Wales got off to a winning start in the European Championship qualifiers. Especially as they faced the weakest nation in Group B in the first game on the road to France 2016.
Wales can play much better and they are going to have to if they are to qualify automatically from the group - manager Chris Coleman and his players will know this. Wales have played much better and lost so there cannot be too many complaints.
But you have to take everything into account to realise what an important three points those were against Andorra.
The plastic pitch was a disgrace and has no place in international football. It was a farce at times and our lads really struggled to come to terms with an awkward bounce and an uneven roll; throughout the game there were times when the players really had no idea what the ball was going to do.

Add to this a referee who failed to protect the Welsh players from some very crude challenges by a very physical Andorra side, and in my opinion it's a terrific three points. How on earth referee Slavko Vincic failed to show a red card to one or two Andorra players is beyond me and I hope it is a long time before he takes charge of a Welsh game again.
Wales went a goal down after only six minutes, when defender Ildefons Lima calmly sent Wayne Hennessy the wrong way from the penalty spot. Swansea defender Neil Taylor was adjudged to have pulled the shirt of forward Ivan Lorenzo and while it might have seemed like a soft penalty, from where I was sitting it did look as if Neil had a handful of Lorenzo's shirt.
Bale to the rescue
Gareth Bale has scored 14 goals in 45 appearances for his country.
After that opening setback Wales had long periods of possession without really troubling Ferran Pol in Andorra's goal. If I have one criticism from the game it is that Wales did not test him enough - there was a lack of chances created and shots on target.
Once again Gareth Bale showed just how important he is. If Wales are to qualify for France in two years time then he has to be fit for every game because with Gareth is in the side, Wales have a chance of beating anyone.
His two goals were fantastic for different reasons. The first was a header that any forward would have been proud of. It was a peach of a cross from Ben Davies but Bale's run and cool header were outstanding. He knew exactly where he wanted to plant the ball, he did not panic and guided it to the left of the helpless Pol.
Wales started the second half strong by putting plenty of crosses into the Andorra penalty box, without forcing him to make a save. But when Wales needed a hero, once again up stepped the world's most expensive player. He had tested Pol twice from free-kicks and on both occasions the keeper looked uncomfortable, but with the third Gareth gave him no chance. It was a ferocious left-footed drive and the ball had reached the back of the net before the goalkeeper had even moved.
Wales' remaining Euro 2016 qualifiers
Andorra (h) 13 October 2015
Bosnia-Hercegovina (h) 10 October 2014; (a) 10 October 2015
Cyprus (h) 13 October 2014; (a) 3 September 2015
Belgium (a) 16 November 2014; (h) 12 June 2015
Israel (a) 28 March 2015; (h) 6 September 2015
The travelling Welsh fans, who had been superb throughout the game by sticking with the players after that early setback, went crazy behind the goal as did the team and the Welsh bench. To be fair I even think I found myself screaming when the ball went in.
It was a huge relief for all of us and a very important goal on what was a tough, awkward night for Wales. But it is a winning start and the other nations in our group will not relish facing Andorra on their plastic pitch in the next two years. Andorra are more than capable of taking points from some of their home games.
We now move on to two consecutive home games next month. If Wales can win nine points from their first three games, what a strong position they will be in going into the November away fixture against Belgium.