Rangers fans want Easdale removed after meeting with Rizvi

By Richard Wilson
BBC Scotland
Last updated on .From the section Football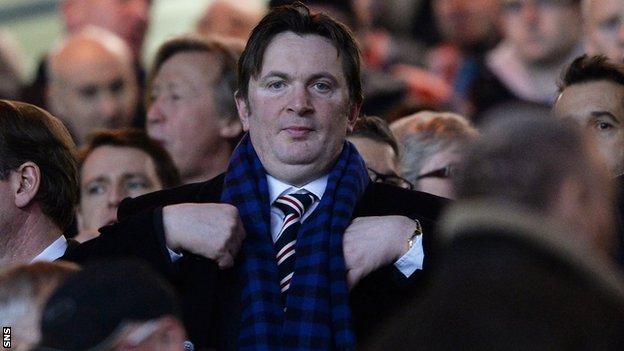 A Rangers supporters group has called on directors to remove Sandy Easdale from the club's football board.
The club denied a media report that Malaysian Datuk Faizoull Bin Ahmad is considering investing in the club.
Bin Ahmad visited Rangers' Ibrox Stadium and Murray Park and had lunch with Easdale. They were joined by Rafat Rizvi, who is wanted by Interpol.
The Union of Fans have stated their opposition to Rizvi having any involvement with Rangers.
Rangers insisted that Bin Ahmad's trip was not connected with putting money into the club.
Bin Ahmad is chairman of Malaysian Super League side Felda United and an Ibrox spokesman insisted that the purpose of his visit was to investigate a potential youth and community tie-up with the Scottish Championship club.
Rangers need investment, and hope to raise up to £4m from an open offer of new shares to existing shareholders.
It is expected that enough money will be raised to fund the club through to next month's annual meeting of shareholders, where permission will be sought to launch a further share issue to raise more investment.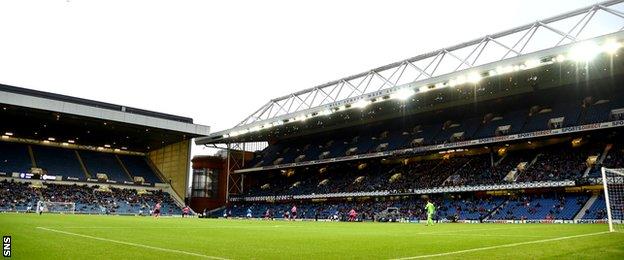 "Rangers this week welcomed a delegation of Malaysian businessmen led by Datuk Faizoull Bin Ahmad, chairman of the Malaysian Super League football club Felda United," said the Rangers spokesman.
"The visit was organised as part of ongoing discussions between Rangers and Felda United with regard to a potential youth development partnership.
"It was at the request of Mr Bin Ahmad that the trip was kept confidential. While he was with us, Mr Bin Ahmad also looked at our community and social inclusion strategies.
"Mr Rafat Rizvi arrived with the Malaysian delegation without our prior knowledge. He is an advisor to Mr Bin Ahmad.
"Subsequent media reports suggesting Mr Bin Ahmad is in discussions with Rangers regarding anything other than youth development are untrue."
Rizvi, who denies charges of corruption, money laundering and banking crimes held against him by Indonesian authorities, is an associate of former Ibrox chief executive Charles Green.
He lives and works between the UK and Singapore, two countries that do not have extradition treaties with Indonesia.
The Union of Fans - a coalition of supporters groups - have spoken out against Easdale and Rizvi, and urged chief executive Graham Wallace and the rest of the Rangers International Football Club board to "take the necessary steps for the immediate removal of Sandy Easdale as a director of Rangers Football Club".
Last year, Easdale was reported to have denied any connection to Rizvi.
"Mr Rafat Rizvi is wanted by Interpol over a number of charges," the Union of Fans said in a statement.
"Graham Wallace, Norman Crighton, David Somers and Philip Nash must act immediately to dissociate the PLC board from this further attempt to involve Rizvi in Rangers' affairs."
The fans group also expressed opposition to the prospect of Green and Ahmad being involved with the club.
Rangers declined to comment on the Union of Fans' statement.