Steve Bruce: 'I know chairman Allam doesn't want to sell Hull City'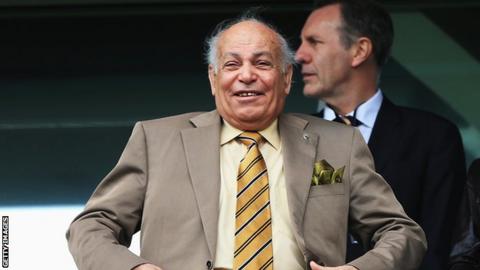 Hull City boss Steve Bruce has said he "knows for a fact" that chairman Assem Allam does not want to sell the club.
The Egyptian businessman revealed on Thursday that he had put the club up for sale after being thwarted in his bid to rename the club Hull Tigers.
But Bruce believes that "deep down", the chairman does not want to sell.
"You only had to see what he did on transfer deadline day," Bruce said. "It's not the actions of a man who really wants to sell the club."
Hull spent more than £10m on deadline day, with striker Abel Hernandez arriving for a club record fee, as well as midfielders Gaston Ramirez and Mohamed Diame.
Assem Allam in focus
Allam was born in Egypt but came to England in the 1960s. He studied economics at the University of Hull and has remained in the city.
In 2014, the Allam family was ranked 295th in the UK on the Sunday Times Rich List with an estimated worth of £320m.
Allam joined the firm Tempest Diesels as finance director in the late 1970s and later bought the company. He renamed the business, which manufactures and supplies generators, Allam Marine.
Allam has broken Hull City's transfer record on four occasions since taking charge of the club in 2010, the most recent being the reported £10m paid for Uruguay striker Abel Hernandez.
Bruce told a press conference that Allam's current intention to sell was based on his "passionate belief" that "the club can move forward with the name change".
The manager confirmed that the chairman intends to pursue an appeal against the Football Association Council's decision to reject the name change to Court of Arbitration for Sport, but said he expected any hearing to be "months away".
Ahead of Monday's Premier League fixture against West Ham, Bruce appealed for calm from Hull fans.
"For me it's business as usual," he said. "The one thing that we have to do is have respect for both sides.
"We have to show that respect for what [Allam]'s done for the club, in terms of overseeing a remarkable rise."