Jose Riga: Blackpool manager 'focused on doing job'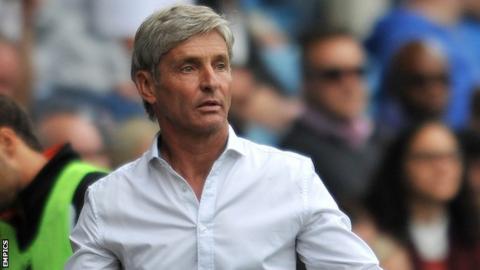 Blackpool manager Jose Riga, 57, has told BBC Radio Lancashire that he will continue to do his job, despite strong speculation about his future.
On Tuesday, Burton Albion boss Gary Rowett claimed that he had been offered the job but turned it down.
When asked how difficult it had been to prepare for Saturday's game against Wolves, Riga said: "It's not of course the ideal context but I just do my job.
"I think all the players and the staff did the same."
Belgian Riga fell out with Blackpool chairman Karl Oyston before the start of the season.
"In all my life, and certainly in 25 years of coaching, nobody has made one single mark about my professionalism, so that's my conclusion," Riga continued.
"Maybe I'm stronger than some people think. I have the same idea in my mind, just be prepared for the next game.
"I think we have done what we were looking to do in these two weeks so, for this, I am happy.
"It's not ideal but I am able to be focused on what I have to do."
Riga's former assistant Bart De Roover left the Seasiders earlier this month.
"We lose somebody who was very respectful, with good knowledge," added Riga.
"I know what I want to give to the fans. I think they understand the situation. We are giving out best."