Senior England players may play at Under-21 finals - Hodgson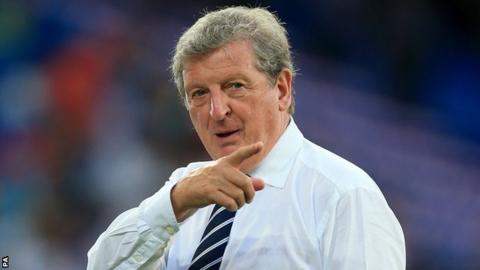 England manager Roy Hodgson wants some of his senior players to feature in next year's European Under-21 Championship finals if they qualify.
Gareth Southgate's side face Croatia in the play-offs for a place in the tournament in the Czech Republic.
Hodgson's team face Slovenia in a Euro 2016 qualifier on 14 June - three days before the Under-21 tournament starts.
"It'll be a question of Gareth and I sitting down and deciding which to send," said Hodgson.
Everton midfielder Ross Barkley, Arsenal defender Calum Chambers, Manchester United full-back Luke Shaw and Everton defender John Stones have all made senior appearances for England.
But Hodgson is keen for his young players to experience tournament football and, providing the Young Lions see off Croatia over two legs between 8 October and 14 October, all four could feature in the Czech Republic next summer.
Then England Under-21 manager Stuart Pearce, speaking in June 2013
"I'll tell you now what you have to do to be successful at senior level. You have to qualify with the best team, you have to take your best team to the tournament and you have to give young players as much tournament experience as possible before they step up to the senior team."
Liverpool's Raheem Sterling and Alex Oxlade-Chamberlain are also regular members of Hodgson's senior squad. Under Uefa regulations, Arsenal's Jack Wilshere, who turns 23 in January, is still eligible to play for the Under-21s.
However, the likelihood is that Sterling, Wilshere and Oxlade-Chamberlain will be considered exempt for the Under-21 tournament unless they personally push for the chance.
But Hodgson does want some of his younger players to take part in the next Under-21 Championship finals.
"I am certain there will be players who will have made an appearance with us or will have certainly been with us," added the England boss.
"We are going to say to them 'Look, just because you have been with us for a while, that doesn't make you a 100% bona fide senior that never plays anywhere else'.
"It just makes them an England player and we are going to use them where we think best.
"First they have got to get through that play-off."
England lost all three of their group games at the 2013 European Under-21 Championship finals in Israel.
The then Young Lions manager Stuart Pearce said at the time that England did not give themselves a chance of winning tournaments because key players could not be selected.
Shaw, Callum McManaman and Sterling were all unavailable because of injury while Andros Townsend had already voluntarily withdrawn from the squad when he was fined and given a suspension by the Football Association for breaching betting regulations.
That summer, Jack Rodwell, Kyle Walker, Phil Jones, Oxlade-Chamberlain, Wilshere and Danny Welbeck were all called up to the senior squad for friendlies against the Republic of Ireland and Brazil.