Man Utd: From Fellaini to Falcao - fortunes revived at Old Trafford
By Simon Stone
BBC Sport at Old Trafford
Last updated on .From the section Football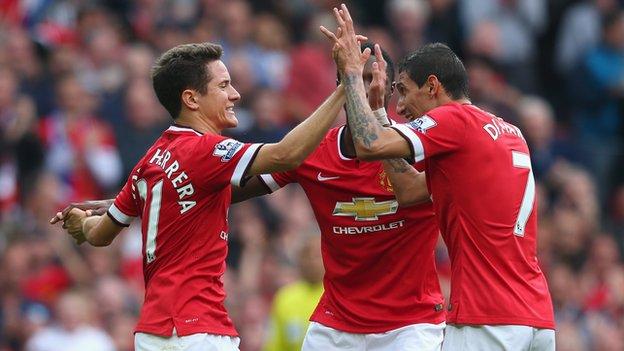 One year ago, Manchester United returned from the first international break of the season to welcome a much-lauded, big-money signing to Old Trafford.
Fast-forward 12 months: this time £126m worth of new talent was paraded as United beat a feeble Queens Park Rangers 4-0. It was a first win for new manager Louis van Gaal who even left a £33m newcomer, Luke Shaw, on the bench.
On Sunday, there was very little that bore any further resemblance to the faltering steps experienced under Moyes.
What's next for the Gaalacticos?
Sunday 21 September: Leicester (a)
Saturday 27 September: West Ham (h)
Sunday 5 October: Everton (h)
Monday 20 October: West Brom (a)
This time, the atmosphere around the Theatre of Dreams was different.
If Van Gaal was concerned enough in the build-up to make reference to the "nervousness" he sensed in his players during the previous home game against Swansea, by the final whistle the air was filled with a renewed sense of optimism.
The roar that greeted Radamel Falcao's arrival midway through the second half underlined how positive United's fans were suddenly feeling. Their team were four goals up, the game was won. It was time to provide a fitting welcome to the Colombian's new home, and he waved when requested by the Stretford End.
Though Falcao failed to take the single clear-cut chance he was offered, the party atmosphere remained.
At the final whistle, supporters teeming on to the streets may have just believed they had witnessed the first purposeful stride in United's revival after a year they would rather forget.
The horizon is not entirely trouble free, however.
Discussing the game afterwards, QPR boss Harry Redknapp said he thought United were "well capable of getting into the top four" but doubted whether they could match leaders Chelsea.
New recruits Daley Blind and Marcos Rojo were not provided with any meaningful examination of their defensive prowess.
Yet there were defensive wobbles against opposition incapable of taking advantage.
That is not entirely new for Manchester United, who could make basic mistakes under former manager Sir Alex Ferguson, but tended to rely on outscoring the opposition.
Van Gaal, who was keen to point out afterwards that the team was adapting to a new philosophy, said: "We are in a building process. The most important thing is trajectory.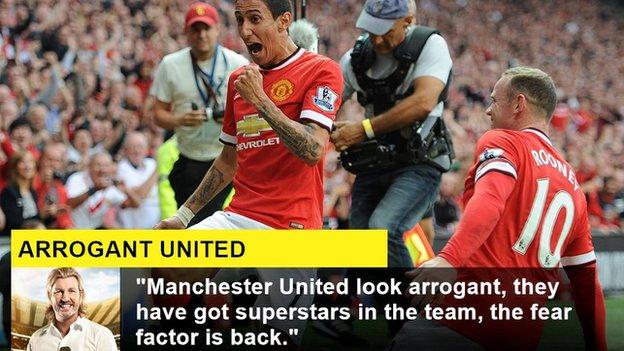 "By the end I hope to be a Premier League champion, if not this year, then in the second or third."
Nevertheless, a day that started with United effectively joint-bottom ended with them just one point adrift of Liverpool and Arsenal and only two behind Tottenham and Manchester City.
And, in Angel Di Maria, they possess a player capable of lifting fans off their seats.
His transfer fee may have been a British record £59.7m but on the evidence so far, the 26-year-old is worth every penny.
MOTD2 analysis: Man Utd v QPR
Mark Lawrenson:
"Angel Di Maria played on the left-hand side of a four-man midfield diamond in their 4-1-2-1-2 formation against QPR, with Ander Herrera to his right, Daley Blind behind him and Juan Mata at the top.
"That role certainly suits Di Maria better than any position in the 3-4-1-2 formation that Van Gaal seems to prefer."Whether he is used as a wing-back or as a central midfielder in that 3-4-1-2, then he will have more defensive responsibilities."
Read more: How Man Utd's diamond suits Di Maria
There can be no greater compliment than to compare the buzz that whirled around Old Trafford when Di Maria was on the ball with the one when Cristiano Ronaldo electrified the same stadium.
For a club whose history is shaped by the legacy left by George Best, Ryan Giggs and Ronaldo, and where lesser-known wide men like Willie Morgan are lauded decades after their contribution to the United story, Di Maria's arrival provides a connection to the past.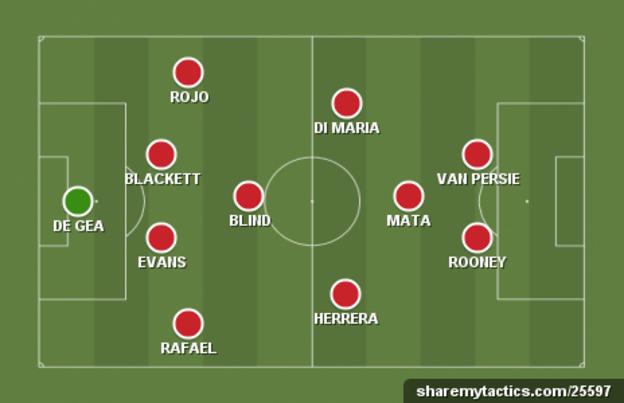 Within half an hour of his home debut, he had scored his first United goal and also triggered the first chants of 'Argentina' from the home fans, a refrain they used to acclaim Gabriel Heinze and Carlos Tevez.
It was rather stretching it for Van Gaal to claim afterwards Di Maria had scored one and created three.
He did have an involvement though. And the rapturous reception he received as he gave way to cramp seven minutes from the end was confirmation of star status already being afforded.
If Di Maria can reflect on a job well done, Juan Mata's satisfaction at a similar contribution may come with a tinge of trepidation.
Even by abandoning his favoured wing-back formation, Van Gaal's philosophy only offers one place 'in the hole' behind two strikers, where Mata is seen to best effect.
Falcao is unlikely to spend too much time on the bench, so, with captain Wayne Rooney also able to drop back, Mata's place may be in doubt.
He busied himself in opening stages, scooping over from 12 yards as he scurried about trying to influence proceedings. And he made his mark in the second half too, by converting the close-range chance that established United's four-goal lead.
The goal completed a fine individual performance, the kind his new club have seen too few of since his £37.1m January move from Chelsea.
Yet it was still his number that went up as Falcao waited to make his entrance.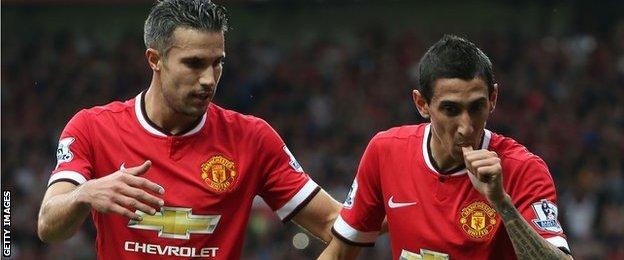 Mata was disappointed at the realisation, even if that initial reaction had given way to a wide smile by the time he reached the touchline to exchange high-fives with his Colombian team-mate.
If Mata's status is uncertain, the same is also true of Adnan Januzaj, one of the few bright spots for United last season.
At 19, the Belgium World Cup player is seven years younger than Mata and is going to need some patience.
A player of immense promise, the impetuosity he showed in ballooning an injury-time shot from an impossible angle, when better-placed team-mates waited for a simple pass, underlined the feeling that he perhaps cannot yet be trusted with a regular starting berth.
Januzaj's consolation should be that he is at a club that now appears to be moving forward again.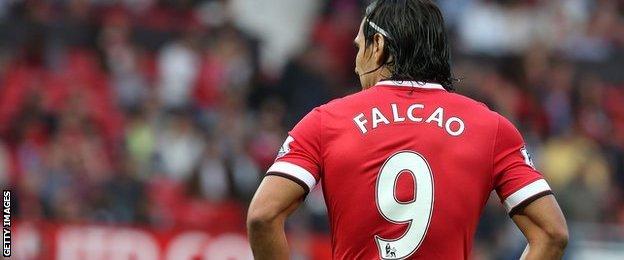 And so back to Fellaini. The deadline-day signing from 12 months ago was not present.
Indeed, the injured midfielder is barely mentioned at all by United fans now.
At times on Sunday, it may have been possible to imagine the last 12 months did not happen at all. However the rebuilding process underway is a reminder of that year.