Liverpool v Ludogorets: Amateurs to Anfield in only four years
By Sam Sheringham
BBC Sport
Last updated on .From the section European Football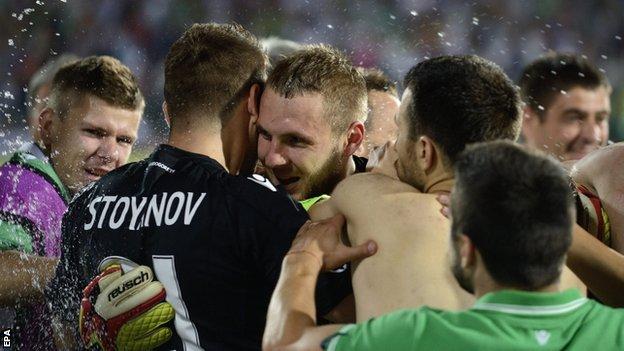 Champions League Group B - Liverpool v Ludogorets
Venue:
Anfield
Date:
16 September
Coverage:
BBC Radio 5 live and live text commentary online.
When Romanian defender Cosmin Moti arrived back from international duty last week, his team-mates jokingly presented him with a set of goalkeeping gloves.
But this was no childish put-down. It was light-hearted recognition of Moti's extraordinary role in a victory that has propelled Bulgarian upstarts Ludogorets Razgrad into the big time.
For those who missed it, Moti was the outfield player who volunteered to go in goal after Ludogorets keeper Vladislav Stoyanov was sent off in the final minute of extra time in their Champions League qualifier against Romanian champions Steaua Bucharest.
Despite previously having worn gloves only to stave off the cold, Moti dived to his right to save two of Steaua's spot-kicks and seal his team's passage to a group stage campaign which begins against Liverpool at Anfield on Tuesday.
Moti, who had spent seven seasons playing for Steaua's arch rivals Dinamo Bucharest, leapt over the advertising hoardings to celebrate with fans, while Ludogorets owner Kiril Domuschiev announced that a stand at their rebuilt stadium would be named after the team's new idol.
"When I got back to the locker room after the game, I had about 60 text messages and 40 missed calls," Moti, 29, tells BBC Sport. "Everybody wanted to congratulate me. That was when I realised I had done something special.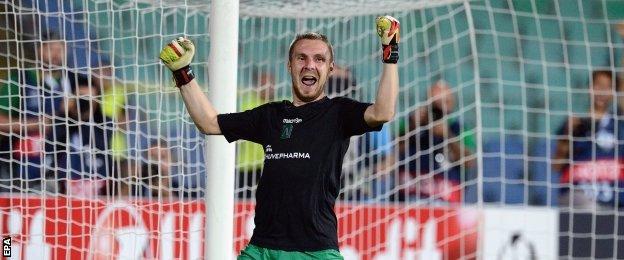 "The day after the game I set off for the national team and I didn't get back to my team-mates and coaches until last Wednesday. Everyone wanted to talk about my penalty saves and joke about me going in goal again. But as I said at the time, everyone at the club is a hero."
Hero is an understatement. After all, when Liverpool last appeared in the Champions League in 2009, Ludogorets, who are based in the north-eastern city of Razgrad, had only been in existence for eight years and were still playing as amateurs in the third tier of Bulgarian football.
Their spectacular ascent began in 2010 when they won promotion to the professional second division and were subsequently bought by pharmaceutical multi-millionaire Domuschiev, who had business interests in the city.
An overhaul of the squad ensured successive promotions, and it was in the following season that the truly remarkable happened.
Sweeping aside illustrious rivals such as CSKA Sofia and Levski Sofia, Ludogorets won the league, Cup and Supercup to become only the second team in world football - after Estonia's FC Levadia Tallinn - to win a domestic treble at the first attempt.
Two further league titles have followed as well as a run to the last 16 in last season's Europa League, featuring away victories over PSV Eindhoven and Lazio.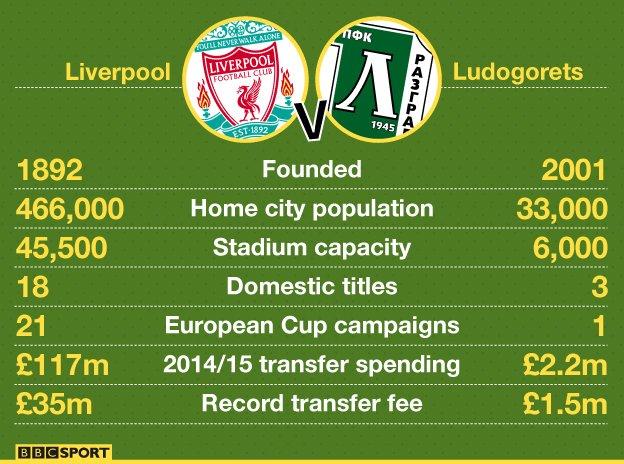 "We started this as a social project," Domuschiev tells BBC Sport. "Razgrad is a small city in one of the poorer regions of Bulgaria so we just wanted to support the local team.
"We would just give 20,000 or 30,000 euros (£16,000 to £24,000) a year to the amateur club to support it.
"But, seeing the enthusiasm of the region and the results of the team, we started to put more money in. And once I was putting in more significant amounts of money in the team, it was logical that I took over the ownership.
"But we didn't expect that we would get promoted and start winning leagues, Cups and Supercups. Nobody expected these results."
Not everyone is as excited as Domuschiev about Ludogorets' sudden rise: CSKA Sofia coach Stoycho Mladenov said he would be cheering for Liverpool on Tuesday.
At a time when the two historic Sofia clubs have been suffering financial decline, Domuschiev has invested in the region of 20m euros in the Ludogorets team, staff, training facilities and stadium, which is being expanded from 6,000 to 12,500 seats.
It is a significant amount in Bulgarian football terms, but does not fully explain their domestic dominance and ability to compete with some of Europe's heavyweights. In fact, the Ludogorets story has been as much about scouting as spending.
Who are Ludogorets Razgrad?
Ludogorets was founded in 2001 as Ludogorie FC, but changed name to Razgrad in 2000 after joining up with a local youth team.
The team didn't procure their current name until 2010 when it acquired the license of the original Ludogorets, which had been dissolved in 2006.
Ludogorets are the second Bulgarian team (after Levski Sofia) to reach the group stage of the Champions League
One of Domuschiev's key appointments has been sporting director Metodi Tomanov, a former Bulgaria midfielder who oversees the search for new players.
"It is a very difficult task to convince players to come to a small club with a short history in a town of only 35,000 people," says Tomanov. "Often if we have seven or eight options for a striker, normally we take the fifth or sixth because the first four will go to bigger clubs.
"But we are looking for players with character, a winner's mentality, players who are not coming here only for the money. That is why we have to speak to them many times before they come to our team."
Tomanov's success stories are manifold. Marcelinho, a 30-year-old Brazilian midfielder who was named the league's best foreign player last season, signed for £100,000 in 2011. Slovenian striker Roman Bezjak, the second top scorer in last season's Europa League with six goals, cost £175,000.
Moti, who signed from Dinamo for £350,000 in 2012, admits he had never even heard of Ludogorets before his agent informed him of their approach.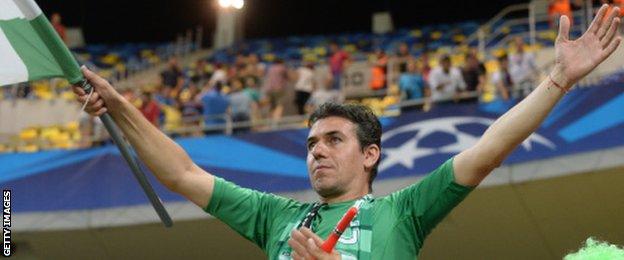 "I asked a few Romanians who were playing in Bulgaria and they said Ludogorets was a serious club and the people who run it are serious.
"When I arrived it was easy because they had some other Romanian players and one Bulgarian guy who spoke perfect Romanian and translated everything for me.
"The team who won the league two years ago has stayed roughly the same. That is an advantage for us because we played together for a long time."
Tomanov's most pressing task in recent days has been trying to plot a way past Liverpool - and not for the first time.
In 1982, he was in the CSKA Sofia team that shocked Bob Paisley's holders in the European Cup third round. After a 1-0 defeat in the first leg, CSKA won the home leg 2-0, with Tomanov setting up the winning goal in extra-time.
"They were such a great team," recalls Tomanov. "They had Dalglish, Grobbelaar, Souness, McDermott. For me they were one of the greatest English teams of all time.
"They were much better than us as individuals but we came together as a team and played brilliantly. It is one of my best memories in football and it's amazing to be facing up against Liverpool again."
Champions League Group B
Real Madrid
FC Basel
Liverpool
Ludogorets Razgrad
Moti was part of the Dinamo side that beat Everton 5-2 on aggregate in the Uefa Cup first round in 2005, but he will be taking on the red half of Merseyside for the first time.
"We know they have big players like Gerrard, Balotelli and Sturridge," he says. "They are a very good team and finished second in possibly the best championship in the world.
"But we are not afraid of their players. We know it will be hard but we try to win every game and play our best football."
And if Gerrard steps up to take a penalty in front of the Kop, will Moti be itching to put on the gloves?
"Oh no," he laughs. "I said after the game that I hope I will not have to go in goal again because I don't know what would happen next time. I think that was once in a lifetime."