MOTD2 analysis - How Man Utd's diamond suits Angel Di Maria
Last updated on .From the section Football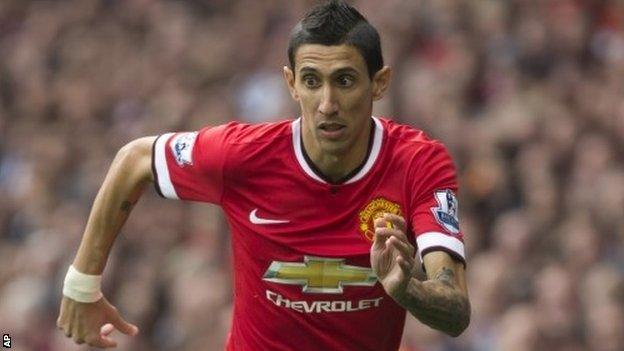 MOTD2 pundit Mark Lawrenson expands on his TV analysis of the 4-0 win over QPR that gave Louis van Gaal his first Premier League win as Manchester United manager.
I was at Old Trafford on Sunday to take a first look at some of Manchester United's expensive new signings and see how Louis van Gaal fitted them into his team.
United's British record signing Angel Di Maria was the star of the show on his home debut, scoring one goal and making another in what was a very easy win.
Di Maria was a perfect fit in United's midfield diamond and his display should make Van Gaal think hard about switching back to a three-man defence, because I don't think that system will suit him so well.
Di Maria provides pace and penetration
There was absolutely no doubt that Di Maria was the man who made the difference for United against QPR.
When the Argentina international had the ball, they played at a totally difference pace, and he was so creative with it.
After some poor early crosses he just got better and better, and a couple of dinked passes he played to Robin van Persie were just sublime.
Di Maria was United's only midfield player who really looked to run at the QPR defenders, take them on and commit the opposition.
He linked up well with left-back Marcos Rojo and QPR never really coped with Di Maria, or the tempo United had when he had possession, something that happened a lot, particularly in the first half.
Man Utd's attacks in the first half vs QPR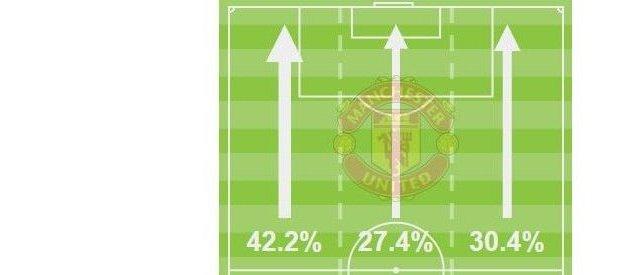 Di Maria played on the left-hand side of a four-man midfield diamond in their 4-1-2-1-2 formation, with Ander Herrera to his right, Daley Blind behind him and Juan Mata at the top.
That role certainly suits Di Maria better than any position in the 3-4-1-2 formation that Van Gaal seems to prefer.
Whether he is used as a wing-back or as a central midfielder in that 3-4-1-2, then he will have more defensive responsibilities.
| Angel Di Maria touches vs QPR | Marcos Rojo touches vs QPR |
| --- | --- |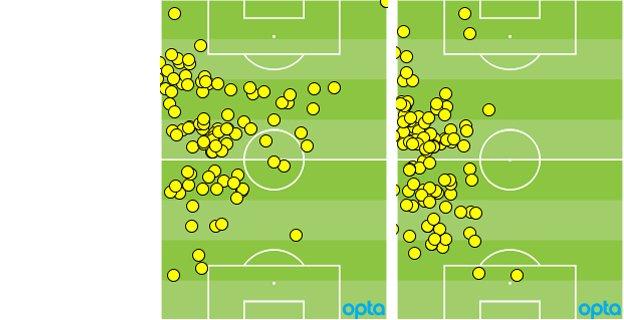 | Angel Di Maria | Marcos Rojo |
| --- | --- |
| Touches: 95 | Touches: 100 |
| Total passes: 76 | Total passes: 85 |
| Passing accuracy: 80.3% | Passing accuracy: 91.8% |
| Crosses: 6 | Crosses: 3 |
| Shots: 2 | Shots: 0 |
| Goals: 1 | Goals: 0 |
He showed against QPR that he is willing to work back, and did it well when he had to, but this is a £59.7m player we are talking about.
United spent that much money on him because of what he offers them in attack and, whatever formation they play, surely they want to give him as much freedom as possible.
Di Maria gives them the threat out wide they lacked last season so it is important they play him in a position where he does not have anything else to do but run at defenders all day long.
Why play in a system that burdens him with anything else?
Steady Blind shields the defence

Blind's first game at Old Trafford was nowhere near as spectacular as Di Maria's, but he was also exactly what United needed in their midfield.
He kept things simple - he was neat and tidy on the ball and rarely gave it away.
Most importantly, though, he was always in position in front of his two centre-backs, and shielding his defence - Jonny Evans and Tyler Blackett will have been very happy with the job he did.
| Manchester United players' average position against QPR | Daley Blind's touches vs QPR |
| --- | --- |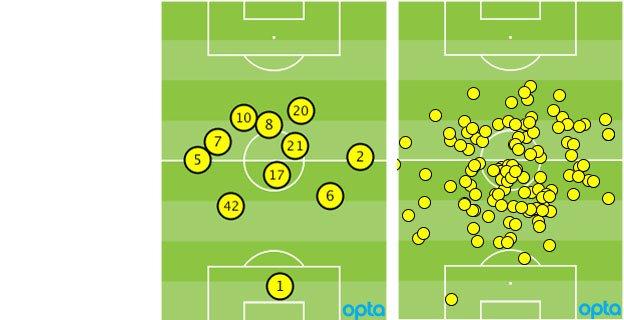 | Key: | Daley Blind |
| --- | --- |
| 17: Daley Blind | Touches: 122 |
| 7: Angel Di Maria | Total passes: 112 |
| 21: Ander Herrera | Accuracy: 95.5% |
| 8: Juan Mata | Passes in opposition half: 51 |
| 10: Wayne Rooney | Accuracy: 92.2% |
| 20: Robin van Persie | Shots: 1 |
Blind made 122 touches - along with Jonny Evans, the most of any United player - and more passes, 112, than anyone on the pitch.
He was a real calming influence and his presence allowed the five players in front of him to concentrate on getting forward.
I am not sure we will see those five players - Di Maria, Herrera, Mata, Rooney and Robin van Persie - line up together when United play better teams than QPR.
One of them will miss out in the big games, and I suspect it will be Mata. That would allow Michael Carrick or Darren Fletcher to come in and join Blind in offering more protection to United's defence.
QPR leave questions left unanswered for United
Winning 4-0 was a very good result for United but any praise for their performance has to be tempered by the fact QPR were so poor.
Harry Redknapp's side played very deep, and their five men in midfield did not press United when they had the ball - instead, they sat back and let them play.
| QPR players' average position v Manchester United | Charlie Austin's touches v Manchester United |
| --- | --- |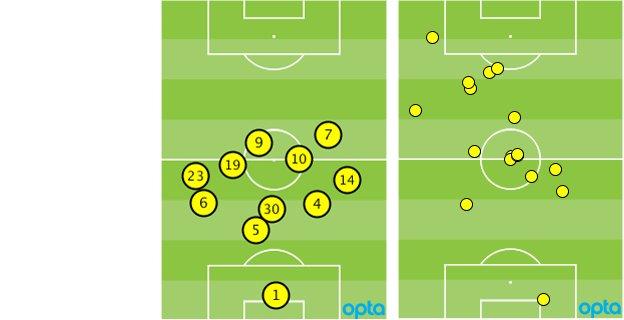 | Key: | Charlie Austin |
| --- | --- |
| 9: Charlie Austin | Touches: 19 |
| 23: Junior Hoilett | Shots: 1 |
| 7: Matt Phillips | On target: 0 |
United's first goal - Di Maria's free-kick which sailed straight in - was bad enough from QPR's point of view but, for the other three, they allowed United far too much time on the ball.
QPR's game-plan at 0-0 was to frustrate the home side but that went out of the window once they fell behind, and they had to pose a threat up front.
They didn't. Instead, they just played aimless long balls up to poor Charlie Austin, who barely got a touch playing up front on his own and might as well have been sitting next to me in the stands.
Junior Hoilett and Matt Phillips were supposed to be supporting Austin but they rarely got out of their own half and that just invited United's full-backs, Rafael and Rojo, forward and put them under even more pressure.
QPR's ineptitude in every department means United could not answer all the questions we have about the balance of their new-look team.
We do not know how they will cope defensively when teams try to get at them, or if they will look so dangerous in attack when teams do not drop off and allow them time and space on the ball.
There are tougher tests ahead, but United under Van Gaal are up and running at last, and there is definitely more to come from them.
Mark Lawrenson was speaking to BBC Sport's Chris Bevan