Scotland's Rachel Corsie relishes prospect of Sweden test
By Rachel Corsie
Scotland international
Last updated on .From the section Football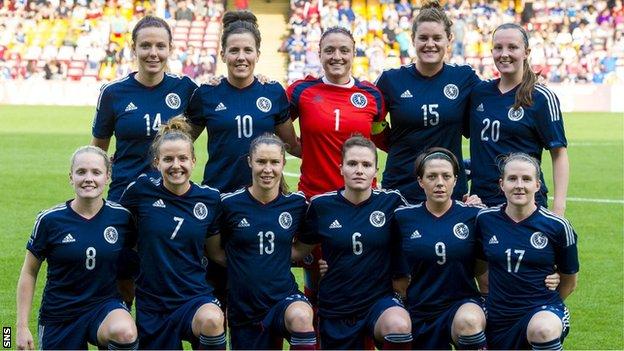 There has been no time to enjoy Saturday night's victory over the Faroe Islands that sealed our spot in the 2015 World Cup qualification play-offs.
The team met on Sunday morning to travel to Gothenburg for the final game of our qualification group.
The result, albeit expected, was very convincing and particularly the second half rout as we came away with a comprehensive 9-0 win.
Going into the game, knowing what was at stake, meant there was a little added pressure on us and the three goals in the opening 15 minutes certainly calmed some nerves.
It then took us until the second half to break down the Faroese defence again and who else to do that but Jane Ross, who grabbed two more to give her yet another hat-trick, which deservingly puts her top of the goalscoring charts across Europe.
Rachel Corse, Scotland international
It is nice to have an opportunity to play in Sweden, on a nice pitch, in front of a big crowd, and against one of the world's best sides
We have travelled to Sweden knowing that we still have an outside chance of automatic qualification but, ultimately, our primary goal of reaching the play-off has been attained.
Only a win that equals or betters the 3-1 deficit suffered at home against the Swedes will be enough to reach the finals in Canada automatically, a very tough task.
Sweden have been one of Europe's most consistent performers in tournament finals and in recent years they have strolled through qualification rounds to reach the final stages. The odds are against them slipping up this time.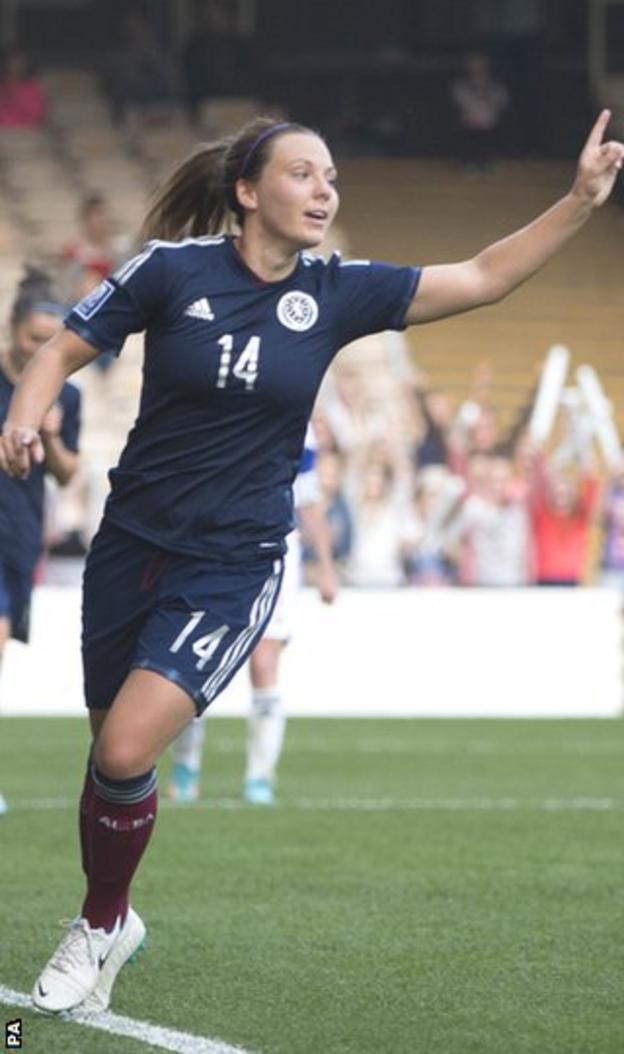 However, we go there with no pressure and I think for the first time in a while the girls feel a little weight off their shoulders.
Finishing second is a great achievement. However, we believed from the start that we had enough quality to get us here and I think the heartache of the last qualifying campaign was still in the back of the minds of many.
With at least a play-off secured, it is nice to have an opportunity to play in Sweden, on a nice pitch, in front of a big crowd, and against one of the world's best sides.
So far, one spot remains available for the final play-off spot, after Italy and Holland also secured enough points to prevent anyone catching them.
Both teams will be in the opposite side of the draw to Scotland, based on ranking, and so even if the result is unfavourable on Wednesday night, the match will help us prepare for the play-off matches against two top nations.
Wales have their eyes on reaching the play-offs for the first time.
Several of the girls here have friends and team-mates in that Welsh side and will be keen to know how they get on against Ukraine on Wednesday night.