Nigeria crisis affects coach vacancy
Last updated on .From the section Football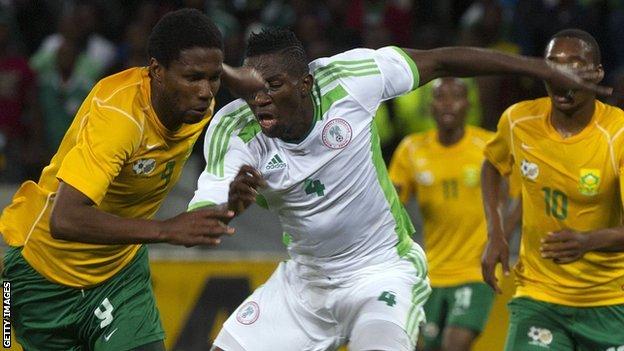 Nigeria will face a last-minute rush to appoint a coach before the Africa Cup of Nations qualifiers against Sudan next month because of the crisis at the country's football federation.
The role is vacant following the end of Stephen Keshi's two-match deal.
But the Nigeria Football Federation has said it will not hold talks with any coaches until after the governing body appoints a new president.
The NFF will meet this weekend to decide a date for the election.
Under Keshi's supervision, Nigeria's qualifying campaign has suffered a faltering start, with a defeat by Congo and a draw with South Africa leaving them languishing in third place in Group A.
It places extra pressure on Nigeria to win their match away to Sudan, which will take place on 10 or 11 October, and the return fixture four days later.
The 52-year-old Keshi, whose contract was not renewed after the World Cup in Brazil, was temporarily put in charge following the intervention of Nigeria's sports minister.
But talks with the NFF stalled because of the body's leadership struggle that prompted a league boycott and led to Fifa threatening a ban from international competition.
"It is up to the NFF to decide who handles the Eagles," said Patrick Omorodion, spokesman for sports minister Tammy Danagogo.
"The minister only requested that Keshi should handle the two games, since there was a vacuum."
Fifa's decision not to ban Nigeria was conditional on new elections being held for the NFF management within the shortest possible timeframe.
But whether Keshi stays in charge is not a given, raising the prospect of another troubled build-up.
"It is only fair that the new NFF leadership be saddled with the responsibility of deciding the fate of Keshi," said one senior official, who asked not to be identified.
"It could well be they would want to have a new man in charge of the national team. It is therefore best they make the call on a coach for the Super Eagles."
Keshi, who has frequently locked horns with his superiors, including rows over unpaid salaries, said after Nigeria's last match against South Africa that his future was up in the air.
"I was just brought in to help manage these two games. We have finished them now, so we'll see what happens. If we come to an agreement, yes, I'll stay. If no, I'll depart," he said.