Blackpool: Karl Oyston and Jose Riga 'hold productive talks'
Last updated on .From the section Football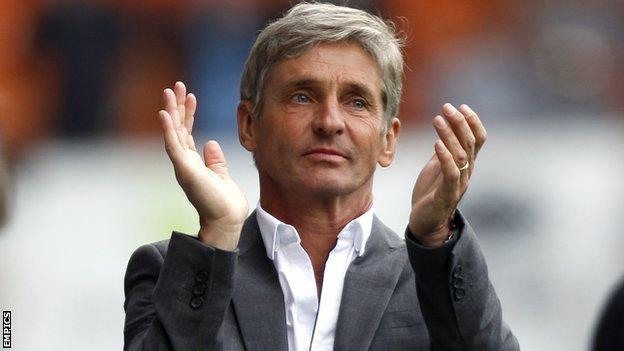 Blackpool chairman Karl Oyston said he would give manager Jose Riga "the support he needs" after a "productive" meeting between the pair.
Riga's position had been in doubt before Blackpool's 0-0 draw with Wolves, which gave the Seasiders their first point of the season.
Burton boss Gary Rowett was approached about the possibility of taking over but Oyston now wants Riga to stay.
"We had a lengthy chat and covered everything, no holds barred," he said.
Oyston told the Blackpool Gazette: "I'm happy to give him the support he needs and hopefully things can move forward now."
The pair fell out soon after Riga's appointment because of a dispute over transfer targets.
Blackpool's poor start to the season
9 Aug: 0-2 v Nottingham Forest (A)
12 Aug: 0-1 v Shrewsbury Town (A) League Cup first round
16 Aug: 1-2 v Blackburn (H)
19 Aug: 1-2 v Brentford (H)
23 Aug: 0-1 v Wigan (A)
30 Aug: 1-2 v Millwall (A)
13 Sep: 0-0 v Wolves (H)
Their conflict escalated during the recent international break when, after six straight defeats in all competitions, Riga returned to his native Belgium, for which Oyston accused him of unprofessionalism.
Oyston says he has accepted Riga's explanation for that and also defended his approach for Rowett last week, claiming that he had needed to "consider contingency plans".
Blackpool fans showed their support for the manager on Saturday and Oyston is now hoping for a positive outcome.
"I wasn't surprised by the amount of support Jose received from the fans on Saturday and I think it's wonderful to see positivity around the place again," he added.
"If the supporters are now wholly backing the manager then that's great as positivity is what we've been short of as a club. I hope that now continues for a very long time."