Liverpool: Champions League return 'feels like coming home'
By Sam Sheringham
BBC Sport at Anfield
Last updated on .From the section Liverpool764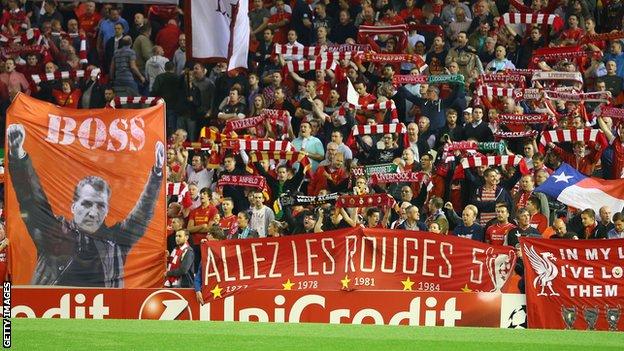 Steven Gerrard may have been away from the Champions League for five years, but he has not lost his impeccable sense of timing on European football's biggest stage.
The Liverpool skipper stepped up in front of his adoring Kop to slot home a stoppage-time penalty that clinched a 2-1 victory for the Reds over Bulgarian upstarts Ludogorets Razgrad, who moments earlier appeared to have spoilt the Anfield party with a last-minute equaliser.
A party was exactly what this was supposed to be for Liverpool and their supporters as they returned to Europe's top table following five years of feeding on scraps.
Gerrard, the hero of Liverpool's most recent European title in 2005, had admitted to jealousy at watching Chelsea and Manchester United enjoy success in a competition in which the Reds had so frequently exceeded expectations and delivered so many dizzying highs.
Liverpool qualified for the Champions League eight times in nine seasons between 2001 and 2009, a sequence which included runs to the final, semi-final and quarter-final, as well as the incredible comeback from 3-0 down to beat AC Milan on penalties in Istanbul.
In that period, Barcelona, Real Madrid, Inter Milan, Juventus, Chelsea and Arsenal were also swept aside as the Reds - spurred on by their feverish home support - repeatedly found a higher level in Europe.
But it was the ill-fated ownership of Americans Tom Hicks and George Gillett that brought things to an end as the Reds went out in the group stage in 2009-10 and subsequently finished outside the top four in four consecutive seasons.
Liverpool back in the Champions League
Liverpool are taking part in the Champions League for the ninth time. Their last appearance in the competition was in 2009-10.
The Reds scored only five goals in their six Champions League group games in their last appearance in the competition.
In that time, Liverpool have spent more than £400m on new players and changed manager three times, with Brendan Rodgers finally guiding them back to the promised land with a second-placed finish last term.
"It has been too long," declared Rodgers in his programme notes. "We are not tourists in this competition. We believe it is where we belong."
Tuesday's match had the feel of a long-awaited reunion between old friends, and one that Liverpool's fans were determined to savour.
As smiling supporters swarmed through the Shankly Gates on a balmy late summer's evening on Merseyside, an aroma of sweat and beer wafted from The Park pub across the road from the Kop, where the full range of club songs were belted out at full volume.
At the Paisley Gateway, Neil Poole sold copies of his new fanzine, We are Liverpool, with the front-page splash: 'European Reunion: Back where we belong.'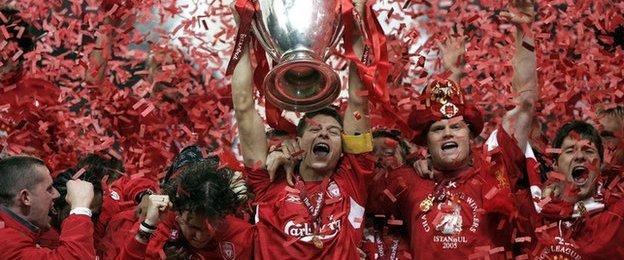 "We're coming back home," said Poole, an Anfield regular since 1987. "This competition has a special place in our hearts.
"It's been so painful that I haven't even watched the Champions League for the past five years. It is literally as if it hadn't existed for me."
Season-ticket holder Mike Atwood, from Warrington, struck a similar tone as he soaked up the pre-match atmosphere.
"It's just great to be back," he said. "It's been a long wait. After Istanbul, to see us drop out of it was painful but you never stop believing do you?"
Atwood has special memories of Liverpool's 2004 group match against Olympiakos, when Gerrard's late half-volley ensured their passage to the knockout stages.
"That was the first European game I brought my sons too," he said. "I've seen some great moments here but that has to be one of the very best."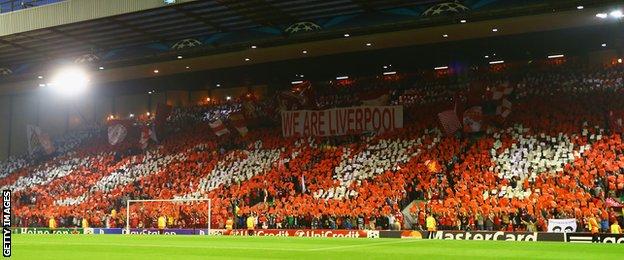 Inside the stadium, a giant banner declaring 'Liverpool FC: European Royalty' was unfurled as supporters sang about Istanbul, Rome and the other venues of the club's European conquests.
When the teams entered the field to the Champions League anthem, fans on the Kop held up white cards against a red backdrop to depict the five European Cups the club have won, before greeting the announcement of the home side with deafening roars.
After such an extravagant build-up, it was perhaps unsurprising the early stages of the game struggled to live up to billing.
Liverpool, lacking the pace and purpose that defined their play last season, struggled to break down their organised opponents and could have no complaints about going in at half-time with the scoreline 0-0.
The stadium DJ did his best to remind the players of the importance of the occasion with a chorus of the Beatles' Get Back, and yet for much of the second period it was lowly Ludogorets who looked more comfortable in their surroundings.
BBC Sport chief football writer Phil McNulty:
"Liverpool fans still recall the 5-0 aggregate win over Real Madrid - 4-0 at Anfield - in 2009 but that was against a fading side under former Spurs coach Juande Ramos and Rafa Benitez's side boasted a wealth of European experience.
"It may be a stretch to see Brendan Rodgers' side topping the group ahead of the holders but there is every reason for optimism that they can progress to the knockout phase."
Read more
With their small but strident legion of green-and-white supporters in the corner of the Anfield Road End growing in voice, the Bulgarian side's striker Roman Bejzak rattled the foot of Simon Mignolet's post, and Junior Caicara had the Liverpool keeper at full stretch to push aside a long-range shot.
The home fans were just starting to voice their frustration when Mario Balotelli transformed their mood. After controlling the ball with his chest, the Italian shrugged off two defenders and placed the ball in the far corner before celebrating in front of a raucous Kop.
That should really have been that, but there was still time for further drama at both ends. First, substitute Dani Abalo caught the Reds defence napping to pop in an equaliser, then Liverpool full-back Javi Manquillo tumbled over Milan Borjan's clumsy challenge to win a penalty.
The hush that descended around Anfield as Gerrard placed the ball on the spot only made the roar that followed his successful penalty all the more thunderous.
As anyone within 10 miles of the famous stadium would no doubt have been aware, Liverpool's latest Champions League adventure had begun.