Port Vale: Micky Adams questions his 'shelf life' as club's manager
Last updated on .From the section Port Vale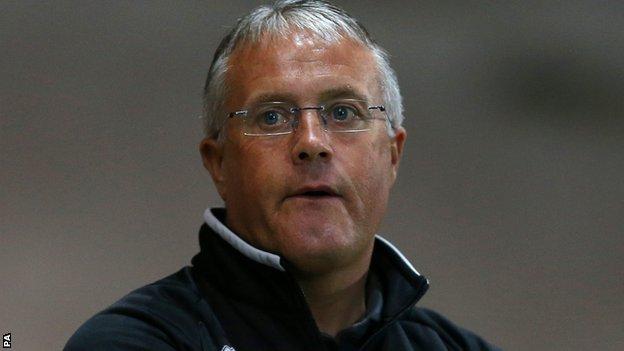 Port Vale manager Micky Adams has questioned his own "shelf life" in the Potteries after seeing his side suffer a sixth successive defeat.
After an unbeaten four-game start to the season, Vale have now slumped to second from bottom in League One.
"I know a majority of supporters are not happy with Micky Adams and I can understand that," said the 52-year-old.
"Every manager has a shelf life at a football club. Maybe I've reached mine," he told BBC Radio Stoke.
"But that's not for me to decide. It's probably for a discussion elsewhere another time, instead of immediately after a game in which we've lost 3-0 against the leaders."
To add perspective to Vale's current plight, it needs to be emphasised that, of the six straight defeats suffered by Adams' side inside 24 days, one was to Championship side Cardiff City in the League Cup and three have been to the current League One top three - Chesterfield, Peterborough United and Tuesday night's conquerors Bristol City.
Micky's managerial moves

Aug 96-Sep 97: Fulham (player-manager) (won promotion)

Oct 97: Swansea City (caretaker player-manager)

Nov 97-Jul 98: Brentford (player-manager)

Jan 99: Nottingham Forest (caretaker manager)

Apr 99-Oct 01: Brighton (won promotion)

Apr 02-Oct 04: Leicester City (won promotion)

Jan 05-Jan 07: Coventry City

May 08-Feb 09: Brighton

June 09-Dec 10: Port Vale

Dec 10-Feb 11: Sheffield United

May 11-present: Port Vale (won promotion)
But, after a half-year long saga over whether he would sign his latest one-year rolling contract and reports of a rift with chairman Norman Smurthwaite, Adams senses something is wrong at Vale Park.
In an emotional post-match press conference following the 3-0 defeat by City, the Vale manager said: "It's so quiet. Clearly something isn't right in the dressing room.
"Whether it's me or them, or the way we're going about our jobs, I don't know. But it's certainly something that needs looking at.
"Every individual in that dressing room is good enough, but they are playing without confidence, which is evident.
"I've been a player myself. I know there's not a pill you can buy across the counter that gives you confidence. There's no hiding place. Every player goes though a crisis of confidence. It's how you get through it.
"We have to remember that we were playing a very good side at the top of the table, who, incidentally, have spent a fortune. But I want to apologise to our supporters. They're having a tough time of it."
Adams is in his second spell as Port Vale boss, having been tempted back to his native South Yorkshire to take charge of Sheffield United in 2011, although his short tenure was ended after he failed to keep the Blades in the Championship.
He returned to Burslem later that year and led the club to promotion in 2012-13, despite the club starting the season in administration prior to Smurthwaite's takeover.