Reform chaotic transfer system for sake of English players - Dyke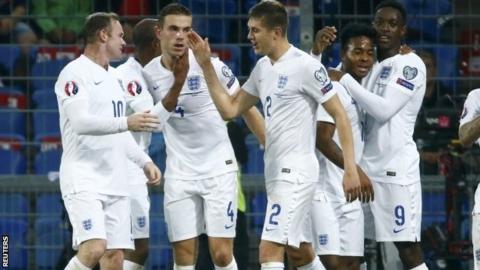 Football Association chairman Greg Dyke has said reforming the "chaotic" transfer system will increase opportunities for English players.
On Tuesday, the FA sent out its first draft of proposals to reduce the number of non-EU players within English football by up to 50%.
"The present system is chaotic," Dyke told BBC Sport.
"There are mediocre players that come and take squad places - those could be filled by young English players."
Proposed rule changes have been sent to the Premier League, the Football League and the players' and managers' unions.
The FA hopes a new system can be in place for the 2015-16 season.
"Eighty per cent of the players that come in from outside of the EU come in on appeal, where the manager goes along with a video and shows it to a committee and they say, "well, he looks a good player".
"We want to get rid of that subjective part and say you either meet these criteria or you don't."
Up until the end of last season, 122 non-EU players had entered English football since 2009.
"I think what we hope will happen is roughly half the number of players that are now coming from outside the EU won't be able to get in here," added the former BBC director general.
"It's not vast numbers. But if you think 30-a-year won't come, won't be in squads, it means places for English kids in the squads."
Greg Dyke on the proposals
What we hope will happen is roughly half the number of players that are now coming from outside the EU won't be able to get in here.
Asked whether the Premier League clubs would oppose the proposal, Dyke said: "The analysis we've done says we're not bringing in the best talent.
"There's quite a lot of players coming in who aren't the elite. They come and they take squad places - often they only stay a year or two. Some are going into the Football League.
"We've already talked to the Football League and Premier League. They're going to set up groups to look at it."
On B teams
In 2013, Dyke helped set up an FA Commission - made up of experienced figures in the industry - to look at the state of the English game at club and national level.
One of the proposals was the creation of a new tier within the Football League for Premier League B teams. Twenty of the 25 players in the squad would have to qualify for the home-grown rule and no non-EU players would be allowed.
"We're still discussing with the Football League and others about some possibilities about how to introduce B teams. We'll see what happens," Dyke said.
"I think B teams in a competitive environment is still a possibility."
On the England national team
Following the disappointment of the World Cup, Dyke said he was confident coach Roy Hodgson was building for the future.
England began their Euro 2016 qualification campaign with a 2-0 win in Switzerland. The starting XI featured seven players under the age of 25.
"I think obviously he will play some younger players in the next qualifier against San Marino, and look to two years time and bring in younger players."
On Sepp Blatter
Dyke said Blatter was too old to stand again for the Fifa presidency. The FA chairman criticised the Swiss this summer for labelling the British media as racist, after they reported allegations of corruption surrounding Qatar's victory to host the 2022 World Cup.
"My position - and the FA's position - on Sepp Blatter is that there should be a competition," he added, after former Fifa deputy general secretary Jerome Champagne announced his decision to stand against the Swiss.
"I think he'll probably win. He's not doing the right thing. [He] said four years ago, 'I'm not standing again' and got elected on that basis.
"Sometimes in this world you have to let younger men have their time and I think seeing old men standing at the age of 78 for another four years is a mistake."