Euro 2020: FAW to learn if Cardiff will host games
Last updated on .From the section Football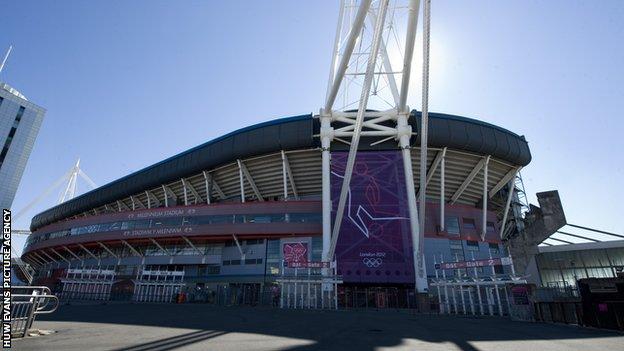 The Football Association of Wales (FAW) will learn on Friday whether Cardiff will be a host city for Euro 2020.
European football's governing body, Uefa, will announce in Geneva, Switzerland which 13 European cities will hold matches at the tournament.
Cardiff faces competition from 18 cities, including London, Glasgow and Dublin to stage games.
Wales have put forward the Millennium Stadium to host group matches and one knockout game.
An evaluation report by Uefa released a week ago praised the Welsh bid, but says work is still needed.
In response, the FAW's bid director Alan Hamer said Wales are "cautiously optimistic" about being successful.
Euro 2020 (from the Uefa website)
The matches will be split into 13 different packages - 12 ordinary packages including three group matches and one knockout game, and one package for the semi-finals and the final.
There will be a maximum of one venue per country, meaning one stadium for each of the available 13 packages. Both semi-finals and the final will be played in one stadium.
Every national association will be allowed to present up to two bids, one for the ordinary package and one for the semi-finals/final package. Associations can decide to present the same city for their two bids or two different cities.
More details on the
Uefa website.
He said the Millennium Stadium was ranked third out of the 19 stadiums considered in the evaluation, which forms part of the overall bid.
FAW chief executive Jonathan Ford said the venue should act a big draw for the decision makers.
"I think we've done all that we can to submit a very strong compelling bid to Uefa and we know from a financial basis that our stadium is one of the most profitable for Uefa," said Ford.
"The income generated from that stadium compared to others is extremely high and hopefully Wales, Cardiff, the Millennium Stadium will be selected."
For the first time, the European Championships will be staged in more than two countries to mark the tournament's 60th anniversary.
As part of the overhaul to the tournament format, the semi-finals and final will be played at the same stadium. Either England's Wembley Stadium and the Allianz Arena in Munich will stage those games.
There will be no more than one venue per country and host countries will not qualify automatically.
Any host nations that qualify will play at least two of their three group matches at home.
The Scottish Football Association will submit a case to host three group games and a round-of-16 tie for the 24-team tournament.