Alan Pardew: Newcastle fans have created 'mass hysteria'
Last updated on .From the section Newcastle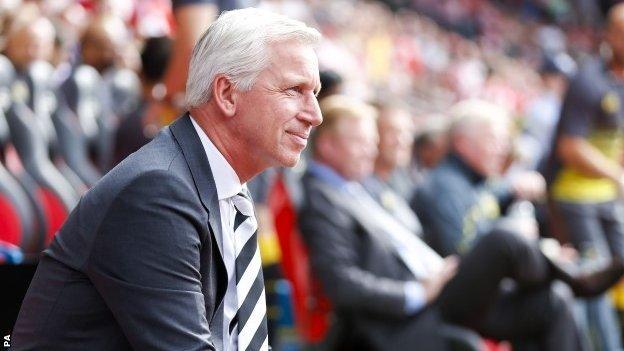 Newcastle United manager Alan Pardew has accused supporters of "mass hysteria" after his side's poor start to the Premier League season.
Pardew also says that heavy criticism from the fans is affecting players.
"This situation at the moment is almost like mass hysteria," said Pardew, 53.
The Magpies boss added he did not seek assurances on his future in a meeting with owner Mike Ashley following the 4-0 defeat at Southampton which left his side bottom of the league.
Newcastle captain Fabricio Coloccini writing in Saturday's programme
"We are football fans too, so we understand that things can get frustrating. But please, support the team for 90 minutes inside the stadium. We need your support."
Newcastle only have two points from four games going into Saturday's match against Hull, with reports in the week speculating over Pardew's future.
"I'm hoping we can turn that around but the environment for the players on Saturday will probably be as tough as it's ever been," he said.
"It's gone to a level which makes it really difficult for players to perform in."
Further protests are set to take place inside St James' Park this Saturday as the Magpies host Hull, whose manager Steve Bruce has been touted as a possible replacement for Pardew, who is contracted to the club until 2020.
One group, sackpardew.com, is handing out 30,000 A4 sheets demanding the manager's exit to fans.
Bruce - who was sacked by Newcastle's neighbours Sunderland in November 2011 - said he sympathised with Pardew.
"I know what he's going through after being in the North East and it's not an easy place to manage," he said.
"We all understand it's a results-based business but some of the nonsense that goes with it I have to say is ridiculous. It comes with the territory but you have to say in the North East it seems to quadruple: when there's a crisis, there's a crisis, and I suppose that comes from the huge support they have got."
A sackpardew.com campaign spokesman cited five league wins in 2014 as one reason for the fans' disquiet, adding: "'Mass hysteria' implies that it's delusion based on rumour and irrational fear. SackPardew.com has catalogued the facts.
"We have come to expect a tepid brand of negative football, embarrassing on and off the field incidents, and ultimately, unacceptable results."
Writing in his programme notes for Saturday's game, captain Fabricio Coloccini has urged fans not to protest.
"We are football fans too, so we understand that things can get frustrating," he said.
"But please, support the team for 90 minutes inside the stadium. We need your support."
Pardew lows
January 2011:
Lose 3-1 to League Two side Stevenage in the FA Cup.
14 April 2013:
Lose 3-0 at home to north-east rivals Sunderland.
27 April 2013:
Lose 6-0 at home to Liverpool.
27 October 2013:
Concede late to lose 2-1 to Sunderland to leave them three points above the bottom three. They survive relegation by five points.
January 2014:
Sell key midfielder Yohan Cabaye.
March 2014:
Pardew is handed a seven-match ban for a headbutt on Hull's David Meyler during a match.
March-May 2014:
Win just once and lose seven in the last eight matches of the season.
13 September 2014:
Lose 4-0 at Southampton which means they have not won any of their first four league games for the first time since 2005.
Owner Ashley attended St Mary's Stadium last weekend when travelling fans held up banners calling for Pardew's sacking.
However, he is standing by the manager, and the pair had "a long conversation" following the Southampton defeat, Pardew said.
"I never asked for reassurance - I signed a long deal for good or bad. The one thing that we both agreed on was that we really need to focus on this Saturday and try and get a win for the football club," he added.
Meanwhile, Newcastle assistant John Carver has apologised for how he reacted to travelling supporters protesting at Southampton. The club confirmed they had received complaints from fans.
"In the warm up, I was disappointed to see banners that could, in my opinion, distract the players and take focus away from the job in hand," said Carver, in a statement on the club website.
Goalkeeping coach Andy Woodman also apologised for an "ill-advised" private message he made on Twitter to a supporter.