Fifa candidate Jerome Champagne seeks reconciliation with FA
Last updated on .From the section Football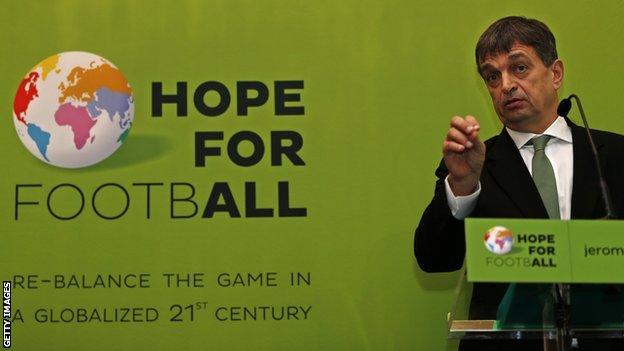 Fifa presidential candidate Jerome Champagne says he will work to rebuild the relationship with the Football Association if he is elected next May.
Dyke and Blatter clashed in June after the Swiss described British media investigations into Fifa as "racist".
"I want to reconcile Fifa with English football," Champagne, 56, said.
Jerome Champagne factfile
Former diplomat Jerome Champagne joined Fifa in 1999 and served as an executive for 11 years before leaving the organisation in 2010.
The Frenchman held the positions of international adviser to the President (1999-2002), Deputy Secretary General (2002-2005), Delegate of the President (2005-2007) and finally Director of International Relations (2007-2010).
Champagne says the FA has a crucial role to play in building the game across the world, and expressed a wish to build a warm working relationship with Dyke, 67, if he is elected to succeed Blatter at the Fifa congress in May 2015.
"Mr Dyke is president of an important football association around the world and for the years to come I want to run Fifa in developing the world hand-in-hand with the English FA and English football. We have the same missions and goals," Champagne told BBC's World Football programme.
Blatter announced on 8 September that he would definitely stand for a fifth term as president of world football's governing body, having previously stated that he would stand down.
The Fifa president has come under pressure to step aside when his current term ends, after the organisation faced allegations of corruption surrounding Qatar's victory to host the 2022 World Cup.
Blatter has been head of Fifa since 1998, but Champagne disagrees with Dyke's view that an upper age limit should apply to the presidency.
"Everyone has the right to run and everyone has the right to change his opinion and I'm not here to make a comment on what Mr Blatter may or may not do," he said.
"Mr Blatter has done a lot of good things in the past 40 years and we will have a debate."
Champagne needs the backing of five Fifa member Football Associations but does not have to disclose who they are until official declarations are made in January.