Man City risk repeating Mancini mistakes - Robbie Savage
Last updated on .From the section Football

In his regular BBC Sport column, Robbie Savage explains why he thinks Chelsea will beat title rivals Manchester City on Sunday.
Defeat at home by Chelsea on Sunday would not mean the champions are in crisis, but they will already know they need to improve their early-season form if they are going to retain their title.
At the moment, it looks like a similar pattern is emerging to when they won the title under Roberto Mancini in 2012 and did not improve their squad at the start of the next season.
In fact, with the exit of Alvaro Negredo, this time they seem to have gone backwards in attack.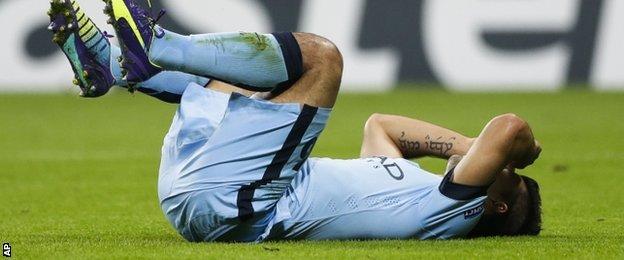 What has not helped is that some of their stars of last season are not in form. Yaya Toure is not taking games by the scruff of the neck and Sergio Aguero does not look fully fit.
So Jose Mourinho and his Chelsea side are coming to Etihad Stadium at a bad time from City's point of view, especially because the Blues have improved.
Last season, Chelsea won this fixture thanks to a tactical triumph from Mourinho, whose side defended in numbers and counter-attacked with speed.
I do not think Mourinho will use the same approach this time, because he does not have to.
He has more power up front in Diego Costa and more creativity in Cesc Fabregas. I do not think City will be able to stop them, and I am backing Chelsea to come away with three points again.
Pardew sounds like a broken man
It is hard to see Newcastle manager Alan Pardew surviving in his job for much longer - his side were torn apart by Southampton last weekend and he sounded like a broken man in his interviews after that game.
I do not think Pardew will get much sympathy if he is fired, because of the incidents he has been involved in during his time at St James' Park - such as his altercation with Manchester City manager Manuel Pellegrini and his head-butt on Hull midfielder David Meyler.
And, after almost four years in charge, Pardew cannot claim he has not had time to get things right.
I do not know him personally so the only way I would judge him is by what his Newcastle teams have done on the pitch.
He did brilliantly in his first full season in charge when they nearly made the Champions League places but, otherwise, it has been mainly average apart from the end of last season which was terrible.
Pardew's season-by-season record at Newcastle

Season

P

W

D

L

F

A

Pts

Pos

Win %

2014-15

4

0

2

2

3

9

2

20th

0%

2013-14

38

15

4

19

43

59

49

10th

39%

2012-13

38

11

8

19

45

68

41

16th

29%

2011-12

38

19

8

11

56

51

65

5th

50%

2010-11*

22

6

9

7

32

31

27

12th

27%

*took charge on 9 Dec 2010
To compare his time at Newcastle to the weather, he had that one year in bright sunshine and ended last season with a downpour - he has lost 15 out of 23 Premier League games in 2014 and only won one of his last 12 league matches.
The rest of the time it has been light drizzle, which will not keep him in his job.
He will face thunder and lightning on Saturday, when Magpies fans are planning a big protest at St James' Park before their game against Hull.
Pardew will have an idea of what to expect after getting plenty of stick from travelling supporters during the 4-0 defeat to Saints.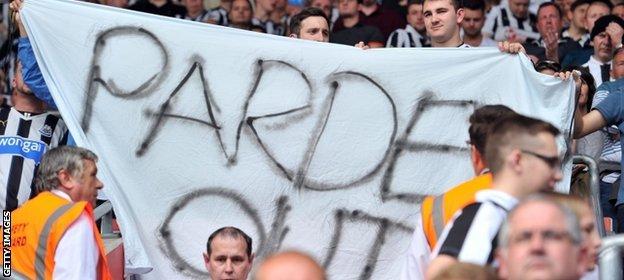 I do have sympathy for those fans, who had travelled hundreds of miles to watch their team put in a terrible performance like that.
But if they are going to protest against Pardew again this weekend, they should do it after the game. Their team needs them during the match and they should get behind the players.
I have never played in a negative atmosphere where the fans are giving my manager terrible stick, but I remember games when I was at Leicester under Martin O'Neill where the supporters were desperate for him to stay.
That was amazing and inspired all of his players. I can only imagine the Newcastle fans will have the opposite effect on their team on Saturday.
How are Aston Villa second?
Aston Villa have surprised a lot of people, including me, with the way they have started the season, but if you look at their statistics their success might come as even more of a shock.
Villa, who take on Arsenal on Saturday, are unbeaten and second in the table after taking 10 points from their first four games, including a victory over Liverpool at Anfield last weekend.
Aston Villa in the Premier League under Lambert (and rank)

Season

2012-13

2013-14

2014-15

Passes per game (average)

374.7 (14)

364.7 (18)

332.3 (18)

Passing accuracy

77.79% (13)

73.88% (18)

72.46% (19)

Average possession

45.43% (14)

43.32% (18)

37% (18)

Total shots per game (average)

8.21 (17)

8.44 (18)

6.25 (19)

Shots on target per game (average)

3.6 (16)

3.7 (17)

1.5 (20)

Data: Opta
When Villa boss Paul Lambert signed a new contract this week he said his team were making progress, and put that down to their hard work.
He is definitely right about the hard work, but any "progress" is more debatable.
Results have improved dramatically but the team is not doing anything differently to last season when they struggled, and Lambert was under pressure after losing a club-record 10 league games at home.
In fact, in almost every other way, Villa are doing worse.
They have won three out of their four games despite managing a total of only six shots on target all season, the fewest in the top flight. They have scored with four of them.
And their stats for passing, passing accuracy, possession, total shots and shots on target per game are all worse than last season, in the bottom three of the Premier League in every category, and the lowest of any point of Lambert's time in charge.
Villa style the same but players have progressed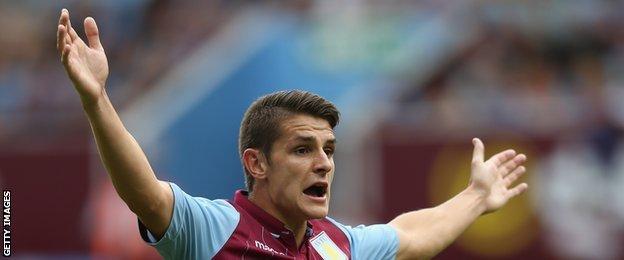 Lambert's tactics have always been to be well-organised at the back, to get men behind the ball and then look to hit teams with pace on the break or threaten from set-pieces.
The way they play is not pretty and it has not changed during Lambert's time in charge.
The reason it is working better than ever is down to their players. Individually, they are flourishing.
Ashley Westwood and Fabian Delph have emerged as key figures with their passing and tackling ability and it is no surprise Westwood is being tipped to follow Delph into the England squad.
Top-ranked English players in Premier League since start of 2013-14 season

Chances created

Tackles

1. Steven Gerrard (78)

1. Mark Noble (126)

2. Stewart Downing (75)

2. Steve Sidwell (121)

3. Ashley Westwood (72)

=3. Steven Gerrard (105)

4. Adam Lallana (71)

=3. Fabian Delph (105)

5. Adam Johnson (69)

=3. Tom Huddlestone (105)

Data: Opta
And with the arrivals of Tom Cleverley and Kieran Richardson, Lambert has built a squad full of hard-working and energetic midfielders, who are crucial for his 4-5-1 system to work by limiting space for the opposition and stopping them from creating clear chances.
A perfect example of that was at Anfield last weekend. Liverpool had lots of possession and 18 efforts on goal. Only one of them was on target.
It was no fluke - Villa keeper Brad Guzan has only faced 10 shots this season, and only Stoke (with six) fare better in that category in the top flight.
The reason Villa are so well-drilled is the work they are doing on the training ground.
That is where they have made the progress that Lambert refers to, not with their playing style.
What the statistics do not show you is how Lambert has given them a system they believe in, and one that gets the best out of his players.
They bring their work ethic as well as a never-say-die attitude and, when you put all that together, it means that, despite creating so few chances, Villa are proving so hard to beat.
Villa backed for mid-table, not the bottom three
I want to get one thing straight - I have not tipped this Villa side to go down.Before a ball was kicked this season, I looked at who they had signed, which at that stage was Philippe Senderos, Joe Cole and Kieran Richardson, and, with Christian Benteke out with a long-term injury, I thought they would end up in the bottom three.But after the transfer window had closed, when the likes of Tom Cleverley and Carlos Sanchez had been brought in, I tipped them to finish 15th.
Robbie Savage was speaking to BBC Sport's Chris Bevan