Uefa introduces new rules on head injuries to players
Last updated on .From the section Football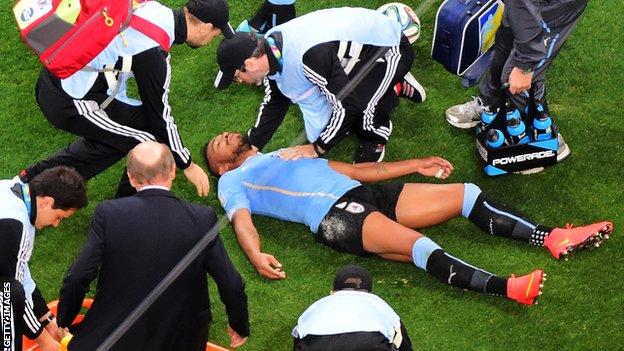 Uefa is to introduce new rules on how to deal with head injuries to prevent players suffering possible concussion.
Referees will be able to stop matches for up to three minutes and the team doctor will make a decision if an injured player can continue.
Uefa secretary general Gianni Infantino said: "It's the team doctor who can immediately see the situation, he is the most reliable person to take this responsibility."
The new rules take effect immediately.
The Premier League introduced new rules at the start of the season, which state the club doctor must decide if a player is capable of continuing, not team management.
Uefa's rule changes came after two high-profile incidents at the World Cup which saw Uruguay's Alvaro Pereira and Germany's Christoph Kramer play on after suffering head injuries.