Russia 2018 & Qatar 2022 Fifa World Cups: No ruling until spring

By Dan Roan
BBC chief sports correspondent in Zurich
Last updated on .From the section Football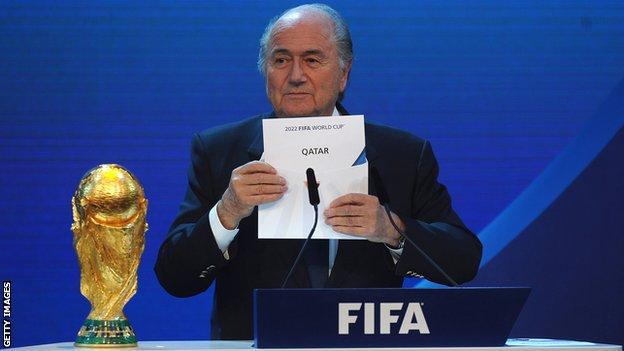 A decision in the 2018 and 2022 World Cups bidding corruption inquiry is unlikely until next spring, says Fifa's ethics chief Hans-Joachim Eckert.
The 2018 tournament was awarded by Fifa to Russia in 2010, with the 2022 event handed to Qatar at the same time.
American prosecutor Michael Garcia last month filed a report into the legality of the bidding processes.
Eckert told BBC Sport: "We will have some final reports and then there will be decisions, but this takes time."
He said he would finish examining Garcia's report by the "end of October, beginning of November".
Eckert added: "I am now doing a statement on the report and then Mr Garcia will be working further.
"There will be some decisions, maybe in spring, and then we will go on."
German judge Eckert, the chair of the adjudicatory chamber of Fifa's ethics committee, says he will limit his verdicts to individuals, disappointing Fifa critics who want him to order re-votes into Russia 2018 and Qatar 2022 after allegations of corruption.
He added that such a decision would be for Fifa's ruling executive committee or its congress of 209 federations.
"The judgement may be the base for a decision in sports politics, but we will not make any recommendations. That is not our job," he said.
Eckert insisted that no-one at Fifa had read the confidential reports from Garcia, the chair of the investigatory chamber of the ethics committee, and they will "never" be made public.
He said only four people had seen the files — himself, Garcia, and their deputies, Australian judge Alan Sullivan and Swiss prosecutor Cornel Borbely.
Analysis from BBC chief sports correspondent Dan Roan
"In giving his first comments on a case that will define Fifa's attempts to repair its battered image, Eckert has pushed back the expected deadline for decisions. That, the refusal by Fifa to reveal what evidence Mr Garcia has unearthed, and the fact Eckert does not have the power to order any re-vote, will dismay many fans and stakeholders who are desperate for clarity as soon as possible on the next two World Cups."
"We are not allowed to tell anybody anything. It's our duty not to tell. I know the interests of the public but please, we have to do our work, we are bound by the code of ethics and later the decision will be made public," Eckert said.
"I will not be the guy to be pressed, to feel pressed. It's my job for 40 years doing cases like that. You will have to wait and I will read."
Garcia spent almost a year interviewing officials involved in the bids. The contests were dogged by allegations of bribery and voting collusion.
Speaking at the same conference, Garcia urged "greater transparency" in the implementation of the Fifa code of ethics, and suggested it should be changed.
"The goal has to be instilling confidence in the process beyond any particular result," he said.
"So what do we think is still missing; why do we still have something of a disconnect? What we need at this point is greater transparency into the process while continuing to protect the rights of all parties, transparency into charges, to decisions, and to the basis for those decisions and to the facts.
"Deterrents that are based more on a sentence or a ban, but on reading the facts of the case. That's the type of system that instils confidence in the stakeholders.
"And I hope as this code is studied, applied, and it may even be revised, that it will be possible to have that type of transparency."