Premier League: Chelsea and the madness of the loan game
By Amy Lawrence
Football writer
Last updated on .From the section Football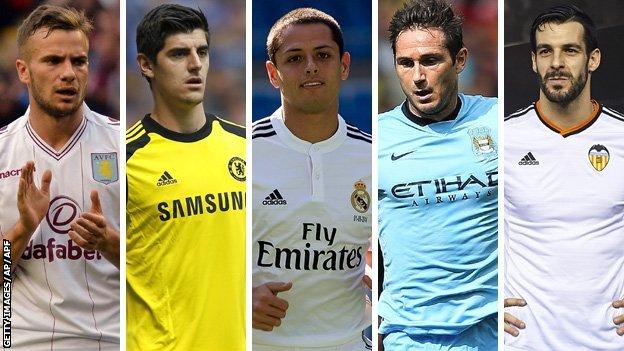 Last weekend at Rayo Vallecano, Diego Costa's old stomping ground, a player with strong Chelsea connections scored a goal worthy of the new predator of Stamford Bridge.
Searing onto a crossfield pass, and tapping the ball back into space with his left, he then lashed a right-footed strike into the corner of the goal. The author of the fine strike was Gael Kakuta, at the start of his sixth loan spell away from Chelsea in a fifth different country by the age of 23. He can only hope that this time it heralds a new dawn that remains bright.
Shortly after the final whistle of Rayo's match against Elche, Kakuta would have been expected to make a call to London to update his parent club of how he got on. According to Chelsea's chief executive Ron Gourlay, every one of their players on loan is expected to report back within 30 minutes of a game finishing.
With a total of 26 players farmed out at temporary clubs this season - a greater number in fact than the official squad list of 25 players named on Chelsea's website as being at Jose Mourinho's immediate disposal - keeping track of the sheer quantity of players they have out on loan is quite a task.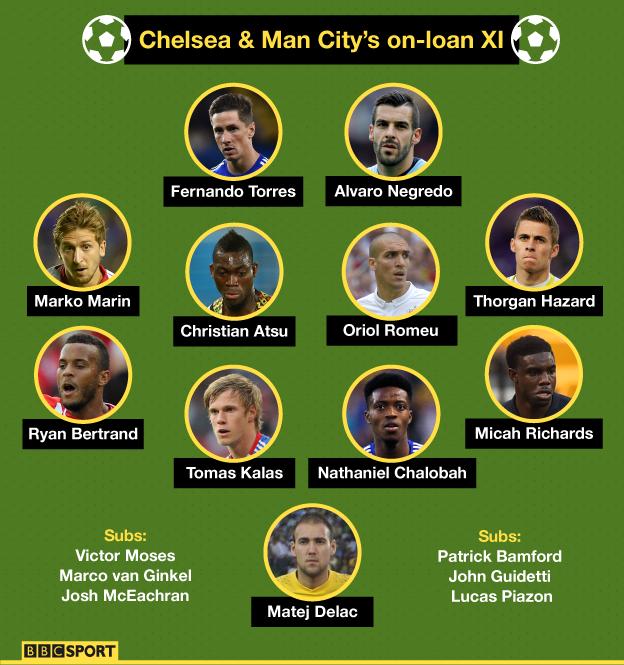 | Player | Loaned to |
| --- | --- |
| Matej Delac (Chelsea) | Arles-Avignon, France |
| Micah Richards (Man City) | Fiorentina, Italy |
| Nathaniel Chalobah (Chelsea) | Burnley, England |
| Tomas Kalas (Chelsea) | Cologne, Germany |
| Ryan Bertrand (Chelsea) | Southampton, England |
| Thorgan Hazard (Chelsea) | Borussia Monchengladbach, Germany |
| Oriol Romeu (Chelsea) | Stuttgart, Germany |
| Christian Atsu (Chelsea) | Everton, England |
| Marko Marin (Chelsea) | Fiorentina, Italy |
| Fernando Torres (Chelsea) | AC Milan, Italy |
| Alvaro Negredo (Man City) | Valencia, Spain |
It may be that the name Kakuta rings a quiet bell somewhere in the back of the mind, for the Frenchman was regarded as one of the most prodigious talents in world football not so long ago. He was so fiercely coveted that his move to Chelsea got both player and club into hot water and highlighted the complexity of transferring talented teenagers across borders.
His tale is worth revisiting as an insight into the personal challenges that are a by-product of Chelsea's intensive recruitment of young players. The club have created this operation of stockpiling talent to the point where they effectively have a secondary squad dispatched all over Europe. Some will come back polished. Others with fade away.
In the best cases, such as the Belgian goalkeeper Thibaut Courtois - who spent several seasons honing his ability at Atletico Madrid - a brilliant teenager gains experience and arrives in the Chelsea first team as a fully-formed world-class talent.
Courtois played more than 100 games over three seasons in Spain, cementing his reputation as he provided such a strong foundation for Atletico to win La Liga, the Europa League, and reach the Champions League final.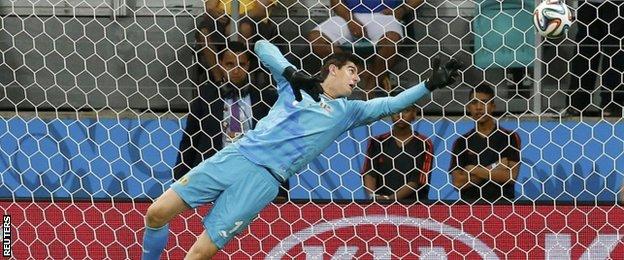 In other pretty successful outcomes, the likes of Romelu Lukaku or Kevin De Bruyne, who do not quite match the standards set by the hierarchy, are sold at handsome profit. The club made roughly £25m in buying these two exciting Belgians, loaning them for a period, then selling them on. So far, win win for Chelsea.
As for the rest, whose careers get lost sometimes for years in a sort of footballing black hole of repeated loans, they get filed away as collateral damage. If a young English hopeful like Josh McEachran, Dutchman Marco van Ginkel or the boy from Barcelona Oriol Romeu do not make the cut, so be it.
Such are Chelsea's aspirations, they require players capable of challenging to win the Premier League and Champions League.
Key inter-Premier League loans
Hatem Ben Arfa
(Newcastle - Hull)
Tom Cleverley
(Manchester United - Aston Villa)
Christian Atsu
(Chelsea - Everton)
Wilfried Zaha
(Manchester United - Crystal Palace)
Only the select few from any intake will do that. The rest have to be housed somewhere for the duration of their usually lucrative contracts (Romeu is currently at Stuttgart, Van Ginkel at AC Milan, McEachran at Chelsea's partner club in Holland, Vitesse Arnhem).
The downside to being shunted here and there is that it can be difficult to gain the confidence, stability and environment to find a consistent rhythm.
Is that what these young players sign up for? In a market place as competitive as elite youth football, any youngster being approached by a top club is at a serious crossroads. Do you stay with your home club, close to family, and develop in your own time, the biggest fish in the pond?
Or are you tempted by the upgrade in status, facilities and a whopping salary at a major club, fighting to become the best of the best?
Which takes us back to Kakuta. Who knows what his career trajectory would have been had he remained at boyhood club Lens. Perhaps his development would have slowed regardless. What we do know for certain is that by entering the Chelsea production line, it has not worked out as predicted.
His ability was so staggering that Chelsea were determined to withstand substantial punishment to get him. In the summer of 2007, when Kakuta turned 16, the player was punished for breaking his contract with Lens to sign for the Stamford Bridge club.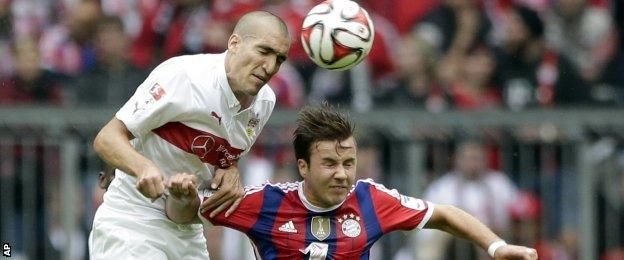 Once the case had been heard by the Fifa Dispute Resolution Chamber, Kakuta was banned for four months and fined 780,000 euros, and Chelsea were forbidden from signing any players for two transfer windows.
After appealing to the Court of Arbitration for Sport, the sanctions were lifted. But it was an unsavoury affair that shone a light on the stakes in trading for young stars.
Kakuta emerged from his gilded cage with a generous fanfare. He was voted player of the year at Chelsea's academy in 2007-08 and was fast-tracked towards the first team. "His natural talent is amazing," noted Frank Lampard. Midfielder John Mikel Obi added wryly that they try to kick in him in training. "It's the only way to stop him. In terms of skill I think he is the best player at the club," he said.
Mikel, whose own journey to Chelsea as a youngster had been complicated by legal controversy, tried to give the boy some guidance.
"I felt a lot of pressure. When you're really young, a lot of people are getting into your head," said the Nigerian as he compared his situation to his young team-mate. "But I just had to shut everyone up, concentrate and see what happened in the end. That's what Gael has to do."
Kakuta made his debut in November 2009, alongside two other hopefuls who were sent on as substitutes as Chelsea thrashed Wolves. One was Fabio Borini, an Italian striker who joined from Bologna, the other Nemanja Matic, a Serbian midfielder.
The path the trio have since taken gives a fascinating glimpse into the opportunities and perils of the loan system as a developmental stage.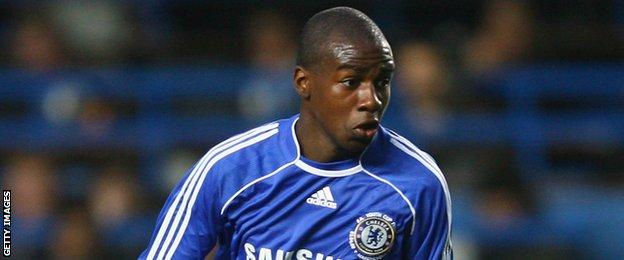 Carlo Ancelotti, the Chelsea manager at the time, was very encouraged. He predicted that five or six youth products from that time would wrestle their talented way into the first team.
Matic spent a year on loan at Vitesse Arnhem, was offloaded to Benfica as part of an exchange deal for David Luiz, and was then brought back last January for a £21m fee. After his roundabout route, he is flourishing in Chelsea's first team.
Borini spent a period on loan with Swansea before leaving for Parma, Roma and Liverpool (who last season loaned him out to Sunderland).
Kakuta's story is rather different. He had a couple of loans at more modest Premier League clubs - Fulham and Bolton - without making much of an impression (he played only a handful of games for each).
He went back to France for six months at Dijon, which was a little more productive, with four goals from 12 appearances. The next step was a season with Vitesse in Holland, which was cut short. He travelled for a spell at Lazio. The Italian club decided not to keep him. And here he is, trying again, now aged 23, at Rayo Vallecano in Spain.
Guy Hillion, the scout who first alerted Chelsea to Kakuta, laments what he calls a "huge waste" from a boy who he felt could have been the best of his generation. "But talent is not enough. When you pile on failures and there is trouble in any club where you played, you have to ask the right questions and question yourself… you can't manage everything in a player's career. You can't manage what is on his mind, his entourage or his family."
Chelsea are, of course, not the only club who are focused on using the system to give themselves the best possible chance to unearth a future superstar. Everybody is at it to a degree.
As Arsenal, for example, demonstrate that sometimes you hit the jackpot with a Cesc Fabregas, but mostly it does not quite work out, as was the case with the likes of Denilson or Nicklas Bendtner.
They currently have a 21-year-old Brazilian winger, Wellington Silva, who is on his fifth loan club in three seasons since joining from Fluminese. Most of his wages are covered by Arsenal and they do not expect to see much of the original £3m transfer fee when his contract ends.
Key Premier League loans out
Alvaro Negredo (Manchester City - Valencia)
Fernando Torres (Chelsea - AC Milan)
Javier Hernandez (Manchester United - Real Madrid)
Michu (Swansea - Napoli)
The bloated number of players temporarily parked away from Stamford Bridge shows the extent to which it is a clear strategy at Chelsea - a firm policy in their business plan.
Of the current group of 26 on loan, one wonders how many will make a career at the club. So much potential arrived with high hopes - Romeu, an elegant midfielder plucked away from Barcelona, Lucas Piazon, a Brazilian likened in style to Kaka, Thorgan Hazard, the brother of Eden.
Chances within the club remain at a premium. Opportunities on loan are to be expected.
The loan system is by its nature controversial, because it allows clubs to speculate safe in the knowledge that if they need to offload players to adhere to Financial Fair Play regulations or squad number limitations, they can move stock they don't want elsewhere.
It is eyebrow-raising to see Fernando Torres on a two-year loan deal at AC Milan. It is strange to see Radamel Falcao borrowed by Manchester United from Monaco for the season, or Alvaro Negredo diverted from Manchester City to Valencia, without the need for a heavyweight transfer fee this summer.
Loans can be wonderfully productive, as Everton demonstrated last season with Lukaku, Gareth Barry and the Barcelona youngster Gerard Deulofeu.
They can also make strong business sense, in the case of Divock Origi, signed by Liverpool this summer for £10m, but returned to Lille on loan to be guaranteed playing time and space to develop without too much pressure before making the move to Anfield.
But to sum up the madness, how strange it could be for Chelsea to say hello to an old friend this weekend. Frank Lampard, currently owned by New York City, yet back in the Premier League on loan in the colours of Manchester City.
The loan game is a curious beast.