Benoit Assou-Ekotto gets three-game ban over 'quenelle' post
Last updated on .From the section Football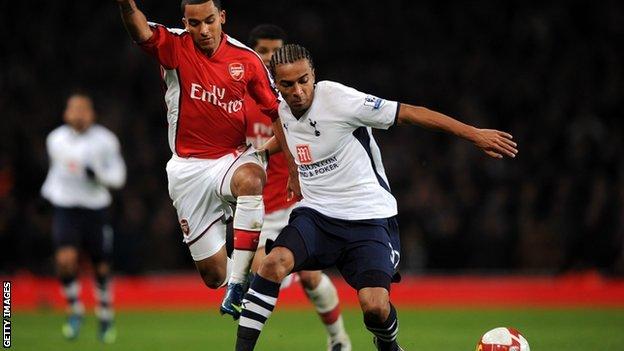 Tottenham full-back Benoit Assou-Ekotto has been banned for three matches after being found guilty of improper conduct in relation to the Nicolas Anelka "quenelle" incident.
Assou-Ekotto, 30, has also been ordered to pay a £50,000 fine by the Football Association for making a comment on social media.
Anelka was banned for five games and fined £80,000 for making the "quenelle" gesture, which is associated with anti-Semitism, after scoring for West Brom at West Ham in December.
Assou-Ekotto used Twitter to congratulate Anelka on his use of the gesture, which its proponents claim is merely anti-establishment.
What is a 'quenelle' gesture?
Popularised by French comedian Dieudonne M'bala M'bala, who says it is an anti-establishment symbol
The gesture involves touching or gripping your shoulder with one hand while holding the palm of your other hand outstretched and pointing to the ground
Many view the gesture as anti-Semitic, reminiscent of the Nazi salute
People have been photographed making the sign at synagogues and Holocaust sites
"I have always said that when I tweeted Nicholas Anelka I was congratulating him on an anti-establishment gesture and not on an anti-Semitic gesture," the Cameroon international said.
"I am pleased that the panel has found this to be true and I want to assure Spurs fans that I would never knowingly behave in a racist or anti-Semitic manner."
The defender previously denied wrongdoing and said he was "disappointed" to face disciplinary action over his message.
Anelka claimed his use of the 'quenelle' was a show of support to his friend, the comedian Dieudonne M'bala M'bala, but the FA ruled that the gesture was "abusive and/or indecent and/or insulting and/or improper", and the striker was later sacked by West Brom.
Hull City striker Yannick Sagbo, another player who took to social media in support of Anelka, received a £15,000 fine in April.