Dundee United: 'I didn't get chance,' says Brian Graham
Last updated on .From the section St Johnstone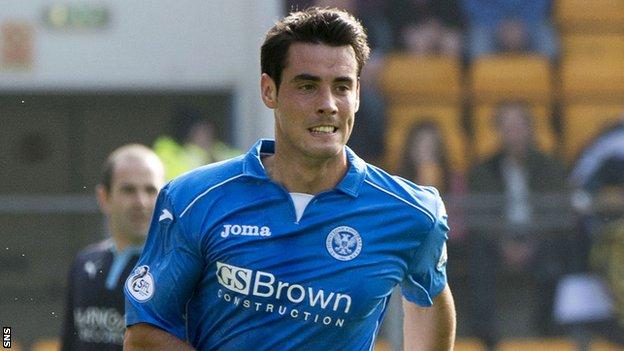 On-loan striker Brian Graham believes he was not given a real chance by Jackie McNamara but says he has nothing to prove to the Dundee United manager.
"Obviously it's down to him to pick a team and he will maybe argue that I got a chance," said Graham.
"I've had a discussion with him and I don't believe he did. Jackie knows what I'm capable of."
Graham was handed only 13 starts last year after moving to Tayside from Kirkcaldy but responded with seven goals.
He refused to criticise the McNamara but admitted: "Last season was a very frustrating spell for me because I felt I was training well and doing well when I got a chance.
"The manager had a different view, though. Obviously it's down to him to pick a team and he will maybe argue that I got a chance."
Graham is hoping to score goals for the the McDiarmid Park outfit.
"My goals-to-minute ratio was really good," he said. "Hopefully this year I can get a lot more minutes and a lot more goals with St Johnstone.
"I had a few chats with Jackie one-on-one to discuss a few things - some good, some bad.
"He said to me that he could have been cruel and kept me at United because it would have been good for his squad.
"But he saw I wanted to play games and let me move to Saints, so I respect him for that.
"I know some people will look at it like I'm out to prove him wrong, but he knows what I'm capable of.
"That's why he took me to Dundee United in the first place.
"I don't need to prove him wrong because I had a chat with him and it wasn't like it.
"It was just in that period of time I wasn't playing in that team, so it was about me moving on and now doing well for St Johnstone."
Graham will be even more important to St Johnstone because of a long-term injury picked up by fellow striker Steven MacLean.
"Stevie's injury opens up a wee gap for me, but I don't really want to take his place like that," he said.
"If truth be told, I'd rather be playing alongside him because he's a good experienced striker and, even at my age, you can still learn from a guy like him.
"But he looks like he will be out for a while, so I'm relishing the chance to get a good run in the side.
"I can definitely cut it at this level. I have scored goals in the Premiership before and I know for a fact I will score goals again. It's just about getting a run of games."