Brian Clough: Your best memories 10 years after his death
Last updated on .From the section Football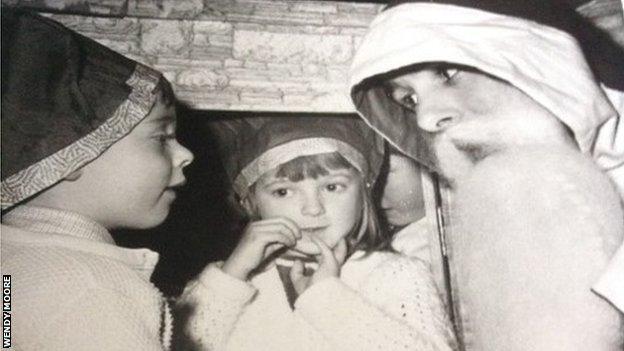 To mark the 10th anniversary of the death of former Nottingham Forest manager Brian Clough, we asked you to send in your personal memories of meeting the two-time European Cup winner.
In December 1968, Brian Clough dressed up as Father Christmas (above) and came to my nursery in Allestree, Derbyshire. I'm the girl in the photos. I believe he was manager of Derby County at the time and lived in the village.
Wendy Moore, Pointon, UK
He approached the Dell crowd at Southampton just before kick-off one night and I joked: "I hope your players have eaten their Shredded Wheat, they'll need it," in reference to a TV advert he had done. He added: "Now, young man. You'll be pleasantly surprised by what my team can do tonight." They walloped us!
Bill Kenchington, Southampton
I was a young sign writer in the late 1970s. I was sign writing a wall near Trent Bridge, about 500 yards from the City Ground, when Brian Clough walked past and stopped to watch me work for a couple of minutes. "Very skilful young man," he said. "Thank you sir," I replied. I hadn't called anyone sir since I left school. It just seemed the correct thing to say.
Gary Jarvis, Nottingham
I met Brian many years ago when he lived in Quarndon. As a police officer, I went to his house whenever his alarm went off. A lifelong Forest fan, I had a chance to talk about the European Cup final that I had been to. The conversation went. Me: "Do you know, Brian; I watched the last half of the match against Hamburg through my fingers as I couldn't bear to watch." He replied: "Do you know, son, so did I," and smiled. He had the knack of making every person who met him feel special.
Philip Severn, Alfreton, England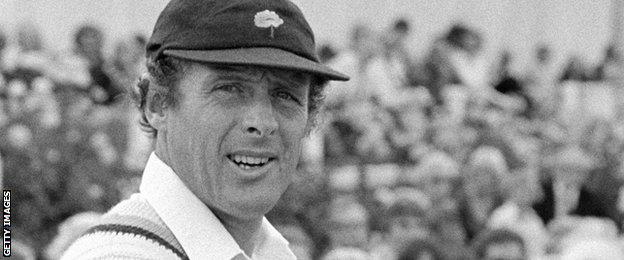 As a 12-year-old boy, I went to watch a Nottinghamshire v Yorkshire cricket match. I got there early and a certain Mr Boycott asked me to do him a favour and "take two tickets to the gate for a Mr Clough". I met Mr Clough and his son, whereby he gave me £5 and asked me to sit with him and the Yorkshire and Notts teams of the day, have lunch and tea with them. I did the same thing three days on the bounce. Brian Clough, Eddie Hemmings, Geoff Boycott, Richard Hadlee, Tim Robinson, Chris Broad, David Bairstow. I've still got goose bumps now.
Andrew O'Sullivan, Worksop
I was driving on to the fly-over on Lenton Boulevard in Nottingham and the traffic was slow because a car had broken down and someone was helping to push it out of the way. I got out to help push and as I did, I noticed the bloke pushing next to me was Clough. I just couldn't say anything as I, like most in Nottingham, was in awe of the man. We got the car started, he said "thank you young man."
Jake Murray, London
When I was a kid, I used to hang around the car park on match day at Forest getting autographs, ran up to him one day and he duly obliged. But he then took me to one side and gave me stern warning. He said: "I'm watching you son and you better not nick anything."
Paul White, Nottingham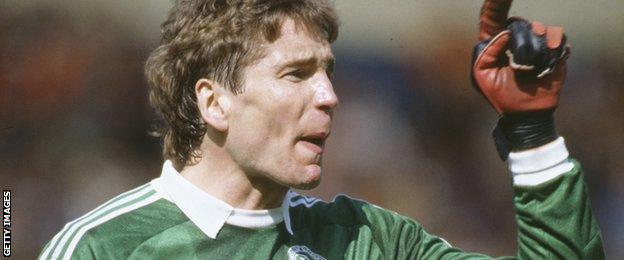 My father, Paul Barron, played in goal for QPR against Forest at the City Ground once. He walked off the pitch after a 0-0 draw and as he entered the changing room, somebody kicked him up the backside. He turned around to see Brian Clough, who said: "That'll teach you to keep a clean sheet against me young man."
Joe Barron, Nottingham
Brian was in the bar at the old Eton Park in Burton. My dad asked him about when he won the Championship with Derby and Brian came over to tell us the tale. He looked at me and said: "Young man, get me a chair." My dad offered him his own but Brian insisted "the young man will get me a chair". He told his story and left the bar to chants of "one Brian Clough" from the Burton fans.
Alex Winter, Wimbledon
My mother was a cleaner at Marton Grove School where Brian was head boy. He always had a kind word for her and she said on many occasions when walking by her as she moved from one room she'd hear his voice behind her as she prepared to move to the next room. "Hey boy, don't walk by it, pick up Mrs Appleby's bucket and carry it for her." Brian was very special to my mother.
Joe Appleby, Chattanooga, USA
He did a radio advert for me when I was at Match Weekly. We recorded it at Radio Trent and he said he must be back at the City Ground by 8pm to attend a board meeting. He only had one line listing all the stars contributing to the first issue. I knew his voice would be instantly recognisable on radio but he couldn't get it right. To my horror, I looked at my watch and it was 8.30! "Brian," I said, "it's 8.30 and you're late for the board. "Bugger the board, we'll get this right first" - which he did eventually.
Mike Wells, Purley, England
BBC Radio 5 live's Pat Murphy memories of Brian Clough
Cloughie was always very kind about the personal lives of those he allowed into his confidence. When he heard my mother was dying of cancer in the summer of 2004, he sent her flowers and a touching note.
Read the full piece by Pat Murphy here
In the early 80s, my mum worked at a residential home for adults with learning disabilities in Melton Mowbray. Everyone was Forest mad and the officer in charge wrote to Forest asking if the residents could go and watch the team train and possibly meet some of the players. The group were duly invited to the City Ground one morning and sat in the stands to watch that amazing team train and, as the players went back in to get changed, they waved at the group as they prepared to go home.
They assumed that was it but they were then invited into the players' lounge and the whole squad came in to meet them, and spent an hour signing autographs, talking about football and making their wildest dreams come true. They were elated. A great man, often abrasive! But with a heart of gold.
Alastair Hilton, Phnom Penh, Cambodia
Brian's penultimate game as boss was a County Cup match against Notts County, and I was chosen to be one of the ball boys. We were lined up in the tunnel before kick-off when Brian - in trademark green sweater - walked up, got down on his knees and said: "Come to granddad." All of us ball boys then gave him a hug in turn. It was a slightly comical situation, but I was almost in tears.
Woz, Nottingham
I used to work at The Royal School for the Deaf in Derby. During the early 1970s some of our members met with some minor hassles at a home match. Clough heard about this, and gave us a permanent free pass to attend all games at the old Baseball Ground.
Richard Morris, Mouthiers, France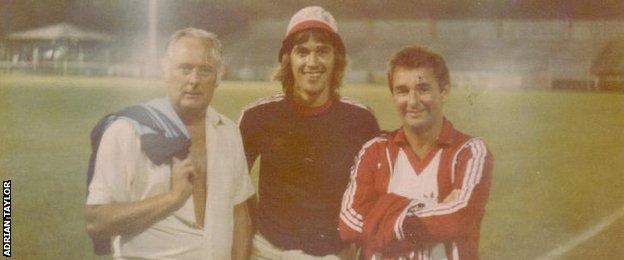 This photo was taken in Montpelier, France in 1979 after a pre-season friendly four days before the 1979-1980 season started. The day before, a group of French lads on our camp site told us that Forest were playing 20 miles away in Montpellier. Mr Clough had agreed to taking the European champions to the south of France for a few days in the sun.
After the game we met Brian and his assistant, Peter Taylor. We wanted to talk about football but Brian was more concerned asking about the suitability of the nearby beaches for his family (including a 13-year-old Nigel). Both Peter and Brian were so relaxed and down-to-earth and wished us well for the rest of our holiday.
Adrian Taylor, Canterbury
Aged seven, I sent Brian my autograph book by post. He sent it back to me signed: 'Dear Jonathan, Be good, Brian Clough.' I am 42 now and that one action made me a lifelong Forest fan. How many managers would do that these days?
Jonathan Clarke, Twickenham, UK
When I was 10, my parents took me to the City Ground to watch an open training session. I was in the Scouts at the time and we were doing a sponsored tea making. Afterwards, we were behind the main stand when Mr Clough came out. We were able to get his autograph but, not content with that, my dad asked if I could make him a cup of tea. The great man did even better than that, he took me by the hand and marched me inside and introduced me to all the players. I can still see the shell-shocked look on my parents' faces when Mr Clough finally returned me to them.
Stephen, Nashville, USA