Greg Dyke: FA chairman says he has 'been given six watches'
Last updated on .From the section Football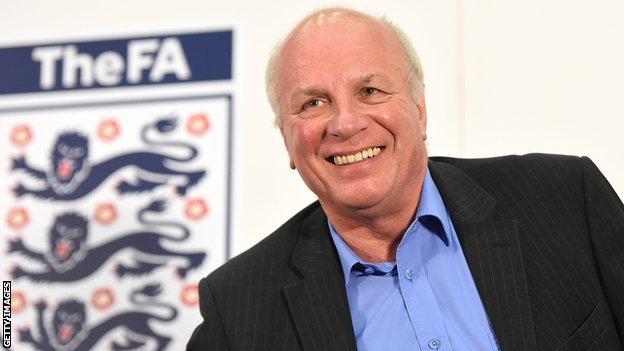 Football Association chairman Greg Dyke says he has received six watches since taking over the role in July 2013.
Dyke, 67, made the revelation after the controversy of the Brazilian Football Federation (CBF) giving away £16,000 watches at the 2014 World Cup.
"I've been given about six watches since I took over at the FA and I don't use any of them," Dyke told BBC Radio 5 live's Sportsweek.
"I don't like the culture of present giving in football."
Uefa president Michel Platini
"Because there's an article in the British press, all of a sudden Fifa says that it needs to return the watches. There's something that's very surprising to me in the way that this process has played out and I do not like that."
CBF's sponsors gave the watches to 32 association chiefs, 28 Fifa executive committee members and five other members of South American associations.
World football's governing body has asked officials to return the watches as the commemorative gifts broke its code of ethics.
Michel Platini, president of European governing body Uefa, insists he will not give his back although he will donate the value of the watch to charity.
Dyke says he will return his and has called for the culture of giving such gifts to stop.
He received a watch when England recently played Switzerland in a Euro 2016 qualifier, although he did not reveal who gave him the other watches.
"Everywhere you go, every time you have a game they give you some sort of present. It's usually trinkets," he said.
"But if they are going to start giving presents of £16,000 then that is not acceptable.
"Therefore, I think the FA should lead the way by saying: 'Look, we are not going to be part of this culture anymore. We are not going to give presents or accept them'."
Dyke also played down the prospect of his job at the FA being at risk because of the controversy.
"I don't think having a watch that you have no idea the value of and have never used is a resigning matter," he added.
Fast cars, fat pay packets and £16,000 watches
"It is not hard to see why those who run football regard such gifts as nothing unusual. Fifa exists in a world where limousines fill the car park and the average salary among its 412 employees is $220,000 (£122,500). Fifa can host as many ethics summits as it likes, but many will feel it still has a long way to go to regain the trust it has lost in recent years."
Read more from chief sports correspondent Dan Roan