Nigeria Football Federation announce dates for elections
By Oluwashina Okeleji
BBC Sport, Lagos
Last updated on .From the section Football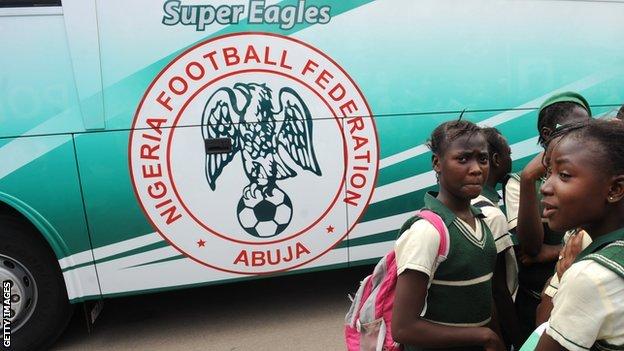 The Nigeria Football Federation (NFF) has announced it will hold its elections on 30 September, responding to a directive by Fifa.
The NFF congress on Saturday in Warri, which was presided by outgoing NFF president Aminu Maigari, announced its executive committee elections will be conducted at the end of the month in the same city.
An electoral committee and an electoral appeals committee were also inaugurated as directed by world football's governing body Fifa.
The high-profile NFF presidency is a straight scrap between the old - Amanze Uchegbulam, Taiwo Ogunjobi, Mike Umeh, Dominic Iorfa - and the new in Shehu Dikko, Amaju Pinnick and Abba Yola.
Ademola Olajire, NFF's communication officer, told BBC Sport: "The congress unanimously affirmed the Fifa directive that the 2014 Elective Congress shall be composed of only delegates that attended the November 2013 Annual General Assembly in Warri.
"Delegates also passed a resolution that a credible and transparent electoral process is non-negotiable."
NFF's elections previously scheduled for 26 August were postponed after several problems arose in the build-up to the main polls.
The problems were deepened on 26 August when Maigari was arrested and Chris Giwa was controversially elected NFF president by a group of members backed by the country's Ministry of Sport.
That situation contravened a directive by football's world governing body Fifa, who said a in a letter to the NFF that it must only decide a new date for "an electoral process that is free and open to everybody" on 26 August.
Fifa swiftly rejected the unauthorised election of Giwa and threatened to suspend the country from international football unless Giwa relinquished control of the NFF on 1 September and for its beleaguered president Maigari and his staff to be allowed back to their posts.
The threat of suspension was lifted after Maigari was allowed to continue as president of the Nigeria Football Federation (NFF).
Maigari was also handed a mandate to plan for elections to be held as soon as possible for the NFF presidency and board members.
However, Fifa warned that further complications in holding elections will lead to a ban.
Nigeria were banned from global football for nine days in July for government interference in the running of the football federation when Maigari was forced out of his post by a court ruling.
After his reinstatement, he was voted out of office by the NFF's executive committee a few days later. However, Fifa did not accept this and Maigari was once again back as president in August.
Meanwhile, NFF general secretary Musa Amadu told reporters that Saturday's extraordinary congress went ahead despite rumours that a court injunction has been given that it should not take place because the federation were not served such a writ.
An injunction was purportedly given to a group led by self-acclaimed NFF president Chris Giwa. The group has twice been turned back by the Court of Arbitration for Sports (CAS) in recent weeks.
Race against time
Nigeria will face a last-minute rush to appoint a coach before the Africa Cup of Nations qualifiers against Sudan next month because of the lack of leadership at the country's football federation.
The role is vacant following the end of Stephen Keshi's two-match deal.
But the Nigeria Football Federation has said it will not hold talks with any coaches until after the governing body appoints a new president.