Scotland: Ikechi Anya relishes limelight after Dortmund goal
Last updated on .From the section Football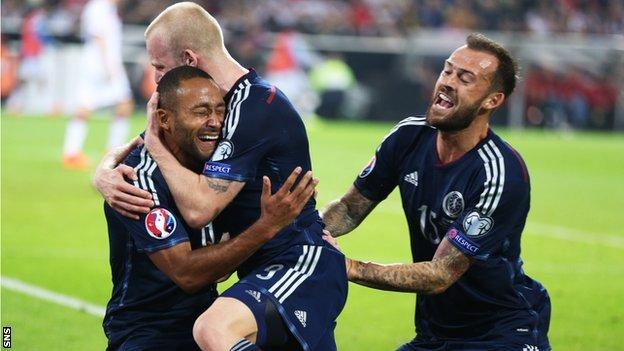 Scotland and Watford winger Ikechi Anya admits he cannot get enough of video replays of his goal against Germany.
"Obviously it's a bitter-sweet memory as it would have been nice had we got something out of the game.
"But, personally, it validates all the hard work you put in as an apprentice getting up at half five, catching three different buses to get to training."
Anya dropped out of the Football League to join Oxford City then Halesowen Town after being released by Wycombe Wanderers as a 19-year-old.
A spell at the Glenn Hoddle Academy, which tries to help young players resurrect their careers, was followed by a stint with Northampton Town.
But it was his time in Spain with the Sevilla and Celta Vigo B sides that eventually led to him bursting back into English football with Watford two years ago, via Granada.
"Five years ago, I was club-less and I never even thought about the international stage," Anya admitted.
"When it comes, you want to keep feeling like this and you work twice as hard to try to maintain the level."
Indeed, Anya feels he has reached new heights of popularity since that goal - and especially after writing on Twitter that his real-life achievement in Dortmund surpassed his computer game exploits.
"I scored past Manuel Neuer. Wow! I can't even do that on Fifa," he had tweeted, earning himself 10,000 new followers on the social media site.
Anya revealed: "It gets to the point where you can't even read all the tweets as my iPad is freezing. Personally, it has been kind of crazy."
He realises that his goal against Germany has raised his profile within the game as well as among the public, but is concentrating on helping Watford chase promotion to England's top flight rather than think of possible interest from other clubs.
"Scoring against the world champions was a big thing for me personally, because a lot of people have put me on their radars now," said Anya.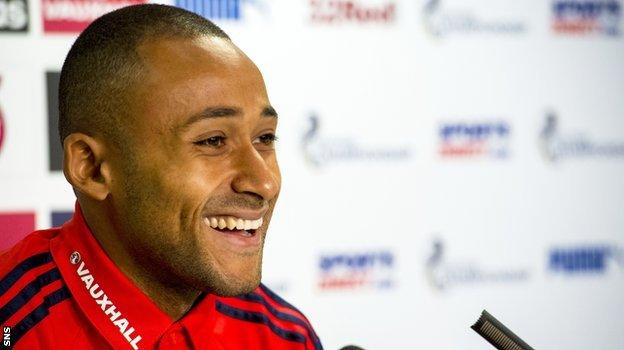 "I don't put limitations on what is going to happen. My main goal is to prove to myself at this level and prove to anyone else who might be interested."
Anya stressed Scotland manager Gordon Strachan's role in helping the progress of himself and other squad members.
"In my position, we have players who are Premiership quality who aren't playing, so personally he's put a lot of belief into me, which is why I'm very grateful to him," he said.
"He's got 100% faith in us all and I think that shows in our performances when we go out there and try to play.
"If you look back at how we played in Germany, we could have warranted at least a point there."
The Glasgow-born son of a Nigerian scientist and a Romanian economist grew up as a Rangers fan and was especially looking forward to playing at Ibrox in Scotland's next Euro 2016 qualifier.
"It's massive," he said. "When we play Georgia on 11 October, the atmosphere is going to be even more than the one in Dortmund, so we are looking forward to it.
"It's all well saying we played well, but we have nothing to show for it and now.
"This double header against Georgia and Poland, you have to try to get some points on the board because ultimately our goal is to qualify and the only way we are going to do is to win points."