Manchester United: Juan Mata 'could not have imagined' defeat
Last updated on .From the section Football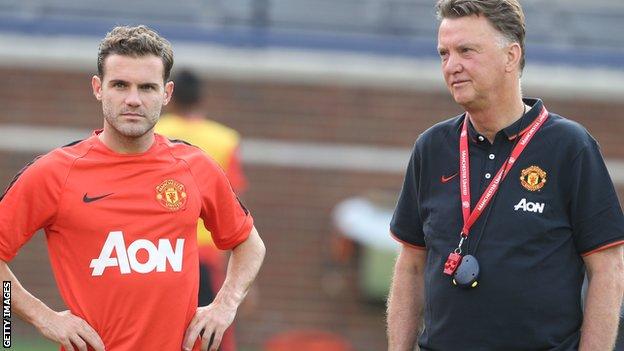 Manchester United's Juan Mata has admitted he could not have imagined the Reds' 5-3 defeat at Leicester.
Manager Louis van Gaal started with big-money signings Angel Di Maria, Ander Herrera and Radamel Falcao.
But Premier League newcomers Leicester overturned a 3-1 deficit to win 5-3 as they dominated the last half-hour.
"I keep thinking about how we lost a game that was under control," said Mata, 26. "I could not imagine a day like this."
MOTD2 analysis: Leicester v Man Utd
Danny Murphy:
"Manchester United's defence lacked leadership, experience and quality. But if I criticise them, it is also important I point out they did not have much protection. The balance of the team was all wrong. We already knew Louis van Gaal's squad was top-heavy with superb attacking talent but this game was the first time we have seen that it does not matter how dangerous they are going forward if they cannot defend."
Read more: Man Utd miss a defensive leader
The Spain international midfielder echoed the sentiments of Van Gaal, with the Dutchman claiming United had the "game in our pocket" but threw it away.
"On our way back to Manchester I was thinking about what had happened and felt as disappointed as all those that came with us to the stadium," said Mata, on his personal website.
"Honestly, I feel very sorry that the weekend ended up for our fans in such a sad way."
The result left United in the bottom half of the table, with only one victory so far this season, but moved a jubilant Leicester up to seventh with eight points from five games.
Former Leicester defender Matt Elliott believes Nigel Pearson's side deserve huge credit for how they have adapted to life at a higher level.
"In the Championship last year they could take the game to the opposition a lot more freely," Elliott told BBC Radio 5 live.
"This year they've had to change their style of play and that comes from the manager.
"So far they've shown a lot of football intelligence as well as ability, and full credit must be given to Nigel and his players."