Scottish League Cup: Rival bosses seek solace at Victoria Park

By Richard Wilson
BBC Scotland
Last updated on .From the section Football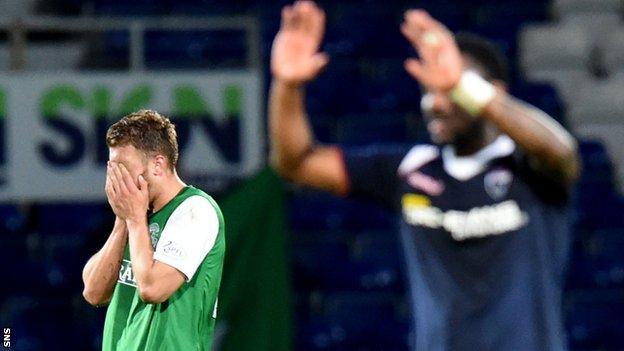 The only consolation waiting for Ross County and Hibernian in Dingwall is that one of the teams will feel briefly rejuvenated.
The home side has lost all seven league games this season, while the visitors have only managed two wins in six Championship matches.
Pessimism has already settled as the current mood of both clubs, so there will at least be empathy between them when they meet in the Scottish League Cup, although one must ultimately prevail.
Upheaval has characterised their campaigns so far. County dispensed with their manager, Derek Adams, two weeks ago following two transfer windows in which new players arrived in bulk from abroad.
The challenge for his successor, Jim McIntyre, is to bring some stability and calm to a club that the directors had come to believe had lost its identification with the local community.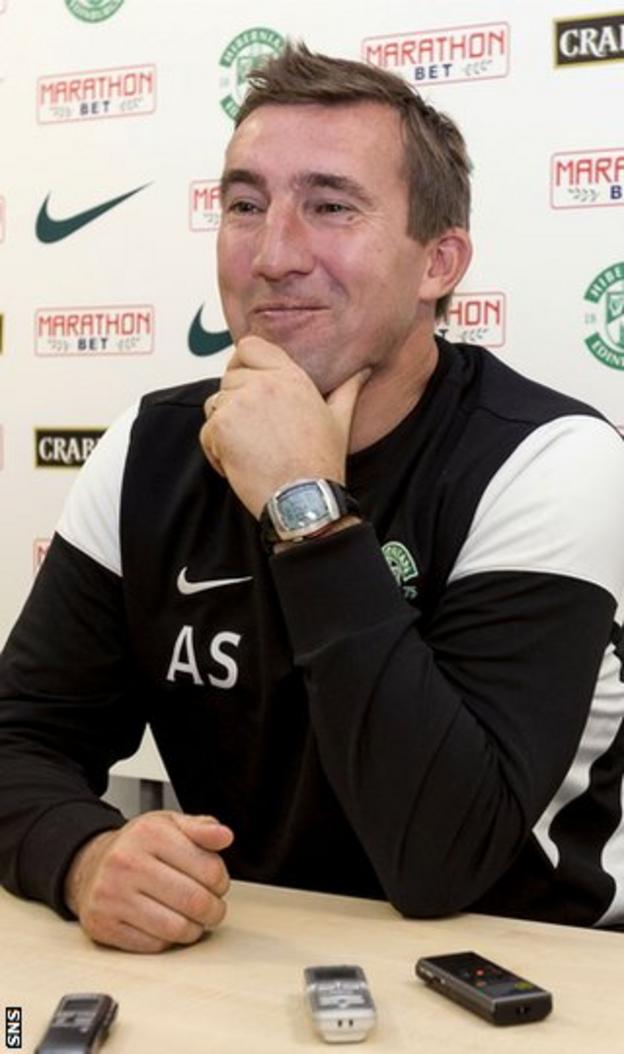 Despondency has been more entrenched at Easter Road, where a succession of managers have failed to deliver a team whose ability corresponds with the club's resources and status within Scottish football.
When Alan Stubbs arrived in the summer following relegation and then Terry Butcher's sacking, it was acknowledged that the rebuilding of Hibs would take time and patience, but neither commodity is in generous supply among the club's fans.
Any discontent is not focused on the manager for now, though, since supporters have built up an enduring grievance with Rod Petrie. The chairman is considered the symbolic figure of a detached owner in Sir Tom Farmer, although both would maintain that they have financially supported their managers.
The reality is that Hibs are in a period of transition as Farmer plans for the time when he will pass on his majority shareholding and supporters attempt to gain a stake and an influence in the club, a situation that presents additional challenges for Stubbs.
Both managers would ask for patience, from their directors and the supporters of their teams. That is justifiable, since neither has had enough time to implement radical change and both are limited to an extent.
McIntyre must wait until January before he can make personnel changes, while Stubbs will have to work against a backdrop of turmoil until the short and long-term ownership of the club is determined. The financial results are due soon and the chief executive, Leeann Dempster, is working diligently to try to address the issues of fans who feel disenfranchised from their club and are at odds with Petrie.
The weekend results merely emphasised the scale of the tasks that the two managers face.
County were overwhelmed by Aberdeen, whose dynamic and aggressive attack brought three goals and a batch of near misses. It could have been a galling result, but the display was certainly troubling enough for McIntyre to lament the fitness of his players.
Listening to the two managers after their respective defeats - Hibs lost 1-0 at Queen of the South, a team without a permanent manager - what struck was the similarity of their messages. Both were focusing on "small margins", pointing out that defensive errors and a lack of assurance in front of goal were the principle reasons for the losses.
It might be a natural inclination to reduce setbacks to minor deficiencies that can be addressed. Hibs, for instance, ought to have taken the lead at Palmerston, but Matthew Kennedy missed a straightforward chance, which Stubbs pointed out would have presented his team with something to defend.
A run of poor form is not so easily characterised, but the bigger picture does not need to be alarming for both managers.
McIntyre has a proven record at his previous clubs and he has already shown that he will make major decisions. The club captain, Richie Brittain, was left on the bench for his first game in charge, although restored at the weekend, while the goalkeeper, Mark Brown, was recalled to the starting line-up against Aberdeen, despite having been told by Adams during pre-season training that he should focus on coaching the other goalkeepers in the squad.
The Country chairman, Roy McGregor, wants the team to be familiar to and representative of the community of fans and potential fans in the Dingwall area that he has long tried to engage with. The priority for McIntyre, though, is to instigate a change in mood. Negative energy can gather quickly but also prove stubbornly difficult to shift.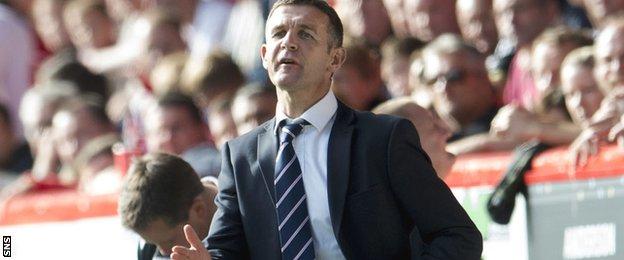 A sudden change in fortune can be the jolt that instigates a more lasting turnaround. Ronny Deila, the Celtic manager, has confirmed that Hibs are interested in the emergency loan signing of Leigh Griffiths, a proven goalscorer and a player who is a cult hero even to disillusioned supporters. That would be a bold, if brief, development, but it could also be transformative.
An emphatic display and result in the League Cup could have a similar impact, for both sides, although they are likely to be cautious given the circumstances.
McIntyre is still learning about his players, their personalities and how they interact, while Stubbs will be making judgements on the players he inherited and those he brought to the club. Scott Allan, for instance, has failed to impress, but hope still resides in the potential of Sam Stanton, Alex Harris and Jason Cummings.
They are not embattled yet, just two managers wrestling with the problem-solving that is integral to management. It might not be a classic cup tie, but the circumstances alone making it intriguing.