Phil Neville: Manchester United are '£100m off winning title'
Last updated on .From the section Football338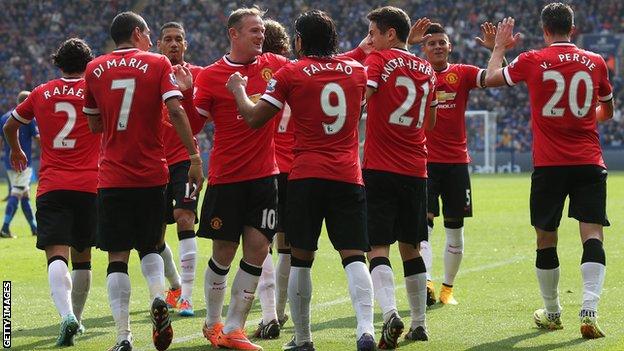 Manchester United may need to spend another £100m on players before they can compete for the Premier League title, says ex-defender Phil Neville.
"I know United have spent £150m," Neville, 37, told BBC Radio 5 live.
"I think there's another two transfer windows of similar amounts of money needed - maybe £100m - before they can even think about winning the title."
MOTD2 pundit and former England midfielder Danny Murphy on the 5-3 loss to Leicester
"Manchester United's defence lacked leadership, experience and quality against Leicester. But if I criticise them, it is also important I point out they did not have much protection. The balance of the team was all wrong. We already knew Louis van Gaal's squad was top-heavy with superb attacking talent but this game was the first time we have seen that it does not matter how dangerous they are going forward if they cannot defend."
Read more: Man Utd miss a defensive leader
New United boss Louis van Gaal spent almost £150m in the summer to sign midfielders Angel Di Maria, Ander Herrera and Daley Blind plus defenders Marcos Rojo and Luke Shaw, while striker Radamel Falcao joined for a £6m loan fee.
But Neville, who clarified on Twitter he was referring to a total spend of £100m across the two windows, told BBC Radio 5 live "there are still key positions in the team that need filling".
"I think the centre-back position is obviously the key area," he said. "Holding midfield or centre-midfield needs addressing [too]."
Tyler Blackett, 20, has played at centre-back in all five of United's league games this season, but he struggled against Leicester and was sent off.
United's summer signings
Winger Angel di Maria (Real Madrid, £59.7m)
Midfielder Ander Herrera (Athletic Bilbao, £29m)
Full-back Luke Shaw (Southampton, £27m)
Defender Marcos Rojo (Sporting Lisbon, £16m)
Defender Daley Blind (Ajax, £13.8m)
Striker Radamel Falcao (Monaco, £6m season-long loan)
All fees approximate
Neville, who was on the coaching staff at Old Trafford last season, defended the club's failure to sign an established centre-back in the summer transfer window, and backed United's English defensive contingent to prove their worth.
"That squad needed quality, not just run-of-the-mill players, they needed world-class players, and there were no world-class centre-backs out there," Neville said.
"I think that's why in the next two transfer windows, United might still be looking for that world-class defender.
"I am certain Chris Smalling will come good and I have full faith in Phil Jones as well. They've bought a lot of foreign players, you don't get rid of your English spine."
United are 12th in the Premier League table, having won just one game this season. They were also eliminated from the League Cup by a shock 4-0 loss at MK Dons.