Nations Cup 2015: Cameroon and Sierra Leone find venues
By Mohamed Fajah Barrie
BBC Sport, Freetown
Last updated on .From the section Football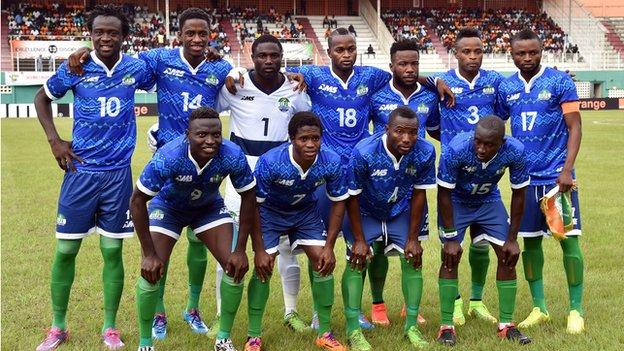 Cameroon have agreed to Sierra Leone's request for the Indomitable Lions to host their 2015 Africa Cup of Nations qualifier in Yaounde on 10 October.
The match was originally scheduled to be held in Sierra Leone but the Confederation of African football (Caf) announced it was keeping in place a ban on matches in the country because of the outbreak of the deadly Ebola virus.
Caf also ruled that Guinea cannot host matches for the same reasons and so the Syli Nationale will play their home game against Ghana on 11 October in the Moroccan city Casablanca.
Guinea beat Togo 2-1 at the same venue earlier this month in their opening Group E match.
Did you know?
According the World Health Organisation on 22 September almost 2,800 people have died in this latest outbreak of Ebola across parts of West Africa. More than 560 of those deaths have been in Sierra Leone.
Cameroon's agreement to host the match means they will play Sierra Leone twice in Yaounde within the space of five days - they will also host the Leone Stars for the return qualifier in Group D on 15 October.
The Secretary General of the Cameroon Football Federation, Tombi a Roko Sidiki, said: "After consultation with the sport minister the federation has agreed to host the two leg matches in Yaounde for the sake of solidarity."
He added that it would have been costly to have hired a special flight to and from Lubumbashi.
Sierra Leone also had to play a designated home match on opposition soil last month when they were forced to move their fixture against DR Congo to the Congolese city Lubumbashi.
The Leone Stars team, which was made up entirely of overseas players, lost that match 2-0 following a two-day journey travelling from Ivory Coast, where they had lost 2-1 four days earlier.
The defeats left Leone Stars bottom of Group D and also cost Johnny McKinstry his job as coach.
He was replaced by ex-Sierra Leone international Atto Mensah last week, when Fifa's latest world rankings showed the Leone Stars to have dropped from 50 to 75.
The Sierra Leone Football Association had already suspended all football activities before Caf ordered their matches to be relocated.