Rangers: Director Sandy Easdale increases stake at Ibrox
Last updated on .From the section Football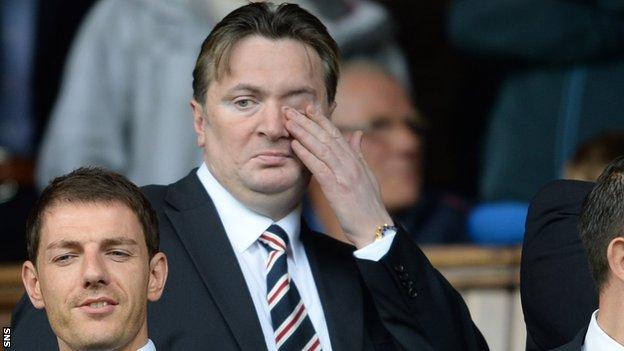 Sandy Easdale now has voting rights over 26.15% of share capital in Rangers International Football Club plc after buying an extra 1.2 million shares.
It has been announced to the Stock Exchange that the Ibrox director's personal stake now stands at 5.21%.
The bus tycoon has voting rights, but does not own, a further 20.94%.
It was announced earlier this week that Laxey Partners remains the largest shareholder, having bought an extra five million shares.
As part of the company open share offer that raised £3.13m this month, the Isle of Man-based hedge fund now controls 16.3% of shares.
Rangers revealed on the day the share offer closed, on 12 September, that it had surpassed the £3m minimum amount of sales required.
But that was £900,000 short of the sum the club had targeted when it made the shares available to existing shareholders at the end of August.
"The company announces that it was notified yesterday that, further to the company's open offer, Alexander Easdale purchased 1,242,110 ordinary shares of one penny each in the company at a price of 20p per share on 12 September 2014," said a Rangers International Football Club statement.
"As a result, Mr Easdale now holds 4,242,110 ordinary shares in the company, equal to 5.21% of the issued share capital of the company.
"Mr Easdale also holds voting rights over, but does not own, a further 17,062,395 ordinary shares, representing 20.94% of the company, meaning that, in total, he holds voting rights over 21,304,505 ordinary shares, representing 26.15% of the issued share capital of the company."
Easdale has been embroiled in controversy after it was revealed that he met Rafat Rizvi, who is wanted by Interpol and Indonesian authorities over a conviction in absentia for banking crimes.
Rizvi introduced potential Malaysian investors to Rangers and the Union of Fans group of supporters has called on Ibrox directors to remove Easdale from the football club board as a result of the association.