Man City: Supporters' club joins Financial Fair Play legal fight
Last updated on .From the section Football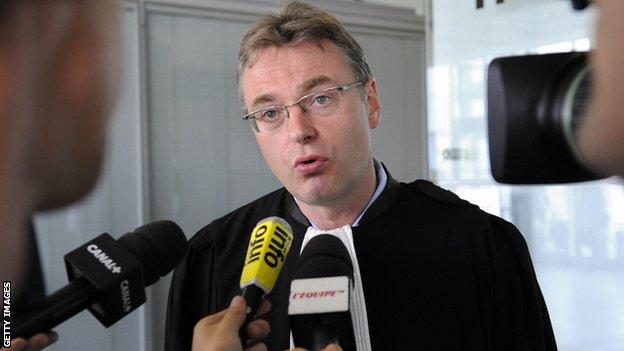 An independent Manchester City fans' group has joined a legal action against Uefa's Financial Fair Play regulations.
Dupont claims Financial Fair Play (FFP) breaches European competition law.
City were fined £49m and given restrictions on spending and squad size for breaking FFP rules last season.
BBC Sport's Matt Slater:
"There is no real debate about Uefa's Financial Fair Play rules breaking EU law: they do, emphatically. The debate is whether this exemption from the free market is proportionate to the risks associated with spendthrift clubs leaving trails of debt and destruction behind them.
"Uefa says it is, and until now so has the European Commission and most of the continent's biggest clubs, many of whom are happy with the status quo that FFP helps to enforce.
"Dupont, his Belgian clients and a growing band of fans say otherwise. For them, there are better ways to prevent "another Pompey" [Portsmouth were in 2010 the first Premier League club to enter administration] than limiting a club's ability to compete, dream or grow."
"Far from implementing a true financial fair play, this rule is in fact a prohibition to invest that prevents ambitious owners to develop their clubs," said MCFC Supporters' Club in a statement.
"The Uefa rule may be bad news for MCFC supporters, but it is even worse news for supporters of all clubs that do not today belong to the established European elite."
A complaint was lodged with the European Commission about FFP by Dupont in May 2013 on behalf of players' agent Daniel Striani.
Dupont says the FFP ruling will restrict the incomes of both players and agents, reduce transfer activity and ensure that Europe's larger clubs remain dominant.
What are Uefa's Financial Fair Play regulations?
The Club Financial Control Body was set up in June 2012 to oversee the application of the Uefa Club Licensing System and Financial Fair Play regulations.
Clubs cannot repeatedly spend more than their generated revenues and clubs will be obliged to meet all their transfer and employee payment commitments at all times.
Higher-risk clubs that fail certain indicators will also be required to provide budgets detailing their strategic plans.
Teams participating in Uefa club competitions have had their transfer and employee payables monitored since the summer of 2011. The break-even assessment covering the financial years ending 2012 and 2013 will be assessed during 2013-14.
The Belgian lawyer claims that even if the ban on overspending were ruled legal, he would have further grounds to appeal because Uefa, football's European governing body, could achieve its aims by a less restrictive measure.
As well as City, Paris St-Germain and seven other European clubs were hit with a range of fines and sanctions in May for breaching FFP rules.
Uefa introduced FFP because it fears many clubs are risking their futures by spending beyond their means, while president Michel Platini also believes the big spending of some clubs is ruining the game.
In December 1995, Belgian midfielder Jean-Marc Bosman, 31, successfully challenged football's transfer rules at the European Court, on the basis of restraint of trade.
The Bosman ruling allowed players over 24 to move clubs without a transfer fee at the end of their contracts, and also ended national league limits on foreign players from other European Union countries.