Liverpool under Uefa Financial Fair Play investigation
Last updated on .From the section Liverpool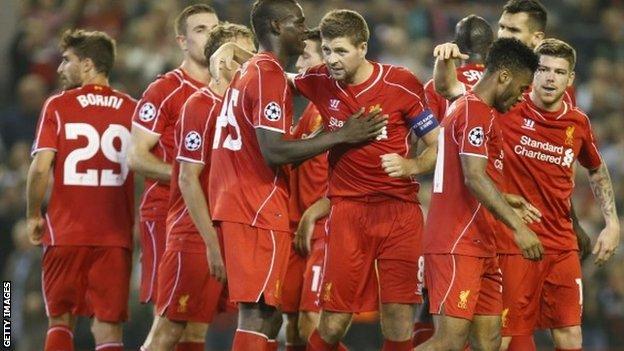 Liverpool are one of seven clubs being investigated for possible Financial Fair Play breaches, Uefa has confirmed.
Under Uefa rules, clubs competing in Europe must limit their losses to £35.4m over two seasons.
Monaco, Inter Milan, Roma, Besiktas, Sporting Lisbon and Krasnodar are the other clubs being investigated.
Manchester City and Paris St-Germain were fined in May and had a limit put on their spending and squad size after breaking FFP rules.
A Uefa statement read: "The Club Financial Control Body has opened formal investigations into seven clubs as they disclosed a break-even deficit on the basis of their financial reporting periods ending in 2012 and 2013."
The clubs must submit "additional monitoring information" in October and November before Uefa decides on any punishment.
What are Uefa's Financial Fair Play regulations?
The Club Financial Control Body was set up in June 2012 to oversee the application of the Uefa Club Licensing System and Financial Fair Play regulations
Clubs cannot repeatedly spend more than their generated revenues and clubs will be obliged to meet all their transfer and employee payment commitments at all times
Higher-risk clubs that fail certain indicators will also be required to provide budgets detailing their strategic plans
Teams participating in Uefa club competitions have had their transfer and employee payables monitored since the summer of 2011. The break-even assessment covering the financial years ending 2012 and 2013 will be assessed during 2013-14
Read more about
FFP rules
Despite losses of £49.8m in 2012-13 and £41m in 2011-12, Liverpool are confident they did not breach FFP regulations, having signed a series of lucrative commercial deals over the past 18 months.
Liverpool manager Brendan Rodgers said: "It's obviously something that will be dealt with by the directors.
"It's something we're comfortable with because we're great advocates of Financial Fair Play. It's ongoing with the club."
Money raised commercially can be offset against the £90m losses, which can be reduced further if Liverpool show they have invested in youth development, infrastructure and community projects.
Last season 76 clubs were deemed to be "at risk" of breaching FFP, but only nine were punished.
Manchester City and French champions PSG were fined £49m each by Uefa and handed restrictions on transfer spending and a reduction in their squad size for the Champions League.
Uefa also announced on Friday that five clubs involved in the 2014-15 club competitions have had the payment of their prize money temporarily withheld.
Turkey's Bursaspor, Romania's Cluj and Astra Giurgiu, Montenegro's Buducnost Podgorica and Lithuania's Ekranas for making late payments to other clubs, employees and/or tax authorities."