Chris Hargreaves - Torquay return to Football League 'expected'
Last updated on .From the section Torquay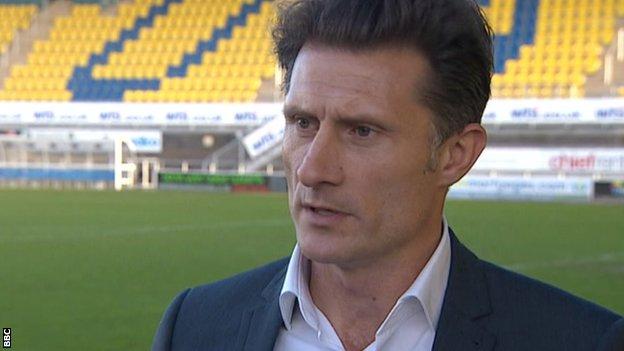 Torquay boss Chris Hargreaves believes there is an expectation they can make an immediate return to the Football League despite their small budget.
They face away trips to Telford on Saturday and Forest Green on Tuesday.
"I've got to wheel and deal and do it on a budget, which for a club like Torquay, who are expected to go up straight away, makes it difficult."
"The amount of money they've (Forest Green) spent puts a little bit of pressure on them." Hargreaves said.
"They have spent a lot of money, so they have to win games," he told BBC Radio Devon.
"Perhaps we won't be the underdog because of league position but on a financial front we would be, so again the pressure would be on them.
"In the morning after a game it doesn't say 'a budget of X amount', it just says the result."
Hargreaves' side currently sit second in the Conference, having won their last six league games.
Meanwhile, Torquay have extended the by another month.