Manchester City: Frank Lampard has not discussed extending loan
Last updated on .From the section Man City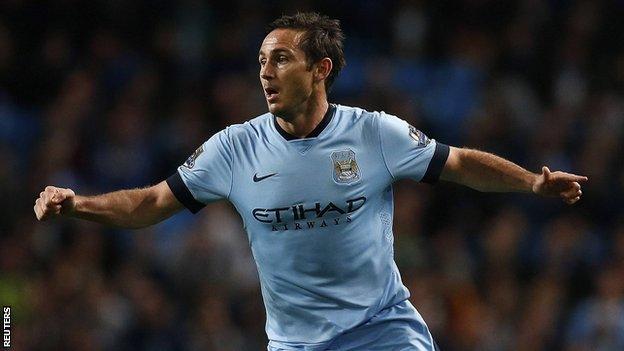 Frank Lampard says he has not held any discussions with Manchester City about extending his loan spell.
The former England midfielder, 36, has scored three goals in three games since joining this summer from Major League Soccer side New York City.
Lampard's loan deal expires in January, but City boss Manuel Pellegrini said this week that he could stay.
"I'm signed here until January, so that's all I can say at the minute," said ex-Chelsea player Lampard.
Hull City boss Steve Bruce on Frank Lampard:
"Frank has been a great player for the Premier League. The word great is used too much but if you look at his record, he's been a phenomenal player. Still doing it now at 36 is incredible. If he was in his pomp he would be worth £60m or £70m."
Lampard, who retired from England duty in August after winning 106 caps, made his City debut in the 2-2 Premier League draw at Arsenal on 13 September.
He was an unused substitute in the 1-0 Champions League defeat by Bayern Munich on 17 September, and refused to celebrate after scoring the equaliser in the 1-1 draw against former club Chelsea.
Lampard followed that by scoring twice in the 7-0 Capital One Cup victory over Sheffield Wednesday on 24 September.
City travel to Hull City on Saturday, and Tigers boss Steve Bruce believes a young Lampard would be worth up to £70m today.
"He's been quite a remarkable player. Every young player with any aspiration in the game should maybe have a look at him," said Bruce.
"He's 36 now and his fitness levels are staggering. He's been a staggering player.
"How much would Frank Lampard be worth now if he was in his pomp? A 20 goals a year man for the last 15 years? He'd be worth £60m or £70m."
The MLS season does not begin until March and it has been suggested that Lampard will not need a pre-season in America.
"That argument's come up since I scored at the weekend," said Lampard, who joined New York City in July after 13 years at Chelsea, where he won three Premier League titles, four FA Cups, the Champions League and the Europa League.
"The important thing for me is to play well if I can, train well and then we'll see what happens.
"I wouldn't want to get too ahead of myself; it's not my place to do that. That will obviously be a club decision first and foremost.
"I was in very much of a comfort zone at Chelsea. It's good to test yourself in life. All I can say is I am enjoying it."