Robbie Savage on Alan Pardew, Steven Gerrard & Man Utd
Last updated on .From the section Football

In his regular BBC Sport column, Robbie Savage responds to the criticism he got from Newcastle manager Alan Pardew, and talks about Manchester United's disastrous defence and why Steven Gerrard's contribution cannot be measured in statistics alone.
Newcastle manager Alan Pardew's criticism of me saying he sounded like "a broken man" in my BBC Sport column last week was not the first time I have had a response to comments I have made in the media.
A Premier League player once phoned me up at half-time of a match that I was working on as a TV pundit to tell me to "get my facts right" about him.
He was injured and watching his team play on TV, and had heard me talking about a part of his game that I did not rate.
The player was keen to tell me that the statistics showed otherwise, but I had the figures in front of me and was able to tell him thank you very much but, actually, I was right and my comments were fair.
I said it nicely and phoned him back after the game to speak to him too. He was fine about it.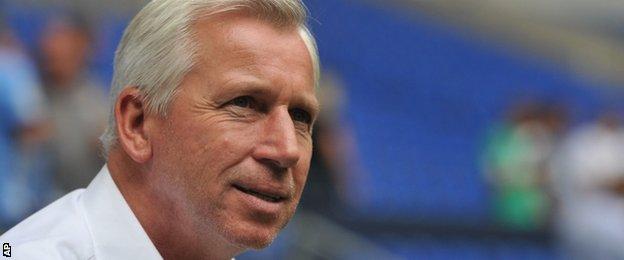 That is a good example of my approach to being a pundit. I would never say something on TV or write anything in a column that I would not say directly or explain to the person concerned if I were talking to him.
Yes, sometimes I might shoot from the hip with my opinions - sometimes I get things wrong and sometimes I change my mind - some people might say I do that too often!
But I have to be honest and say what I think. I had a 20-year playing career and played more than 600 professional games, but I cannot put many medals on the table to show for it, so I cannot sit on the fence on some issues like some higher-profile former players might.
Pundit comments are never personal
I can understand why Pardew took what I said to heart because I used to do the same with comments made about me.
I took plenty of stick from pundits as a player, and sometimes I was absolutely hammered, but my feeling was that I was there to be shot at.
It is the same now I am on the other side of the fence - and the same goes for managers as well as players.
But the one thing I never do as a pundit is have an agenda against somebody. None of my comments or criticisms are personal.
I stand by what I said about Pardew after Newcastle's 4-0 defeat by Southampton - I didn't say he was a broken man, I said he sounded like one.
He did sound dejected, although I have obviously never been in the situation he was in, coming out to face the media after a game where his players have not performed. It must be very difficult.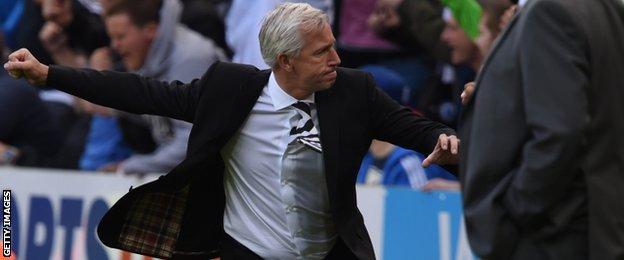 I was surprised he picked me out to respond to, because I had heard a lot of people saying a very similar thing, but the important thing was the way that Pardew showed I was wrong about him.
He did not do that by criticising my comments, he did it with the way he came out fighting for his job in their draw with Hull last weekend.
Pardew did not hide from the crowd despite the protests that were planned against him, and he did not throw in the towel when his side went 2-0 down.
Instead, he made an inspired substitution that turned the game, bringing on Papiss Cisse for Emmanuel Riviere and seeing him score twice in the last 20 minutes to earn Newcastle a point.
Afterwards, his voice was full of passion and energy, which was great to hear.
Last week I also wrote that it was hard to see him surviving in his job for much longer - I would be delighted if he proved me wrong about that too.
Is Van Gaal getting off lightly?
Speaking of criticising managers, I am surprised people have not been questioning Manchester United boss Louis van Gaal more than they have been.
Van Gaal has picked up fewer points from his first five league games than his predecessor David Moyes did last season, despite having a much easier set of games, and has made United's worst start to a Premier League campaign. All this after spending more than £150m on new players too.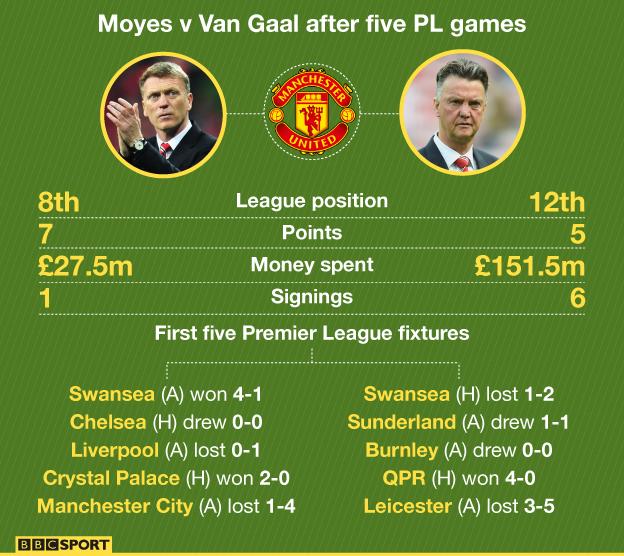 Yes, Van Gaal also made a bad start to his first season at Bayern Munich in 2009, failing to win any of his first three games, before going on a long unbeaten run and winning the German league and cup double and reaching the Champions League final.
But, let's face it, that sort of success is not going to happen at Old Trafford this season.
For all the threat they pose going forward and how good they are to watch, defensively United are a mess.
Van Gaal has tried five different central-defensive combinations in five Premier League games this season and it looks like he will need to try another one against West Ham on Saturday. So far, none of them have been convincing.
Man Utd's centre-halves in the Premier League 2014-15

Who played together?

Minutes

Conceded

Jones-Smalling-Blackett

89

2

Jones-Keane-Blackett

46

0

Jones-Evans-Blackett

90

0

Evans-Blackett

120

1

Smalling-Blackett

105

5
He has also fielded 26 different players in five games, more than any other team in the top flight.
If he turns to the youth team this weekend - as he says he might - that number could rise further, but we still seem no nearer to finding out which system suits this United team best, or which players will fit into it.
If you are a West Ham defender going to Old Trafford this weekend, then you are expecting a tough time.
The Hammers attackers, though, will be thinking they might fill their boots.
Last weekend, Leicester striker Jamie Vardy ripped United apart and then talked about how his side had planned to exploit their weaknesses at the back.
Premier League 2014-15

Most players used

Fewest players used

26: Man Utd

17: Burnley, Southampton, Swansea

23: Crystal Palace, Hull, QPR

18: Aston Villa, Chelsea, Everton, Sunderland

22: Tottenham, West Ham

19: Man City, Stoke
It is a long time since I have heard anybody talking about doing that, let alone somebody who was playing for Halifax in the Northern Premier League three years ago. There is no way a newly promoted side should be scoring five goals against United.
Even under Moyes, you did not hear people talk about United's weaknesses. They conceded only four goals in their first six games in all competitions under him, compared to 12 under Van Gaal.
There is still a part of me that thinks some United fans will enjoy things being this way more than they were under Moyes, when things were rarely very exciting.
Now United are full of tricks, flicks and goals and you get the feeling they might hammer teams or be hammered themselves.
It will be great to watch, especially for neutrals, but Van Gaal is not going to get forever to sort it out.
His side play Chelsea and Manchester City in the space of seven days at the end of October.
They have to get things right at the back by then because, otherwise, they will be on the end of more embarrassing scorelines.
Less could mean more for Gerrard's form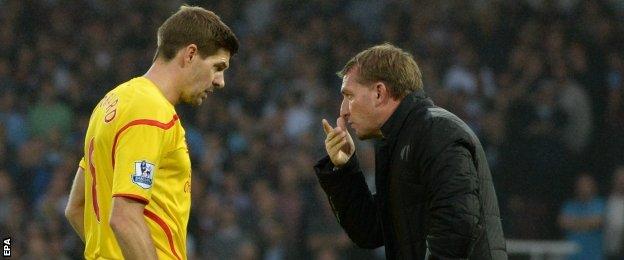 I use a lot of statistics to back up my arguments as a pundit, so it was interesting to see them used to slam Steven Gerrard for his performance in Liverpool's defeat by West Ham last week.
It is true that he did not make a single tackle as a defensive midfielder at Upton Park and his passing, usually so accurate, saw him give the ball away 10 times. He also played no through balls and had no shots.
He has not been at his best this season, but there is more to what Gerrard offers Liverpool than raw stats, though.
He is their leader, with a massive influence over the rest of the team in the dressing room and on the pitch.
Just looking across and thinking 'Steven Gerrard is on my team today' would lift you and he is especially important to that Liverpool side because there are not many other leaders whatsoever.
He is the best midfielder I played against, is still a vital member of the team and will undoubtedly play a huge part in the outcome of Saturday's Merseyside derby.
But he has played every minute of the season so far and, at the age of 34, that might be the reason why he has not been as effective as he was during the last campaign.
As I said on BBC Radio 5 live's 606 last weekend, age catches up with everybody and manager Brendan Rodgers has a decision to make because Gerrard cannot keep playing twice a week every week in the Champions League and Premier League.
Gerrard still has a lot to offer but Rodgers has to decide how and when to replace him - and that will start by leaving him out of some games.
It is similar to the problem United had replacing Paul Scholes - something they are still yet to do.
Robbie Savage was speaking to BBC Sport's Chris Bevan