Celtic's Aleksandar Tonev given seven-game ban for racist abuse
Last updated on .From the section Celtic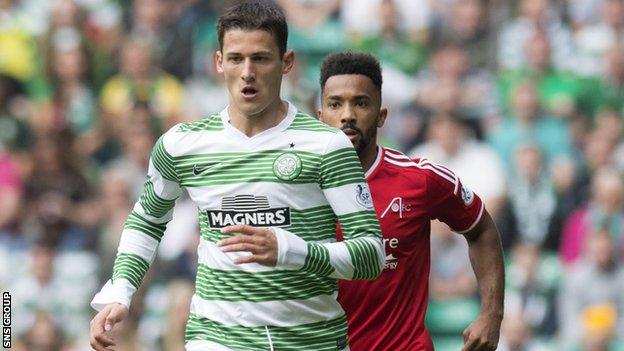 Celtic winger Aleksandar Tonev has been banned for seven matches for racially abusing Aberdeen defender Shay Logan.
The 24-year-old was charged following an incident with Englishman Logan during a Scottish Premiership match in September.
The Bulgaria international is on loan from Premier League side Aston Villa.
Celtic say they will appeal against the punishment, saying the Bulgarian is "not a racist" and the club "absolutely abhors racism of any kind".
Tonev joined the Scottish champions in August and has featured in eight matches, making just three starts.
Recent high-profile bans for racist abuse
Luis Suarez received an eight-game ban for racially abusing Patrice Evra in Liverpool's 1-1 draw at home to Manchester United in 2011
John Terry was handed a four-game ban for racially abusing Anton Ferdinand in Chelsea's 1-0 defeat at QPR in 2011
The incident with Logan came in the second half of Celtic's 2-1 win over Aberdeen on 13 September.
"This was a very unfortunate case but the club has accepted Aleksandar's explanation that he did not say the words that were alleged to have been said and that he is not a racist," a Celtic spokesperson said.
"We are, therefore, very disappointed by the outcome today and can confirm that Aleksandar will be appealing this decision."
Celtic have five working days to submit their intention to fight the ban and, if it is lodged during office hours on Friday, Tonev will be free to face Inverness CT on Saturday.
He would be free to play thereafter until the case is heard.
A spokesman for Aston Villa added: "The position of the club is that racism or any other form of discrimination is abhorrent and has no place in football.
"The club is reviewing the report and decision of the Scottish Football Association and will make no further comment while an ongoing process remains in place."