Olympiakos-Panathinaikos: Europe's maddest derby?
By Neil Johnston
BBC Sport
Last updated on .From the section Football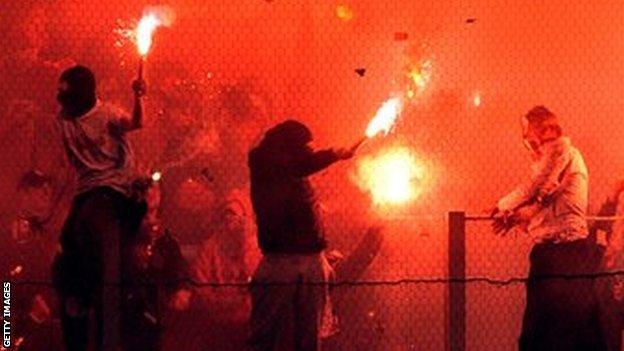 Petrol bombs, flares, firecrackers and fights. And that's just on the pitch.
Welcome to derby day in Athens, where recent meetings between Olympiakos and Panathinaikos have also seen fans start fires in the stands and attempt to torch the team coach of their fierce rivals.
The last time Greece's two major powers met, in March, Panathinaikos manager Yannis Anastasiou was left sprawled on the touchline after being hit by an object thrown from the crowd.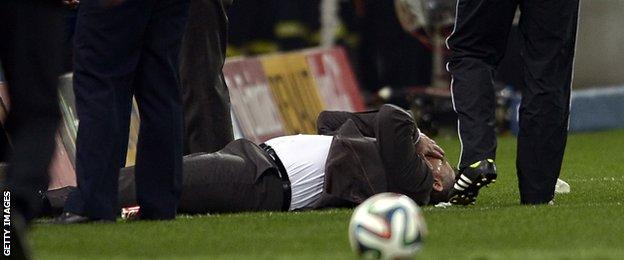 The latest staging of the fixture known as the 'derby of the eternal enemies' takes place this Sunday and could have an English flavour to it in the shape of former Manchester United and Barnsley goalkeeper Luke Steele.
The 30-year-old, who started his career at hometown club Peterborough and signed for Panathinaikos this summer after six years at Barnsley, has already had a taste of what to expect.
"My debut was a cup tie away to a team called Olympiakos Volos, a club based well away from Athens," Steele told BBC Sport.
"It was hostile; there were lots of flares. I flinched when the first firecracker landed near me but you soon get used to it.
"It's more than football to the fans, it's almost like a religion. But I'm ready for it. I just want to play as many games as possible."
Eight miles of Athens roads separate Olympiakos, who are from the port area of Piraeus, and Panathinaikos, based close to the centre of the capital.
Yet the burning hatred between the two runs so deep that it even extends into basketball, volleyball and water polo.
In March 2007, a Panathinaikos supporter died during a clash between fans of the two teams before a women's volleyball match. Ten months later a football supporter was fatally stabbed and another wounded after Olympiakos beat their arch rivals 4-0.
In May 2009, riot police were called as Olympiakos fans threw a flare, plastic bottles and other items at the Panathinaikos bench during a timeout in a basketball match.
Thousands of police are deployed to quell unrest between supporters, even though there is a ban on away fans travelling to the game. Little wonder this is one of Europe's most dangerous derbies.
"There is a lot of trouble in football in Greece in general," says Greek journalist Panos Polyzoidis. "Only a few weeks ago, a fan at a Third Division football match was killed and there were only 200 or so there.
"But it's true that there is a clear hatred when Panathinaikos and Olympiakos meet and it doesn't matter whether it's football, basketball, volleyball or water polo.
"In terms of the social background between the two clubs, Panathinaikos were upper middle class when they were formed 106 years ago. Olympiakos were formed 17 years later in an industrial centre and were seen as a working-class club.
"Both are so huge now that they attract fans from all walks of life. The trouble continues though."
On the pitch, Olympiakos are the dominant force, having won 41 league titles, including the last four in a row. Panathinaikos have not won the title since 2010 when they were crowned champions of Greece for the 20th time.
Serious disturbances broke out in March 2012 when Panathinaikos, who were playing home games at the Olympic Stadium while the future of their traditional Apostolos Nikolaidis home was up in the air, trailed Olympiakos 1-0.
The start of the second half was delayed by 45 minutes as fans pelted police with Molotov cocktails, flares and missiles, and the game was subsequently abandoned altogether.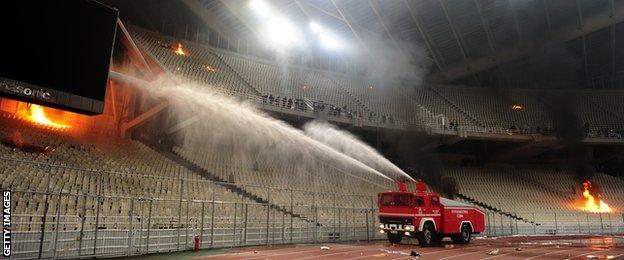 Twenty police officers were injured and more than 50 arrests were made while three fire engines were called in to extinguish flames as hundreds of fans set alight sections of the stands.
Panathinaikos were docked five points and told to play four games behind closed doors as punishment.
Two years earlier, a late Olympiakos winner by former Blackburn forward Matt Derbyshire prompted Panathinaikos fans to try to set fire to the visitors' team coach.
"The fans are fanatical," Derbyshire, who was nicknamed 'The English Killer' in the Greek newspapers for that goal, told BBC Sport.
Luke Steele: Peterborough to Panathinaikos

2001:

After starting career at hometown club Peterborough, invited for trial at Man Utd

2008:

Helps Barnsley beat Liverpool at Anfield in FA Cup on debut after joining on emergency loan. Later joins club permanently

2002:

Signs four-year deal with United. Wins FA Youth Cup but leaves Old Trafford in 2006 without playing senior game. Joins West Brom as part of deal that takes Tomasz Kuszczak to United

2014:

Signs two-year contract with Panathinaikos after Barnsley are relegated to League One. Keeps clean sheet on Greek Super League debut on 28 September, a 1-0 win over Niki Volos
"In derby week, they are all telling you 'you've got to win this. And if you can't win, then for goodness sake don't lose'. They're like 'even if we don't win silverware, then you've got to win this'.
"I will never forget that goal against Panathinaikos. The ball was crossed into the area and I headed it towards goal. The keeper parried it and I smashed in the volley.
"I still get messages from Olympiakos fans about it."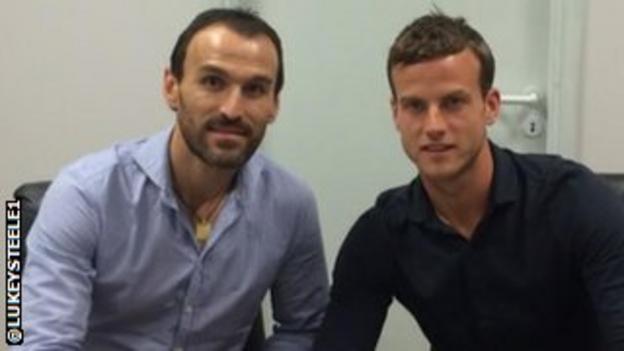 Steele will be hoping for an incident-free day after turning down offers from other Championship clubs to move to Greece on a two-year contract following Barnsley's relegation to League One at the end of last season.
"I came over here with just one bag for talks but I agreed a deal very quickly," added the former West Brom player, who lives by the Aegean Sea in the Athens suburb of Glyfada, home to many of Greece's millionaires, ministers and celebrities.
"It's a beautiful country and I'm settling well, I have Greek lessons once a week.
"I had a couple of other offers from Championship clubs but Panathinaikos felt right.
"I had been at Barnsley for six years and I was in a bit of a comfort zone, I wanted to feel some fear and be out of my depth a little bit."
Sunday at the Karaiskakis Stadium should see Steele get his wish.