Gibraltar FA launches appeal against Fifa membership rejection
Last updated on .From the section Football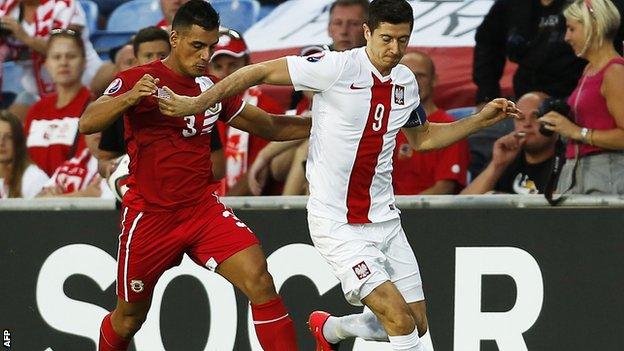 The Gibraltar Football Association will appeal against Fifa's decision to reject its bid to become a member.
Fifa says Gibraltar contravenes the world governing body's statutes regarding independent territories.
Gibraltar, a British overseas territory whose sovereignty is disputed by Spain, won an appeal with the Court of Arbitration for Sport (Cas) to be accepted into Uefa in 2013.
Its FA has now launched an appeal with Cas against Fifa's decision.
A Gibraltar FA spokesman said: "We expected this decision by Fifa based on their statutes which, in their view, states Gibraltar is not an independent territory so we have initiated our appeal to Cas. That's our next step.
"We are a Uefa member nation now and we will take it to the next stage - if you look at the history of our Uefa membership that's the way it went as well."
Gibraltar were beaten 7-0 by Poland in their first European qualifying match on 7 September.