Garth Crooks's team of the week: Sterling, Costa, Dzeko, Jagielka

By Garth Crooks
Football Analyst
Last updated on .From the section Football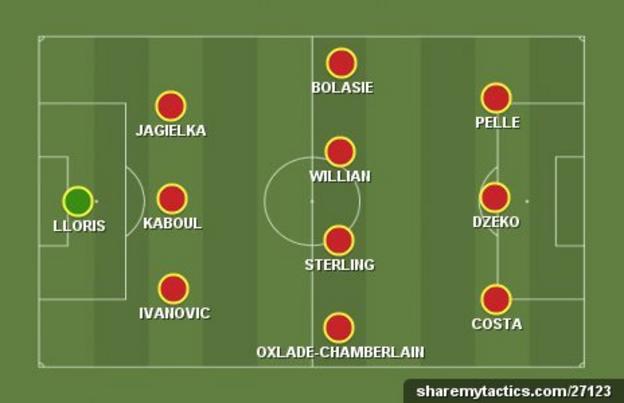 Chelsea continue to be the team to catch at the top of the Premier League after a comfortable 3-0 win against Aston Villa.
Southampton, who have surprised many with their results this season, remain three points behind the Blues following a narrow 2-1 victory over QPR.
Reigning champions Manchester City beat Hull to earn their first league win in three matches and stay in touch with the top two.
Take a look at my team of the week and see if you agree with my choices.
GOALKEEPER - Hugo Lloris (Tottenham)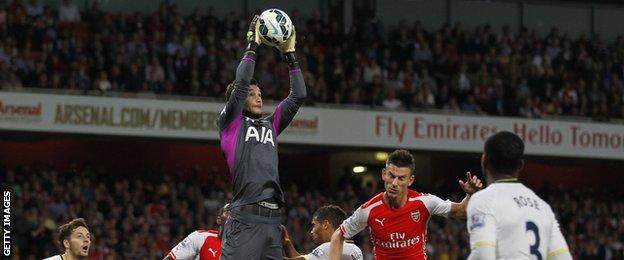 Lloris made three memorable saves that epitomised his performance in the north London derby against Arsenal.
The dive that thwarted Alex Oxlade-Chamberlain was impressive as was his point-blank stop from Mesut Ozil. However, it was the save from Per Mertesacker that left me breathless.
A tremendous display of first-class goalkeeping from the Frenchman.
DEFENDER - Branislav Ivanovic (Chelsea)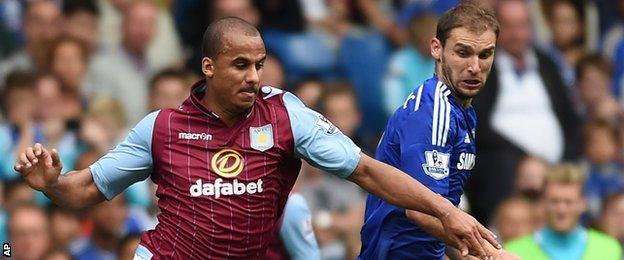 It's not often I get accosted by journalists about my team selections, but as I sat waiting for Chelsea boss Jose Mourinho's news conference at Stamford Bridge I was told in no uncertain terms that Branislav Ivanovic had better be in my team of the week.
Clearly mesmerised by the full-back's performance against Aston Villa, the gentlemen concerned had obvious doubts about some of my previous selections.
So, imagine my delight, when I pulled out my notepad and showed him the Serb's name written down.
DEFENDER - Younes Kaboul (Tottenham)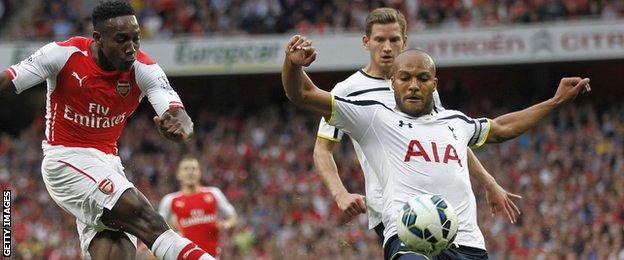 Kaboul was appointed as Spurs club captain a few weeks ago and he certainly played like it against Arsenal. North London derbies are notoriously edgy affairs and this 1-1 draw was par for the course.
Nevertheless, Kaboul provided a stability at the back which has seldom been seen in previous Tottenham sides, especially in such tense affairs against the Gunners.
DEFENDER - Phil Jagielka (Everton)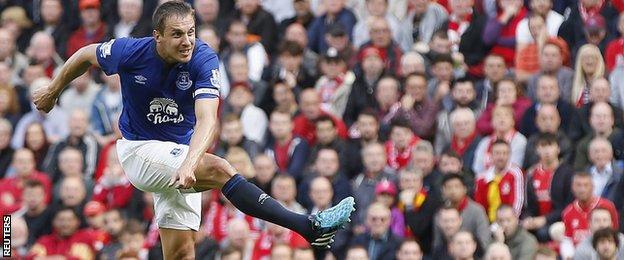 What a strike! You expect goals like the one which earned Everton a 1-1 draw at Merseyside rivals Liverpool from the likes of Romelu Lukaku or Leighton Baines - but not Phil Jagielka.
I thought to take a shot from that distance, even at that stage of the game, was audacious. When I saw the ball fly past Liverpool keeper Simon Mignolet and into the net, I thought it was a fitting reward for a player who has battled his way through an uncertain World Cup and a shaky start to the season.
He has finally started to look more like his old commanding self. Good to have you back Phil.
MIDFIELDER - Alex Oxlade-Chamberlain (Arsenal)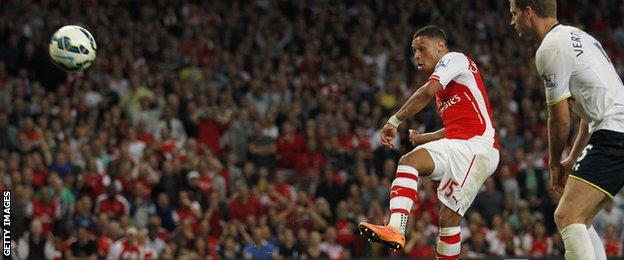 England winger Oxlade-Chamberlain seems to suffer from the same affliction as Mesut Ozil, retaining a desire to play in a free role as opposed to doing what is best for the team.
Both men possess fantastic quality from wide positions if they attune their minds to the idea.
Chamberlain linked up brilliantly at times with teenage right-back Calum Chambers on the flank and got his reward in the end with a well-deserved equaliser after some tremendous work.
MIDFIELDER - Raheem Sterling (Liverpool)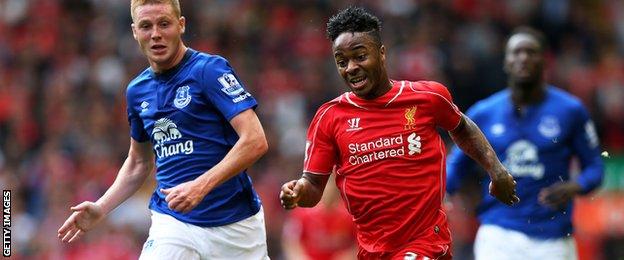 If you had listened to Radio 5 live's match commentary on the Merseyside derby you'd have heard Tony Pulis talking glowingly about the performance of Liverpool teenager Raheem Sterling.
What appeared to impress the former Stoke and Crystal Palace boss was the player's fearless ability to take the game to the opposition and at such a young age.
If Sterling is good enough for the current 'manager of the season' then he's certainly good enough for me.
MIDFIELDER - Willian (Chelsea)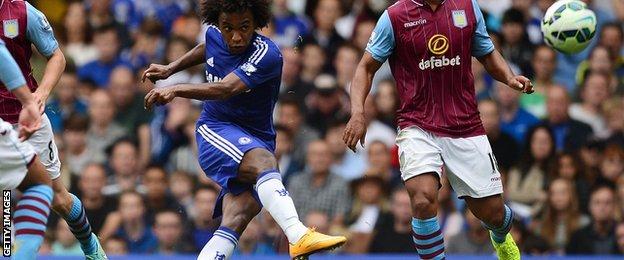 It can't be easy trying to forge a permanent place in a team, particularly when you're rarely in the starting line up, and when you're competing with the likes of Fabregas, Matic, Oscar and Hazard.
On the occasions you do get the nod it is in your interest to outshine your competitors even when they are on your side - which is precisely what Brazil attacking midfielder Willian did with his infectious display against Villa.
Take note - this Chelsea squad could quite easily go the entire season unbeaten in the Premier League.
MIDFIELDER - Yannick Bolasie (Crystal Palace)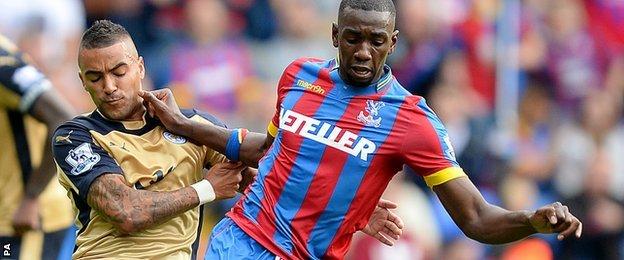 There was one stage in the second half of Palace's 2-0 win against Leicester where tricky home winger Bolasie dumped four Foxes players on their backsides.
His constant twisting and turning, mixed with the occasional darting run, was enough to frighten the living daylights out of the newly promoted visitors.
FORWARD - Diego Costa (Chelsea)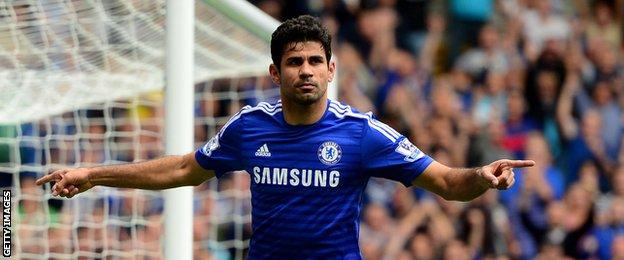 The powerful Spain striker scored Chelsea's second goal against Villa with the most glorious movement towards the near post to despatch Cesar Azpilicueta's cross.
But his link up play with Fabregas for Chelsea's third goal, which was eventually finished by Willian, was just wonderful.
This player does everything so simply it's just beautiful to watch.
FORWARD - Edin Dzeko (Manchester City)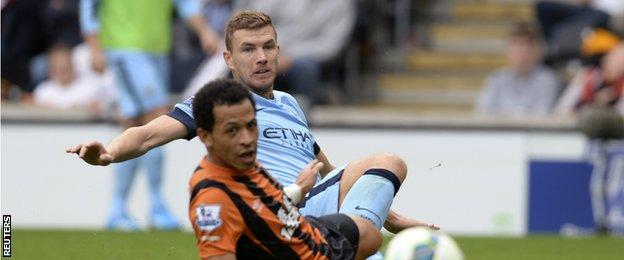 Two wonderful finishes by Edin Dzeko helped Manchester City edge past Hull and he is a striker who appears to be on top of his game again.
There seems to be a debate about which of the Bosnian's two goals against an impressive home side was the best. What nonsense.
The first one - where he curled a fine effort into the far corner from the edge of the box - is always the best.
FORWARD - Graziano Pelle (Southampton)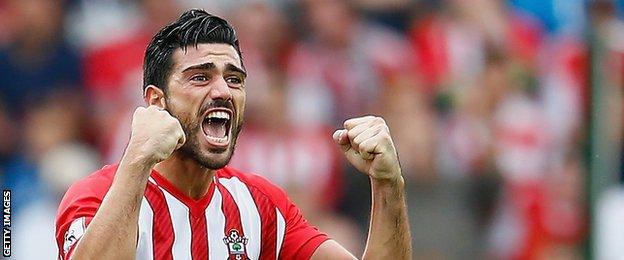 The Italian striker scored two goals against a poor Newcastle team a few weeks ago but he will never score a better goal than the one against QPR.
His stunning scissor-kick had my BBC colleagues John Hartson and Jason Roberts doing cartwheels on Final Score. The presenter Mark Chapman really must try and keep his guests under control!