Greg Clarke 'disingenuous' on black managers - Tony Kleanthous
By David Ornstein
BBC Sport
Last updated on .From the section Football
Football League chairman Greg Clarke has been accused of "hiding behind excuses" over a lack of black managers.
Clarke was criticised for not raising the issue at the League's 2013 AGM but said that was because the club director proposing it left the league board.
However, that director, Barnet chairman Tony Kleanthous, told BBC Sport that Clarke was being "disingenuous".
Ex-England captain Paul Ince wants the 'Rooney Rule' used to stop the issue being "swept under the carpet".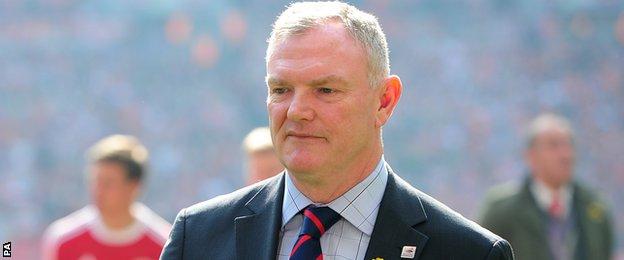 The Rooney Rule is used in the NFL to ensure black and ethnic minority candidates are adequately represented in the interview process for head coaching positions.
Former footballer Garth Crooks, 56, claimed Clarke had "bottled it" by not bringing up the Rooney Rule at the 2013 Football League annual general meeting - and called on him to "consider his position".
Professional Footballers' Association chief executive Gordon Taylor had earlier told BBC Sport that Clarke had "promised" to take the issue to the League's AGM.
Ince, 46, who managed Blackburn in the Premier League in 2008, told BBC's Football Focus Forum that the Rooney Rule was "something we should implement" to increase the number of black managers. At present there is only Chris Powell at Huddersfield and Carlisle's Keith Curle in the English game.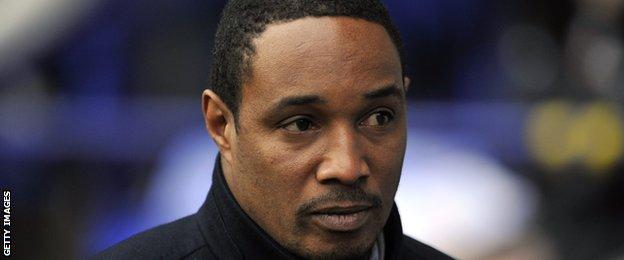 "We had a two-week spell last year where everyone was talking about it, then all of a sudden it's been and gone," said Ince.
"It's hard to say that the people are racist and won't give you a job because you're black, but it does make you wonder why there aren't so many black managers and coaches."
Clarke has insisted he will not resign, saying he has "fought behind the scenes" for the interests of black managers.
He said the idea of trialling the Rooney Rule would have been tabled by a board member - Kleanthous - until he lost his seat after Barnet were relegated from the Football League in 2013.
What is the 'Rooney Rule'?
The 'Rooney Rule' was established in 2003 and named after Dan Rooney, owner of the Pittsburgh Steelers and the chairman of the NFL's diversity committee. It requires NFL teams to interview at least one black or ethnic minority candidate for head coaching and senior football operation opportunities that become available, as part of a transparent and open recruitment process.
But Kleanthous, a former Football Association director, said he was "extremely disappointed" at Clarke's comments.
"I had not intended to specifically bring the Rooney Rule to the 2013 AGM of the Football League or propose a trial, although I had considered the matter in the context of the wider agenda," said the 48-year-old.
"If he was serious about the subject then my departure would have been the catalyst for him to get fully involved in supporting this worthy cause rather than just another excuse to hide behind."
Kleanthous also questioned why Clarke had still not raised the issue with the Football League board: "It should also be noted that my team were relegated nearly two seasons ago so he has had ample opportunity to show proper leadership.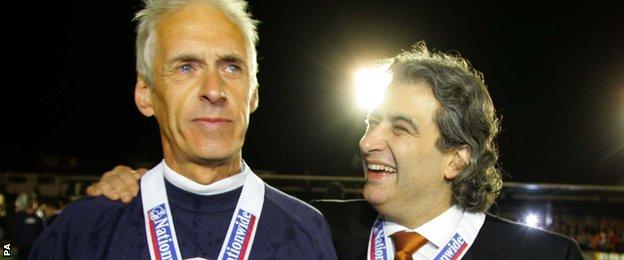 "It is therefore evident that I do not support his comments nor his efforts to use me as a shield to deflect the justified criticism away from him."
BBC Sport contacted Clarke for a response, but he declined to comment further.
Kleanthous became the youngest chairman of a Football League club when he bought Barnet in 1994 and has sat on a number of football governance committees.
He is currently a director of the Football Conference and an FA Council member.
"I spoke on many occasions about the issue of racism and inequality in both Football League and Football Association board meetings," said Kleanthous, who was born in London to Greek-Cypriot parents.
"Some of my experiences, particularly in the professional game were quite unacceptable but as the only 'ethnic' in the room it can be difficult for others to understand how it feels to be in such a closed environment.
"Former FA chairman David Bernstein, who was very sympathetic, did make some strides at the FA by appointing Heather Rabbatts to the board.
"I'm pleased to have been a member of the nominations committee that selected her as she is a very good advocate for minorities and brings a fresh perspective to the issue."
Facts and figures
The PFA says about 18% of players on their coaching courses are black or from other ethnic minorities
There are 192 Uefa Pro Licence owners in England, and 14 of those are black coaches
About 25% of players in the professional game are non-white
There were five black managers in English professional football last season but, of Chris Hughton, Chris Powell, Paul Ince, Chris Kiwomya and Edgar Davids, only Powell now has a job