Cardiff City: Vincent Tan wants Russell Slade to beat record
Last updated on .From the section Football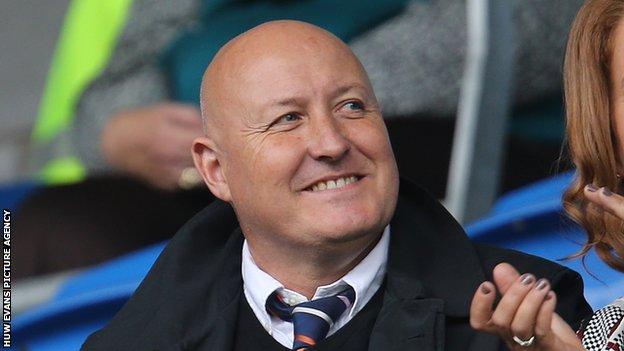 Cardiff City owner Vincent Tan hopes would-be manager Russell Slade can beat Arsenal boss Arsene Wenger's long-service record.
The Welsh club and Slade's former side Leyton Orient are in dispute over his proposed move to the Bluebirds.
"I hope Russell Slade can beat Arsene Wenger's record," said Tan.
Wenger, 64, has been in charge of the Gunners for 18 years and Slade, 53, would be at Cardiff until he is at least 71 to meet Tan's aim.
Tan also says if and when Cardiff return to the Premier League, he might consider selling the club.
"If I sell Cardiff I would buy another club in the UK," Tan added.
"I love football now. I've got a club in Sarajevo.
"The fans are fantastic, the people who run the club are incredible, honest people. They really motivate me.
"I'm looking to buy another club in Europe and then I may invest in a club in the US, the MLS (Major League Soccer)."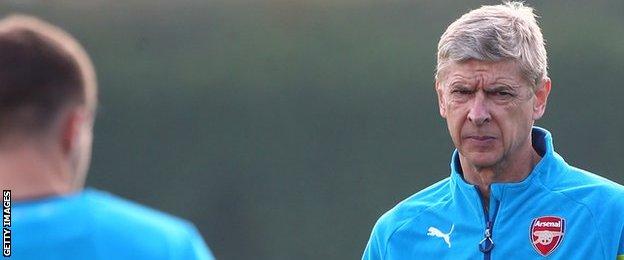 Malaysian businessman Tan also revealed Slade is helping Cardiff as a consultant.
"We now have a little problem with Leyton Orient but that is being sorted out," Tan, 62, said.
"Russell is helping us a little bit on consultancy until he can sort out his contract. Then we can officially hire him."
Orient initially rejected an approach by the Bluebirds for Slade, who had been their manager since 2010.
Slade spoke of his frustration at not being permitted by the League One side to talk to Cardiff following the O's League Cup defeat by Sheffield United on 23 September.
He then handed in his resignation and Orient put Kevin Nugent in charge for last Saturday's 3-2 defeat by Rochdale in League One.
Cardiff's legal team are discussing a compensation deal with Orient, who have referred the matter to their lawyers.
The Welsh side have been without a manager since Ole Gunnar Solskjaer stepped down on 18 September.
Slade - named League One manager of the year for the 2013-14 season - has been one of the favourites to take over since Solskjaer departed.
Scott Young and Danny Gabbidon are in temporary charge and were described as "legends" by match-winner Anthony Pilkington following their 2-1 weekend win over Sheffield Wednesday.
Gabbidon and Young have also overseen a 2-2 draw at Derby and a 3-0 League Cup defeat by Bournemouth.
Slade has held talks with Orient owner Francesco Becchetti and has said he was "proud" to be linked with Cardiff, who were relegated from the Premier League at the end of 2013-14.
The Bluebirds sacked Malky Mackay in December 2013, with successor Solskjaer departing after less than nine months in charge.
Young and Gabbidon are expected to be in charge for Tuesday's trip to Brighton while the negotiations continue.