Guinea U-17s target World Cup spot
By Blame Ekoue
BBC Sport, Lome
Last updated on .From the section Football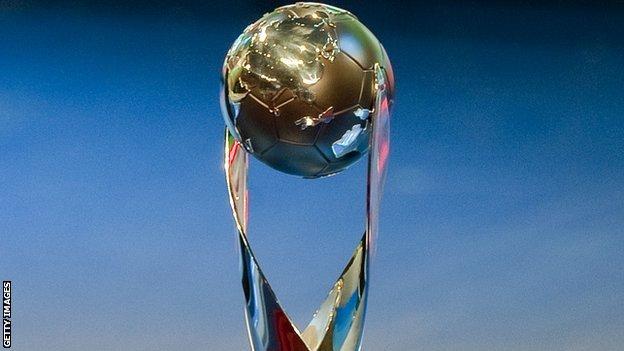 Guinea Under-17 coach Hamidou Camara believes his side have the ability to qualify for next year's World Cup.
Camara's teenagers have given themselves the chance after beating Togo at the weekend to make it to the 2015 African Championship in Niger.
That tournament is also a gateway to the global showpiece for their age-group, with the four semi-finalists going on to play in Chile.
Guinea went into Saturday's African Championship qualifier second-leg 1-0 up against Togo and completed the job with a handsome 3-0 win away from home.
They will be joined in the finals by Nigeria, Ghana, Ivory Coast, Zambia, Mali and South Africa, the other winners of the final qualifying round, as well as hosts Niger.
After Guinea's victory, Camara told BBC Sport: "Any winning team must move forward as we did. We are eager to go to the World Cup and why not? This is our ambition and it is a great ambition. We have far-reaching goals and if God permits we will reach them."
Camara also gave assurances that his side have the financial backing of the state and he does not foresee and budgetary problems conflicting with his side's ambitions.
And he predicted success for his players on a continental and global scale - as long as he can harness the natural assets of his charges.
"You will see for yourself the national team that we are going bring this time around at the African Championship finals." he said. "We do really have all the talented players and this means that if we get our ticket for the World Cup, we are not going to be an outsider.
"We can represent Africa valuably. There is no need for us to say it loudly or praise the Guinean Under-17 national team because technically we play more or less like Ghanaians and Brazilians.
"Young Guineans do not learn any technique because they used to learn it from the streets. What we are going to reinforce now it is the offensive tactic, the psychology or the mental as well as the physical endurance."