Cardiff City: Vincent Tan has 'no sympathy' over Malky Mackay
Last updated on .From the section Football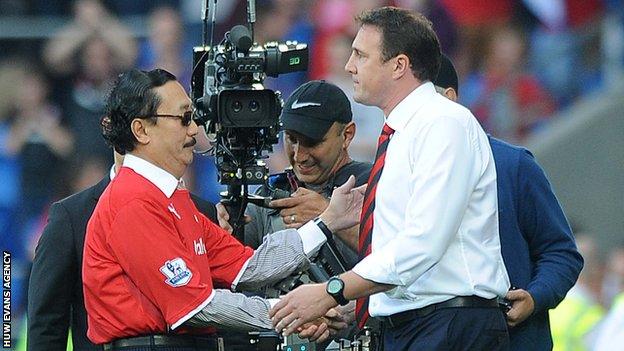 Cardiff City owner Vincent Tan claims he has no sympathy for ex-manager Malky Mackay over the timing of a dossier handed to the Football Association.
The dossier ended Mackay's hopes of becoming manager at Crystal Palace.
"I had no sympathy for him after what he had done. He is the man responsible for us being relegated," said Tan.
"It so happens that it [was] timed when he was supposed to get a job with Crystal Palace," said 62-year-old Tan.
"People said we timed it like that but we didn't, it was just too long."
Vincent Tan on Ole Gunnar Solskjaer
"He said we had a difference in philosophies. What philosophies? We want to win matches."
Mackay's agent Raymond Sparkes declined to comment.
Tan also expressed his unhappiness with Mackay's successor Ole Gunnar Solskjaer, who left on 18 September after less than nine months in charge.
Mackay was sacked by Cardiff in December 2013 and looked certain to take over from Tony Pulis at Selhurst Park in the summer only to drop out of contention after the allegations.
The 42-year-old insists he is not racist, sexist, homophobic or anti-Semitic but last month said some texts were "completely unacceptable, inappropriate, and for that I sincerely apologise".
Moody lost his job as Cardiff's head of player recruitment in October 2013 following a dispute with Tan over transfer activity. He resigned as Crystal Palace sporting director in August over the text message and email allegations but has yet to comment.
"If the club discovers there is racism, you have to inform the FA," Tan told Sky.
"So we told him that since we sacked him we were not going to inform the FA and 'we'll leave it to you'. They didn't do it for three months, so we were advised to or the FA could fine us.
"I don't have a personal vendetta. I'm just doing what any normal person would do. I want to clear my image. I am not a madcap owner that the world thinks I am."
Tan added: "[He had] £50m to buy players so that we don't get relegated. We spent more money than Hull and Palace and we got relegated.
"People will say we got relegated because I quarrelled with him, but I didn't.
"He didn't talk to me for a few months. I arranged to meet up with him, it was nothing personal, but he refused to meet me.
"Of course, all the pundits in Cardiff, they love him because he got Cardiff up after 51 years.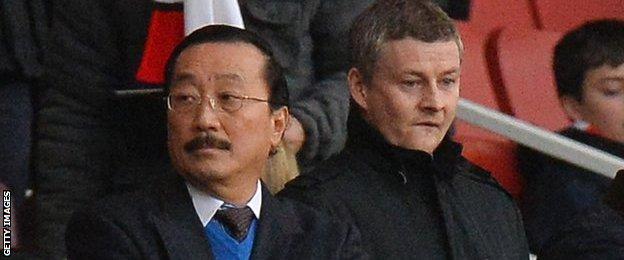 "They only think the manager got us up. They never think about the owner giving him money, that's not important.
"Maybe they should meet a poor owner then they would know. Try to get promoted without any money, then they would know."
After sacking Mackay the Bluebirds brought in ex-Manchester United striker Solskjaer.
At the time of his departure, Solskjaer said in a Cardiff City statement: "Our difference in philosophy on how to manage the club made me decide to step aside and allow the club to move forward in the direction Vincent wants."
Chairman Mehmet Dalman echoed Solskjaer's thoughts in the statement released as Solskjaer departed on 18 September, saying: "Due to a difference in philosophy of approach to the game, we have decided to part company."
In his latest public statements, Tan said: "The football results were against him so he left after Mehmet spoke to him.
"He resigned but I was quite disappointed with his statement after he left.
"He said we had a difference in philosophies. What philosophies? We want to win matches.
"We want to stay in the league. We want to be promoted. What are the different philosophies he is talking about?
"That disappointed me because it gives the impression that different philosophies meant I was interfering and maybe I was doing this or doing that."
Cardiff are currently pursuing Russell Slade but the Welsh club and Slade's former side Leyton Orient are in dispute over his proposed move.