Alan Pardew set to stay as Newcastle boss despite poor form
Last updated on .From the section Newcastle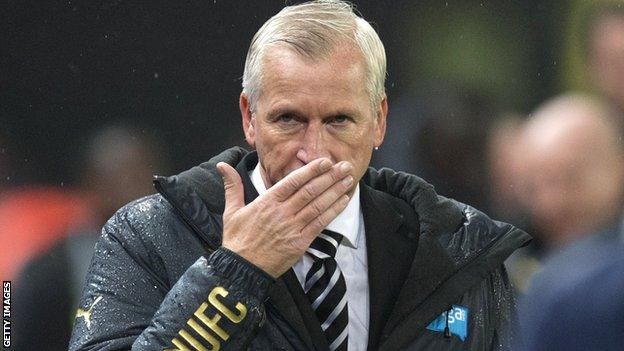 Newcastle manager Alan Pardew's job is thought to be safe for the time being, despite his side sitting second bottom of the Premier League.
Pardew's future has been in doubt and he said he expected "serious conversations" with owner Mike Ashley.
But Pardew is expected to remain in charge even if United lose to Swansea on Saturday.
Bad start for the Magpies
Newcastle's three points from six games is their worst start to a season since 2003-04, when they finished fifth.
Pardew's side have 19 points from 26 matches since Boxing Day.
Magpies owner Ashley was at the Britannia Stadium to see Newcastle's defeat by Stoke.
He was reported to have said Pardew would be sacked if the Tyneside outfit lost to Potters, with his lawyers later claiming his quotes were only a joke.
United's defeat on Monday means Newcastle have won only five of their 25 league games in 2014.
Pardew is scheduled to hold talks with Ashley this week but, although no-one at the club views the talks as a "crisis meeting", both men are aware that results must improve.
Speaking after Monday's loss, Pardew said: "We'll have some serious conversations because he doesn't want to lose and neither to do I.
Newcastle fixtures in October & November
October:
4 - Swansea (A, PL);
18 Leicester
(H, PL); 26 Tottenham (A, PL); 29 Man City (A, LC)
November:1-Liverpool
(H, PL); 9 - West Brom (A, PL);
22 - QPR
(H, PL); 29 - West Ham (A, PL) *PL - Premier League, LC - League Cup
"This team needs to win games. I have to turn it around."
Ashley, meanwhile, is firm in his stance that he will not be swayed by the views of the fans.
Signs reading 'Sack Pardew' were held up by a number of supporters during the game at Stoke.
It was a similar story against Hull in Pardew's previous league game but his side quelled the unrest against him by coming back from 2-0 down to earn a 2-2 draw, while they also won at Crystal Palace in the Capital One Cup.