Premier League: Would an Ofcom probe burst commercial bubble?

By Dan Roan
BBC sports editor
Last updated on .From the section Football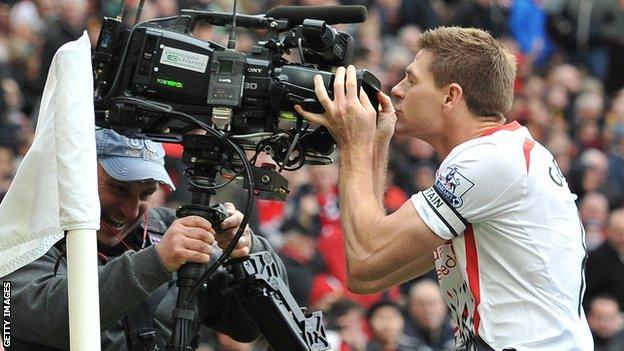 More than any other source of revenue, TV rights are what has propelled the Premier League towards its current status as the richest football league in the world.
They are, of course, what fuelled the record £835m expenditure in this summer's transfer window, enabling England's top clubs to lure some of the game's biggest stars.
With BT providing the first real competition to the league's traditional broadcast partner Sky, the next three-year TV deal is worth a staggering £3bn - a 71% increase on the last agreement. This of course, is music to the ears of Premier League chief Richard Scudamore, club owners under increasing pressure to balance the books, the players and their agents.
But it is also these TV rights, the Premier Leagues argues, that allows it to invest £340m into youth development in the form of its Elite Player Performance Plan, and a further £23m each year on good causes such as grassroots facilities. Many critics argue that these should be bigger numbers, and that this bonanza should be used to reduce ticket prices, but that is a different story for another day.
It is natural, therefore, that any perceived threat to this ultra-lucrative status quo might cause shudders in club boardrooms up and down the country, and at the Premier League's Gloucester Place HQ.
So how significant is Virgin Media's request that Ofcom opens a formal investigation into the way the Premier League sells its TV rights, and what will happen next?
First of all, Ofcom is giving nothing away in terms of whether it is likely to agree to look into the arrangement, and typically takes about eight weeks before deciding on such matters. Virgin Media lodged its complaint two weeks ago, so we have some time to go before we hear whether the Premier League will face a formal probe.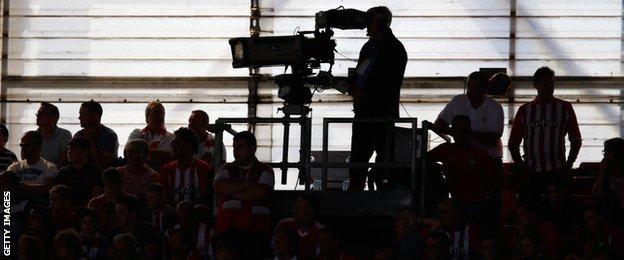 Virgin Media is positioning itself as consumer champion, highlighting the fact that UK fans pay the highest prices in Europe to watch football on TV, adding that a further 60% rise in the cost of the rights is predicted in the next auction. Virgin Media says it is unfair that fans in the UK have to pay £51 monthly for access to all top-flight matches on TV, while it is £25 in Italy, £21 in Germany, £18 in Spain and as little as £10 in France.
Back in 2006, the Premier League did a deal with the European Commission, which had found its collective selling of TV rights restricted competition. The League was allowed to continue selling its rights on behalf of all its clubs, as opposed to the model in Spain, for instance, where clubs strike their own TV deals. But the League had to ensure no single bidder could acquire all the rights, and to commit to increased competition and consumer choice.
Virgin Media argues that this simply has not happened, with fans having to pay more than ever - and more than anywhere else - to watch live matches. The cable TV operator wants more matches to be broadcast live, and for these games to be broadcast simultaneously on both Sky and BT for instance - so that fans can choose one or the other to watch all the available matches. At the moment, fans who want to see all the live games have no choice but to buy both Sky and BT. Virgin Media say that if both networks showed all the games, there would then be real choice, proper competition, and costs would come down.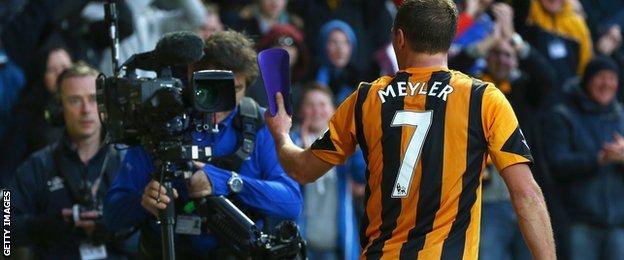 But as ever in sports business, there is a lot going on behind the scenes. Virgin Media are unhappy with the amount of money they have to pay Sky and BT to show live football on their cable networks, and it is in their interests of course to try to engineer some downward pressure on the cost of these wholesale rights. Virgin Media say they make no money from the football rights they buy, and are desperate for the cost to come down. This is all part of that attempt.
The Premier League argues it has the balance right when it comes to the number of matches broadcast live in this country; 154 out of 380 possible games. Televise traditional Saturday 3pm kick-off matches, it says, and it will have a detrimental effect on attendances at Football League clubs, and on grassroots participation up and down the country.
Football League chief executive Shaun Harvey, said: "Football's long-standing blocked hours on Saturday afternoons are there to protect attendances at all levels of the domestic game and their continued existence has to be in football's wider interests. Ticket revenue remains the biggest single source of income for Football League clubs and is worth around £200m per season to our clubs. Therefore, any move to allow televised matches to compete with games played at 3.00pm on a Saturday afternoon could potentially be catastrophic for the game in this country."
And when it comes to choice, the Premier League is adamant that fans have more options than ever when it comes to consuming content, live on TV with two providers, live on radio via BBC Radio 5 live, Talksport and Absolute, online highlights via News International and then TV highlights via Match of the Day.
The League also points to the equitable way it divides up its TV revenue between its clubs, insisting that this contrasts favourably with countries like Spain where Real Madrid and Barcelona gain an unfair advantage through direct selling, and La Liga becomes predictable as a result.
And what of the broadcasters? Have football rights become too expensive for them? Hardly. BSkyB's profits fell last year because of the £760m it had to fork out for Premier League rights. But its profits were still more than half a billion pounds. That hardly suggests Rupert Murdoch has overpaid.
The middle season of the Premier League's three-year deal with Sky and BT has only just got under way. But already, Scudamore and his team are preparing to begin the auction process for the next 2016-19 deal early next year. So should they and the clubs be worried by Virgin Media's intervention?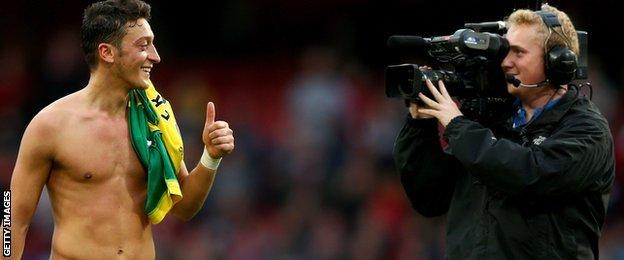 Toby Syfret, from media experts Enders, says this. "If nothing else, this is is a timely reminder of the importance of the public, who must ultimately bear the brunt of the escalation in top-league rights, already so much higher in the UK than anywhere else in Europe.
"Assuming Ofcom intervenes, it opens up the prospect that we will not only see much lower inflation of these rights than predicted at the next auction, but maybe also wider choice and lower price per game."
Good news potentially for the consumer then. Privately, the Premier League acknowledges that there is every chance that Ofcom will take this opportunity to launch an investigation into the way it sells its TV rights.
It may even have to change the number of rights packages it sells, and the number of games that are broadcast live. But it also remains confident that such is the competition between broadcasters, and the desire to sell subscriptions, advertising, phone and internet services through football, that whatever happens, the demand will be maintained, and the money will continue to pour in.
And that, ultimately is the point.
As long as the likes of Angel Di Maria and Radamel Falcao can be tempted to ply their trade here, as long as Leicester City can beat Man Utd 5-3, as long as the title race goes down to the final day, and as long as it continues to provide the kind of soap opera that other forms of entertainment struggle to match, then the Premier League will be in demand.
All good things, they say, must come to an end. And there are some signs that at a time when many families are struggling to make ends meet, the cost of watching football live on TV is becoming prohibitive for some.
But those who believe today's news may bring about a burst in the Premier League's commercial bubble may be disappointed.
The estate agents and luxury car dealers of Surrey and Cheshire can rest easy, for now.