Manchester City's Champions League struggles remain a mystery

By Phil McNulty
Chief football writer
Last updated on .From the section Football809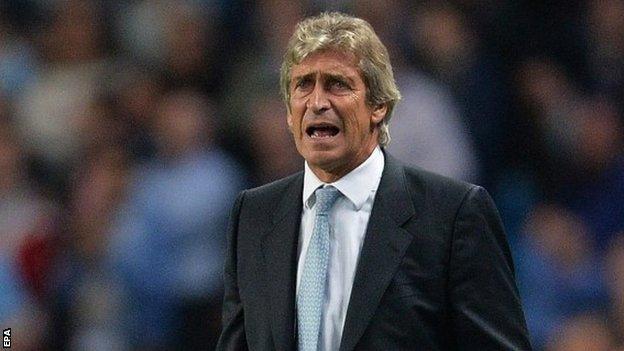 Manchester City's acquaintance with the Champions League continues to be uncomfortable - for the fourth time in succession they failed to win their opening home group game as they were held by Roma.
For a team so packed with experienced players, assembled at great expense by an ownership of high ambition, City's struggle to fully come to terms with the Champions League remains a mystery.
What are the factors currently at work as they once again make heavy weather of the early stages of their group?
Embracing the Champions League challenge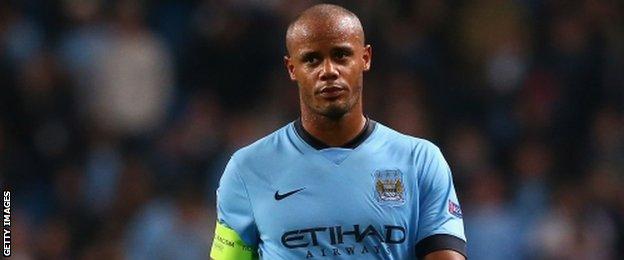 Manchester City's squad is awash with talent and yet the players seem unable to cast off the cloak of inhibition when it comes to the Champions League.
City have yet to convince that they have the collective self-belief that makes them feel at home alongside the exalted company they mix with in this tournament. There is, on occasion, an almost apologetic air about the way they go about their work.
Make no mistake, they have barely caught a break when it has come to the groups they have been drawn in, but the evidence suggests they are still having trouble quite convincing themselves they have earned the right to be here.
What makes these subdued displays, lacking in conviction, all the more mystifying is the experience contained within the squad. The Champions League is a challenge you would expect City to embrace, not shy away from.
David Silva and Jesus Navas were part of Spain squads that won the World Cup and the European Championship. Yaya Toure has won the Champions League with Barcelona, while Sergio Aguero and Martin Demichelis were playing for Argentina in the World Cup final in Rio only in July.
This is not a squad without talent or experience, so it may just be that they need to somehow fashion one big result - the win away to Bayern Munich last December was achieved with almost an air of defiance and was still not enough to win the group - that will settle all the nerves and uncertainty that appears currently to hold them back.
Fans still not convinced about their pedigree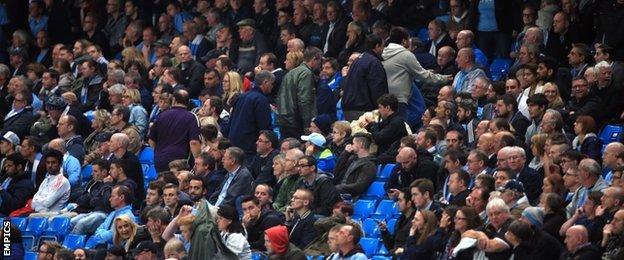 No-one could ever accuse Manchester City's fans of taking anything for granted - even the recent great successes have not wiped out that fatalistic streak that often has them fearing the worst.
But it seems even they are having trouble with the Champions League at the moment. Tuesday's attendance for the first home group game of this year's tournament was watched by only 37,509 fans, a full 10,000 short of capacity at Etihad Stadium.
This may be a source of disappointment to the club's hierarchy given the scale of their investment, and how hard they worked to bring this sort of football back to Manchester City.
In defence of City's support, they have never been shy of lending their backing and maybe another home game was just a financial step too far for some on this night. They are not fickle fans.
The home game with Bayern is likely to be a sell-out but this attendance was still a disappointment and drew scorn from former Manchester United defender Rio Ferdinand, who tweeted: "How many empty seats are there at the City v Roma game by the way? Big CL game & fans would rather Ramsay's Kitchen or something at home."
He added, in reference to City's planned ground expansion: "Expanding the stadium for what though?? For who though??"
Cheap shots but the low attendance was a talking point, as was the subdued atmosphere for most of the game.
Man City: Champions League ticket prices

AS Roma

CSKA Moscow

Bayern Munich

Adult:

£40/£35

Adult:

£30/£25

Adult:

£45/£40

Disabled fans:

£30/£25

Disabled fans:

£20/£15

Disabled fans:

£35/£30

Over 65:

£30/£25

Over 65:

£20/£15

Over 65:

£35/£30

16-21 years:

£30/£25

16-21 years:

£20/£15

16-21 years:

£35/£30

Under 16:

£20/£15

Under 16:

£15/£10

Under 16:

£20/£15

Source: mcfc.co.uk
The lack of atmosphere at City games this season was even a matter for discussion before the game, and manager Manuel Pellegrini brushed aside questions on the subject in his post-match briefing.
City's fans are virtually above criticism when it comes to supporting their team as they were there in their thousands in good times and bad. Maybe they are also struggling to convince themselves that their club is at home in the Champions League.
Again, one big result would change that landscape, but City are currently struggling to produce it and the mood of supporters is downbeat.
Yaya Toure still struggling for the old authority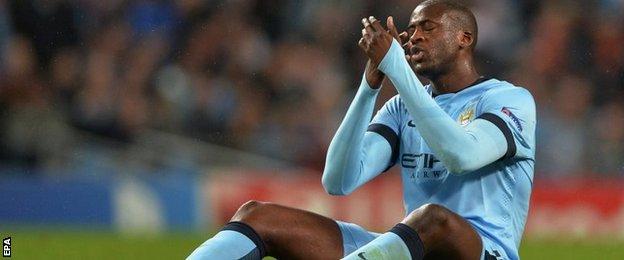 The groans of disapproval that greeted one over-hit pass from Yaya Toure in the second half summed up the current mood surrounding the player who was the powerhouse behind Manchester City's Premier League win last season.
Toure is currently a shadow of the figure whose goals and influence drove City to the Premier League, and the sooner he rediscovers his old authority the better.
He was overshadowed in midfield on Tuesday, despite Roma being without their own two outstanding midfield players in the injured Kevin Strootman and Daniele De Rossi. Radja Nainggolan and Miralem Pjanic were both highly impressive and came out on top against City's midfield.
Toure was bypassed with ease as Roma fashioned Francesco Totti's wonderfully finished equaliser and there was barely a hint of the surging runs that have been his trademark. He is struggling badly.
He is too good a player to be dismissed lightly or prematurely, and Pellegrini clearly has great faith that Toure's powers will be restored. For the sake of City's Champions League campaign, not to mention the Premier League, it cannot come soon enough.
Has Pellegrini got his tactics right?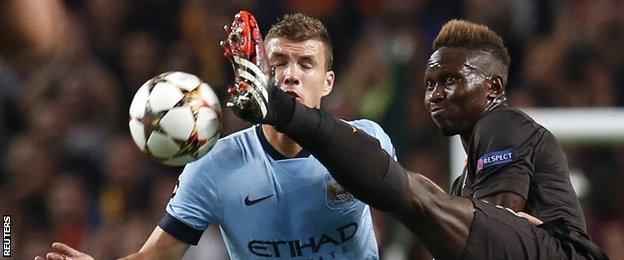 Pellegrini persisted with playing Sergio Aguero and Edin Dzeko in attack against Roma, but once again this was a tactic that left City exposed to the dangers of being outnumbered in midfield.
This was a problem as far back as last October when City lost 3-1 at home to Bayern Munich, and Aguero and Dzeko both started. City were overrun and well beaten.
The temptation to use both is understandable as Pellegrini has a pair of quality strikers on his hands, but there are undoubted risks against the sort of elite opposition City will run up against in the Champions League and 4-5-1 (with one of the pair sacrificed) may be a case of 'better safe than sorry' against the stronger teams.
Using David Silva and Jesus Navas in the wide areas was ambitious but also offered an open invitation to a side as progressive as Roma. It was no surprise when Navas was replaced by James Milner at half-time and Dzeko followed shortly after, with Frank Lampard being introduced.
Pellegrini's default position is permanently positive but he may have to consider caution or risk City being vulnerable when they travel to face Roma in Rome and welcome Bayern to Etihad Stadium.
Can City still qualify?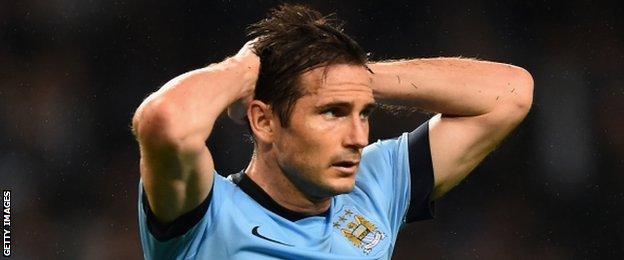 Absolutely. This is a squad packed with quality but they need a spark, a catalyst that convinces them they are a team that can make serious inroads into the Champions League. There needs to be an injection of confidence, conviction and belief.
City now have back-to-back games against CSKA Moscow, who are shaping up as the wooden spoon team in this group. Pellegrini's side must win both matches and put themselves in prime position to welcome Bayern on Tuesday 25 November.
That is the night Manchester City must be a Champions League team and the Etihad must provide a Champions League atmosphere - then it can be all up for grabs when they go to the 'Eternal City' to face Roma on 10 December.