Scotland: Gordon Strachan consoles home-based players
Last updated on .From the section Football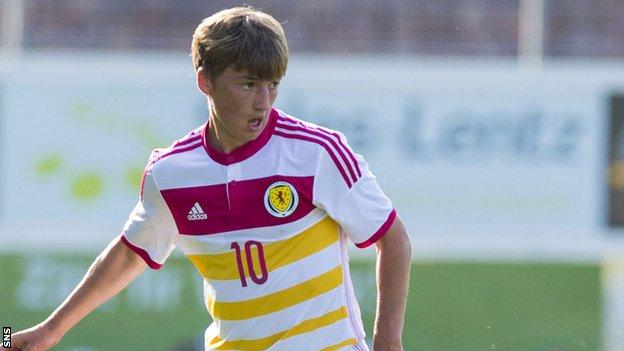 Gordon Strachan insists that home-based players can still challenge for Scotland caps despite the manager only picking three in his latest squad.
Striker Stevie May and midfielder Ryan Gauld are in the party to face Georgia and Poland in Euro 2016 qualifiers.
Their first call-ups came shortly after summer transfers from Scottish clubs.
"If you really want to develop and use the hours available to you to train, I see no reason why you can't be anywhere and develop," said manager Strachan.
"When I was at Dundee, I used to go back in the afternoon with Bobby Robinson, John Duncan, George Mackie and practice crossing and finishing.
"The hours are there if you want to use them."
The 21-year-old May switched from St Johnstone to Sheffield Wednesday, while 18-year-old Gauld moved to Sporting Lisbon from Dundee United, in big-money summer moves.
But Strachan, whose included Celtic pair Craig Gordon and Scott Brown, plus Aberdeen defender Mark Reynolds, in his squad, revealed that May had been in line to receive a call while at the Perth club.
"We were going to get him in the squad against Nigeria, but there was a big game for the Under-21s," said the manager.
"It was always going to happen for Stevie. We didn't pick him the last time because we wanted to make sure he settled in at his new club."
Asked whether the moves for the striker and Gauld, who has been playing for Sporting's B team, would aid their development, Strachan said: "I really don't know, only time will tell. You can develop in most places.
"They are good young players. I like to do that. If you look at the squads over the last year or so, I like to bring in people that I don't know personally.
"I don't know them personally, but I like to see how they deal with the squad and I just like to meet these young players.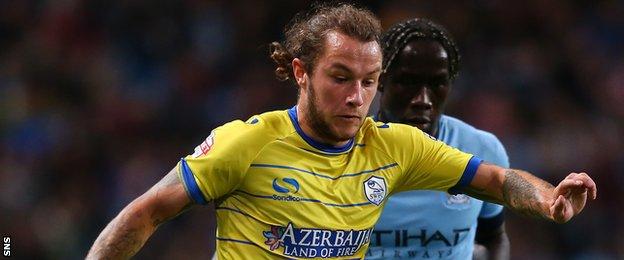 "I'm sure in the future they will make an impression and will be regulars in the squad.
"It's good to meet them and see how they interact with the rest of the squad."
Strachan called up 21-year-old Callum McGregor to his previous squad after the midfielder's recent breakthrough at Celtic.
"I may add another one into that, a player that I have only seen from afar - I'm waiting on injury reports from Tuesday's games," the manager revealed.
"A younger-type player, one I have never really engaged with before.
"Over the next few years, I hope there are a lot more.
"We have a couple of ways we want to play and, if you can fit into the system, that's great. It might be there are players who can't fit into the system."
Strachan, who left Scottish football as a 27-year-old when he switched from Aberdeen to Manchester United, added of Gauld: "I wouldn't say his style was any different from Shaun Maloney and that has been developed in Scotland."
May has scored three goals in eight English Championship starts since moving from to Hillsborough.
"I saw him last week against Reading and I was obviously pleased with him - he did enough to get picked," added Strachan.